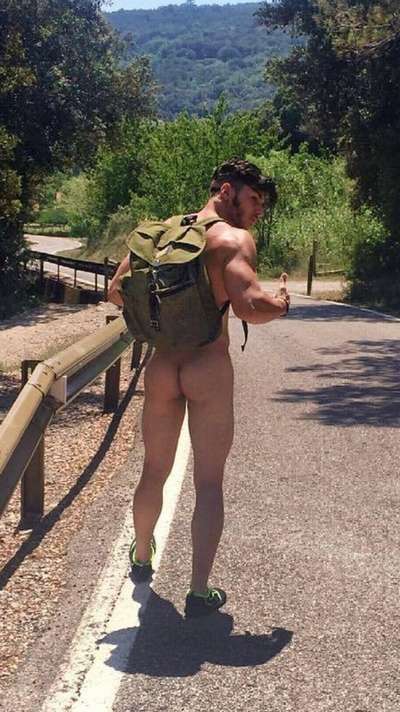 The Men We Met
by John S. Lloyd
There are times when it seems like things can't get worse. I decided to forget about it and head a new direction. I was frustrated and angry after two failed relationships. I really didn't care where I drove that morning I just knew I wanted to get away. I couldn't have anticipated that I would meet Jeremy and start an incredible adventure that led to the publication of our book The Men We Met. The book was published by Alice & Sons Press and was nominated for a Lambda Literary award.
My decision to escape came in Charleston, SC one evening when I watched Marshall dressing for his supposed dinner appointment. I wondered if he really was going out with colleagues or meeting up with another handsome university student. At the seafood restaurant recommended by the hotel desk clerk I composed my 'Dear Marshall' letter. I planned to leave the letter in our room in the morning.
The message I wrote was simple:
Marshall,
I have decided to drive off and allow you to start a new life in Charleston. You are a wonderful person and I had hoped we could be a couple and make a life together. I know you are a sexy man and boys are happy to be with you, like the Malaysian fellow I saw yesterday. I don't want to share you.
It has been wonderful being with you these last few weeks.
Fondly,
Jerry
The following morning, Marshall had an Uber drive him to the project. I had breakfast, placed the note on the table beside our bed, loaded my car and drove south on I-95 toward Ft. Lauderdale. I had enough money and several unused credit cards so I really didn't have money issues. Money would dictate how long I could travel. I'd been to Ft. Lauderdale previously so I sent an email requesting reservations for the Cabanas I got a quick response that they didn't have an opening for several weeks. I tried several other resorts and finally found a room at the Calypso. The pictures of the rooms weren't as nice as the Cabanas. I figured I could move when the Cabanas had an opening. I decided to take two days to drive and I decided to visit the oldest town in the United States - St. Augustine. Being of Chinese decent my knowledge of American history wasn't too strong. I did know the Spanish once owned Florida. I assumed they were the first settlers.
The second day I arrived in Ft. Lauderdale and found the Calypso without difficulty. It was only a few blocks from gay bars and restaurants so I wouldn't have to drive. After I checked in I was l shown a room. Several older men were lounging naked by the pool. The fellow who checked me in said, "The pool is clothing optional. You OK with that?"
"No problem for me, I just hadn't realized." Most of the rooms were occupied by couples who were polite but seemed totally interested in each other, not this single Asian guy. After dinner at the Tropics Grill, I returned to Calypso and floated around in the pool. I wanted to avoid the mosquitoes as much as I could. In the dark, except for the pool lights I felt totally alone. I wasn't unhappy as I floated around. No one knew where I was.
The following morning there was a text from Marshall. His message was, 'Sorry, Jerry. I really like you and I hope we can stay friends. Let me know where you are. Marshall.' I wrote back: 'I'm doing fine. I'll stay in touch J. and I had no intention of telling Marshall where I was or where I was going.
I had heard of Grindr but had never used it to hook up with men. I signed up and put a picture of myself on the site. I was shocked at the immediate response I got from men located within a mile of me. I became cautious and didn't answer them. Most were from older men. I received one hit from a handsome man who appeared to be close to my age. I responded to him and waited for his response. He suggested we meet up at a bar called Hunter's. I agreed to meet him the following evening for a drink even though I don't drink anything stronger than a beer. When I got there I didn't see anyone who looked like the picture on Grindr. An older man approached me and I realized he had used a picture of himself taken years before. I was polite but declined his invitation for a drink. I excused myself and left him sitting at the bar. That was my initiation to Grindr deception.
After four days at the Calypso I decided to check out a few Airbnb's. I wanted a place where I could use the kitchen and not have to go out to eat every day. I contacted a fellow named Don who advertised a private suite with pool and kitchen privileges in west Ft. Lauderdale. He said he could rent me the suite for two weeks before he had another reservation. I went over the day I got his response and agreed to take the suite two days later because notice was required by the owners of the Calypso. Don was a man in his early sixties with thinning grey hair. He was quiet and pleasant and didn't seem interested in me except for my business.
When I went to his house to check in I found him naked cleaning the pool. He casually showed me my room and invited me to join him by the pool for a beer. We chatted about life in Ft. Lauderdale. I told him I was interested in going to nearby Sebastian Beach where gay guys hung out and that I planned to drive to South Miami Beach to check out that scene.
During our time by the pool I asked Don if there was a good place to walk. I liked to take long walks in the morning after the mosquitoes receded. He suggested I walk to a Easterlin Park about a mile away. He described the park as an RV destination. A walk through the park and back would be about three miles. That sounded like what I wanted. The next morning after ten I started toward the park. The only thing I had to be careful of was cars coming from behind since the roadway in the park was narrow.
I liked the exercise so decided to walk the reverse direction the following day so I could see the cars and RVs approaching in front of me. On my first walk I politely smiled or waved at several campers before returning for the tea and English muffins that Don had prepared. Don was gone most of the day so I relaxed under an umbrella by the pool. By mid-afternoon I was restless and decided to drive to the park, take a walk around and then drive on to Sebastian Beach. I walked the reverse direction and noticed an older RV moving in. I watched the young driver slowly backing his vehicle into a wooded spot. I stopped realized that he was very close to a metal post which he couldn't see. I signaled for him to stop which he did. He pulled forward and then slowly reversed. This time he cleared the post and inched into his spot.
I watched as he exited the driver's seat and put tire protectors behind each wheel and asked me to let him know when he was on them. I signaled him and waited for him to dismount. He engaged the levelers, plugged in the electrical connection and ran his hose to the water spigot. After he was finished he walked over to me in his not so clean T-shirt and cargo pants which barely held up on his hip bones. He smiled, "Hey, man, I would have done major damage if you hadn't stopped me. Thanks so much. Are you camping here, too?"
"No, but staying at a B & B nearby. Are you here for a while?
"My reservation is for two weeks. I hope I like the place. The setting is nicer than most places where I've stayed."
I said, "I know you have things to do. I'll get going. I walk this way most days and hope to see you again."
"Yeah. If you walk by tomorrow knock. I have a proposition for you. Do you go to the beach?"
"I'm on my way to Sebastian Beach right now."
"Where's Sebastian Beach?"
"On the other side of Ft. Lauderdale about five miles from here."
"Maybe we can go together sometime."
"Great! Got to go." I walked toward my car as he continued his work. I could see him putting his awning out and unloading lawn chairs. I wondered what kind of proposition he wanted to make. The guy was tall and attractive but needed to shave. I assumed he had a hairy chest based on his visible neck hair. I really felt comfortable with his casual, easygoing nature.
I didn't take my walk the following morning because I had to take my car in for an oil change and tire rotation. I wanted to be able to safely travel when I decided where I was going. In the afternoon, I did walk over to the park and found a small white KIA parked in front of the guy's RV. I slowly walked by. I saw his door open. With this head looking around the door he said, "Come in, I thought I told you to knock?"
I said, "You did but I thought you had guests."
He looked puzzled before laughing, "No, that's my old KIA that I drag around with me. Yesterday when you prevented me hitting the post I had unhooked the car. It was parked near the entrance. Come in." As I mounted the stairs I found him in his baggy He took a seat across from me. Without introduction he said, "Tell me why a cute Asian is walking alone through a RV park in Ft. Lauderdale, Florida in summer. Shouldn't you be working someplace cooler and less humid?" I was quiet, not exactly knowing how forthcoming to be. He continued, "Don't mind me. I'm always in your face. That's just the way I am." He paused.
"OK, if you want to know, I'm an out-of-work architect who graduated from the University of Wisconsin. I was an apprentice architect before I became a small business owner but now I'm a vagabond. What about you?" He acted like he didn't hear my question.
"Seriously, there has to be more to your tale of woe?"
"OK, all I told you was the work part. There was a partner, a gay partner, involved along the way."
"A gay partner, I see." I thought he would end our conversation and send me on my way but he didn't and said, "So you're out of a failed relationship?"
"To be precise two failed relationships in four and a half years."
"That's not a very good record."
"Not my choice, I assure you." I could feel myself beginning to sweat. I was uncomfortable and he sensed it.
"Do you want me to turn the air conditioner on? You seem warm."
"I would appreciate that. I'm dressed and you're not." I laughed.
He returned with two glasses of cold water he poured from a jug in the refrigerator. He handed me a glass and sat back down in his chair. The cool water felt good down my throat.
He said, "I don't know your name but I'm Jeremy. You're…?"
"Jerry."
OK, Jerry, I'll answer your question. I'm an artist who lives in his grandfather's old RV on a small trust fund that I receive from his estate. I do have parents but I see them infrequently." He could see I was looking around for evidence of his art. I didn't see any. "Not a painter or sculptor. I'm a photographer with little money and no fame."
"Yesterday, you mentioned you had a proposition for me. What did you mean?"
"It's a half baked idea but here's what I've been thinking. I want to take a road trip and periodically stop unsuspecting young men, ask them to get naked and model for me. I would start with you. What do you say?"
"Naked modeling? It is not something I've ever thought about."
"You have a nice body and I presume a small Asian dick, right?"
"Jeremy, you do get straight to the chase."
"No insult intended because my dick isn't very big either." He proceeded to drop his boxers and stand before me like a statue. I looked and felt movement in my pants.
"Photos of this naked Asian guy aren't going to make you a world famous photographer."
"I know. That's only the start of what I'm thinking. What if we drive across country and stop spontaneously, get out and ask guys to get naked in nature?"
"And what if they pull out a gun and shoot us?"
"I'll predict they won't if they think we're doing an art project. I think muscular, good looking guys would love to show off what they have."
"First of all, I don't have enough money to not work for very long."
"You've got a car. Sell it. It's got to be worth ten thousand."
I was quiet trying to decide if I should say what I was thinking. I finally said, "Listen, Jeremy, I've known you for a day. I turned my life over to someone else several times and they figuratively shit on me. I would rather be alone than have that happen again."
"You're a prima donna. Life is life. Forget about long-term and go for the now. Have fun. Do crazy things. I want to naked sky dive, naked bunge jump, stand naked in front of Buckingham Palace or, I don't know, take a chance."
"What do I tell my parents?"
He screwed up his face, "Do you have to tell them anything?"
"If I don't tell them something I will be constantly harassed because they care about me. I assume you don't have the same relationship with your parents."
He pulled up his boxers and grabbed his shorts. "I've got to go to the john. I try not to crap in the RV. It's too hard to drain out."
"I'll wait for you. We can walk to Don's place for a swim and then drive to get Vietnamese food. It's not too far."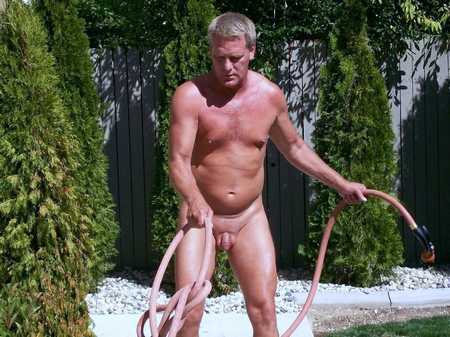 "That's so funny. I love Vietnamese food. I'll be quick but I want to shower. That's the way I do it." He grabbed his towel and was gone.
I called after him, "I'll be here."
After Jeremy returned we walked to Don's for a swim. Jeremy took his camera along. He said, "I want to be ready to snap a few." When I opened Don's front door I could see him by the pool. Jeremy stepped onto the pool deck and said, "Man, can I take your picture?"
Don looked up, didn't speak, smiled and continued to do what he was doing, as Jeremy took a few shots. I stripped off my clothes and he turned his camera my direction. I walked to the other side of the pool and slipped into the water, not wanting to get my hair wet. Jeremy kept snapping pictures. He put the camera on the table and jumped in the pool, splashing water in my face.
Don didn't seem to care that he was naked for the camera. We put our towels on the porch furniture and Don handed us each a bottle of vitamin water. I briefly explained to Don how Jeremy and I met. Don was not a person to ask many questions. We finished our drinks and drove off in my not-so-new white Camry. After Vietnamese pho we returned to the RV. Jeremy hooked a cable into his computer to show me the shots he had taken. His composition was good, as was the lighting and he was taking snap shots!
"Do you like them?"
"You made me look better than I do in real life." He laughed.
He unhooked the camera from the computer as I was standing behind him. My dick was getting hard so I stepped back. Jeremy pushed his chair back and turned toward me. "I'm ready for sexual intimacy. How about you?"
As usual I was caught off guard by his boldness, "Sure, I'm ready." I smiled stroking his already stiff member.
"Let's go over to the john to prepare."
"What do you mean?"
"I want to be completely ready for you." He grabbed the enema bulb and wrapped a towel around himself. I followed, dressed the same way except I wore flip-flops. After the shower we returned and got onto his double bed. He pulled up close and kissed me. His kiss was gentle and his lips were soft like warm butter. He wasn't in a hurry. Our first lovemaking was completely what I hoped. We cuddled and kissed before moving down each other's bodies.
He lingered sucking on my small Asian cock. His was longer and fuller but I knew it would fit me fine. I got on my back and he lifted my legs. He lubed himself and my dark asshole. He gently pushed and popped inside. He rode for a long time but didn't cum which surprised me until he said, "I want you to see my essence and I want to see yours. It's your turn."
I decided to do him doggy style. That way my little dick could go in deeper. He didn't object. Inside he was warm and wet. Too quickly I had to withdraw or I would have climaxed. We lay beside each other and took each other's already lubed member in our respective hands. My climax came quickly. He rubbed my dick after the sperm shot onto my stomach. The torture was wonderful. It took me longer to get him off but when he shot it was massive and chalky white. Even though I did to him what he did to me,he didn't seem that sensitive until I touched his asshole. He almost jumped out of bed. He began laughing uncontrollably. "You found my sensitive spot."
He had a washcloth on the bedside stand which he grabbed to wipe us off. He hit the light dimmer and we fell asleep.
I got up to pee in the early morning as the first light was slipping through the lush vegetation around his site. He was still asleep when I returned. I sat in the passenger seat and watched the morning come to life. I didn't hear him get up but felt his hands gently touch my naked shoulders. "Get your towel. We're going to shower and then get breakfast. We have a lot of planning to do." I did as I was directed. It was early so the showers were empty. We showered together and continue our intimacy. The conclusion for both of us was satisfying.
At breakfast I told Jeremy I had to fly home to California for a few days for my younger brother's wedding. He listened quietly. "He's the last of my siblings to get married. I'm sure I'm going to get questions from my parents and other relatives about my marriage plans. In the Chinese culture it's unusual when the oldest brother, that's me, doesn't marry first."
Two days later Jeremy dropped me off at the Ft. Lauderdale airport for my flight to Houston with a connection to San Francisco. My cousin, Michael, met me at the airport. I was staying with him in the condo he shared with his girlfriend. We chatted about family and my little brother as we drove back. Michael said he and his girlfriend introduced my brother to his fiancé a couple of years ago. When we got to his condo his girlfriend had not arrived home from work. When she did I was surprised that they spoke Cantonese. It had been years since I spoke Chinese but was pleased that I could understand most of what they were saying.
I had been forced to learn Cantonese when I was young even though I didn't want to. My Chinese friends and I spoke English. At home we rarely used Cantonese unless my grandparents were with us. My maternal grandparents could not understand English. By the time my grandmother moved out of her apartment after Grandfather passed away I was off to college.
As expected, the first time I saw my mother she asked if I had a girlfriend. I lied and told her I was too busy working. She volunteered to introduce me to some nice Chinese girls. I smiled and let her think I was interested when I definitely was not. My father was more interested in knowing why we closed our business after only two years. I partially lied and told him how much competition there was. He wanted to know about my plans. I truthfully told him I planned to move to a larger city and get another job with an architectural firm. He suggested San Francisco but I didn't want to be too close to the family. I couldn't avoid telling them about my true nature. If they suspected I was gay they would never confront me or want to talk about it.
My brother's wedding was a traditional Chinese wedding with a tea ceremony for family gift-giving followed by a major banquet. My brother and his new bride were radiant and smiled throughout the festivities. They dressed in stunning outfits during the evening. I contributed a thousand dollars which was expected of parents and siblings. I had planned to leave the following morning after they left for their honeymoon in Hawaii. However, my parents insisted I travel to San Jose to visit my father's eldest sister who could not attend the wedding because of her physical condition. I relented even though I hadn't seen the woman in ten years. Fortunately, my closest sister drove me. We had a pleasant time together doing the obligatory visit.
On the drive back she said, "Jerry, Winnie and I want you to know that if you decide you're gay we have no problems. Winnie mentioned her suspicion and, honestly, I had never thought about it. We're sure Mommie and Dada would not understand but they don't need to know anyway."
"Mommie was working on me the other day, suggesting she could find me a nice Chinese girl. I just listened."
"She mentioned it to me and asked if I knew anyone. If you ever decide to tell them you're gay, Winnie and I will go with you if you want us to.
"Thanks, Jen, I really appreciate your support. Thanks for dropping me at the airport." I had my carry-on bag with me. She dropped me off at San Francisco International. She got out of the car, gave me a hug and wished me well. On the way back to Ft. Lauderdale I thought about her loving gesture. I wondered if I ever would have the courage to tell my parents. I tried to put that thought out of my mind.
Jeremy met me in the baggage claim area. The three days that followed seemed to disappear. We had so much to do. Jeremy asked me about the wedding and I told him about my conversation with my sister. After breakfast we stopped at Don's to tell him I was leaving several days earlier than I had planned. He didn't seem upset but asked me to pay for one extra day which I was happy to do. He insisted that Jeremy and I continue to use the pool and bring anyone over we wanted to photograph.
Before I lost our internet connection, I wrote to my father and told him that I had decided to take a road trip across America with a friend in his RV. I didn't expect a response and was totally surprised when he wrote me that he needed my bank account information so he could deposit $5000 in it. He thought I would need it because I wasn't working. That plus the sale of my car at CarMax meant my account was enriched to $17,500.
Jeremy had a week remaining on his non-refundable reservation at Easterlin Park. We decided to try out Jeremy's approach on the Drive in Wilton Manors. Jeremy had business cards printed that said, "Jeremy Oats, Professional Photographer, Specializing in Male Nudes". The background was part of a bare male torso. As we walked together he stopped several younger, handsome guys and proposed photographing them. Jeremy handed them a card. When they looked at what was written they smiled and walked on. Three-quarters of an hour later we were ready to go to the Alibi for a beer when Jeremy walked up to a rather ordinary looking fellow. The fellow looked at Jeremy's card, hesitated, and started to hand the card back. He pulled it back, "What if I let you take my picture? Are you going to pay me?"
"No, but I'll buy you a beer."
"Where are you going to do this?" We explained that we were doing the shooting in Don's garden. He said, "I'll take you up on the beer. I'll let you know tomorrow whether I will let you take my picture naked. I have never done anything like that." We left him sitting at the bar unsure if he had accepted or not. We did get his cell phone number. We didn't hear from him that evening and concluded he got cold feet.
We were wrong because the next morning he called and said he would let us photograph him naked if he could get copies of the pictures. He said he needed to update his Grindr profile. He added, "Do you have any makeup? I want to cover the dark spots on my body." We told him we would be ready for him the following morning. Jeremy wanted to have soft natural light. We drove to CVS to buy makeup.
I had a key to Don's house so we let ourselves in before eight. The house was quiet as we waited wondering if the guy, whose name was Harry would show up. We heard a car stop in front of the house. Don was naked in the kitchen making coffee when we let Harry in. He didn't seem nervous and walked straight to the pool deck and took off all his clothes. We were still dressed when he said, "Everyone naked." We did as he requested. I applied make up several places on his thin, pasty white body. The only tanned parts were his face and arms below his tee shirt sleeves. I asked him if he wanted any makeup on his long tangling dick. He smiled and said, "Yes."
After the makeup was applied I grabbed the light reflector and Jeremy got the camera ready. Boldly, Harry said, "I want some flaccid and some full out. Is that OK?"
Jeremy smiled, "Flaccid first." Harry followed him to the garden and Jeremy directed him to stand in a wide stance clearly showing the length of Harry's member. After shots among the trees Jeremy had him move poolside. He wanted Harry to get in the water but only up to his ball sack. That didn't work because the water was too deep. He snapped, "This isn't working! Why don't we move on." He had Harry get out and dry off. He said, "Now it's time for the pictures you requested. How are you going to get hard?"
"I need a little fluffing."
Don snapped to, "I'm happy to volunteer." He walked over to Harry and gently took his dick in his right hand. To our amazement Don got on his knees and put Harry's dick in his mouth. He sucked slowly at first and then began to speed up. Harry grabbed his head to slow him down.
Jeremy said, "OK, I think you're ready. Let's have you recline on a lounge chair." Jeremy took a ladder into the pool and was ready when the sunshine came over Don's roof. He took pictures of Harry from many angles. Harry needed fluffing a couple of additional times. Don was there to help out.
Jeremy said, "That's it!We're done."
Harry seemed reluctant to leave so Don said, "Come into my bedroom and let me finish my job." Harry was out of his chair in an instant and followed Don into the house.
Jeremy said, "You guys enjoy yourselves. We'll meet you at Matty's at four this afternoon to show you the best pictures." I wasn't sure Harry was listening. We packed up and didn't see them until afternoon. Harry was pleased with the pictures which Jeremy gave him on an electronic stick.
As we were showering the following morning Jeremy said, "We've got to refine our approach. What we did the last two days takes too much time. I have an idea. Let's stand on one street corner and give out my card and say nothing. We'll see if anyone texts or calls. Don tried to convince us to stay longer since he liked his role as fluffer.
The new approach worked because three guys – two white and one black – texted us. They needed Don's assistance and he was pleased. The Black guy was a muscle builder to the extreme. He really liked his pictures which we showed him on the computer. One white guy was bearish and hairy. Jeremy struggled to get the poses he liked. The other white guy couldn't keep his dick soft even for a few pictures with the three of us naked. His hard-on dominated the pictures which was fine with him. We thanked Don for his hospitality and crucial help, and returned to the park.
With me moving into the RV there was limited space for clothes. Jeremy and I loaded our cool and cold weather clothes into plastic boxes and stored them int the RV's underneath compartments. We kept warm weather clothes handy even though we rarely wore anything in the RV. I was concerned people could clearly see in as they walked by. Jeremy paid no attention unless it was a cute guy who he thought he might photograph.
A couple of days before we were going to start driving north I noticed a young fellow walk by several times. I mentioned that to Jeremy. We watched for him and when he walked by again Jeremy waved for him to come over. He hesitated then came to our door. Naked Jeremy opened it and invited him in. He said, "You guys are really bold. Aren't you afraid someone will complain?"
Jeremy looked puzzled, "Complain about what?"
"You guys being naked."
"This is our home." The guy hesitated and started to leave when Jeremy handed the fellow a card. The guy looked at the card and didn't move. Jeremy said, "We're traveling around asking guys we meet to get naked for a photo shoot. Are you interested?"
"What are you going to do with the pictures?"
"At the moment our plan is to create a book called The Men We Met." Jeremy reached up to a small group of books on the shelf near the ceiling and pulled one out. "My favorite book is by a photographer named Tom Bianchi. It's called Men I've Loved." The fellow casually looked at the volume filled with professional shots of Bianchi's friends and lovers.
After turning a few pages he said, "OK, what do I have to do?"
"Take off your clothes. I'll close the front shade if you want me to."
"No, I'm fine.
"Sit over there and Jerry will interview you. If we decide to use your picture we need a little information from you."
"What do you want to know?"
"Let's start with your name and why you're here.
"I'm Jason Scott and I'm camping with my fiancé, Jennifer. We are from central Tennessee and decided to visit Florida because we've had a rainy summer at home. I have one question. Can Jen watch as you do the shoot?
"Yes, but first we have to find a place in the park where we will be away from prying eyes."
"There's a secluded path right behind our campsite."
"OK, but we have to do the shoot midday because the mosquitoes will eat you alive if it's morning or evening. Jerry and I will walk to your site tomorrow about eleven. We'll see if that secluded path will work."
"Anything else you want to know about me?"
"Tell us something unique about yourself."
"Well, Jen and I met while hiking in the Smokey Mountains National Park. I do naked rock climbing and she was hiking with a girlfriend on one of the trails nearby. We camped in the same area. That was three years ago. We plan to get married next June. Is that enough?"
"That's great! You want coffee or a soda."
"No, I better get back. We plan to go to Haulover Beach this afternoon."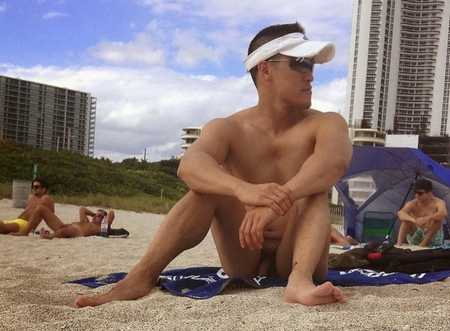 "Jason, we'll see you tomorrow morning about eleven if it's sunny." He dressed and left.
I said to Jeremy, "Let's go to Haulover. There'll be naked men there, for sure. First, I have to call Saw Mill Campground and confirm our reservation for Thursday for four nights."
On Haulover Beach we found naked men in great numbers. We approached several of them who agreed to let us shoot their pictures but the setting wasn't conducive. Too many people were around. We saw Jason and met Jen on the beach. I confirmed the time of the picture taking the following morning.
We rendezvoused with Jason and Jen and walked a short distance from their campsite into the dense foliage. Totally comfortable, Jason handed Jen his running shorts and T- shirt. We asked him to take off his flip-flops. His body wasn't nicely muscled.
His expressions were pleasant. He didn't seem the least bit concerned about being photographed naked. Jeremy snapped shots from all angles. He moved Jason in and out of the light. Jeremy particularly liked the poses where Jeremy was sitting on a log looking into the distance. When we were finishing, Jason said, "Will you take some of Jen and me?"
Jeremy said, "Naked or clothed?"
"We prefer naked because we probably can't find a professional photographer we can afford to do it. Jen smiled and undressed. She lowered her soft, creamy body down onto an old quilt they had placed in the grass beside the path. Jeremy didn't do much directing as they moved from one intimate position to another. After twenty minutes or so we were finished. Jeremy invited them to come over later to see the proofs and have a glass of wine. They arrived promptly at four and loved the pictures. They assured us they were going to use their couple pictures as part of their wedding album.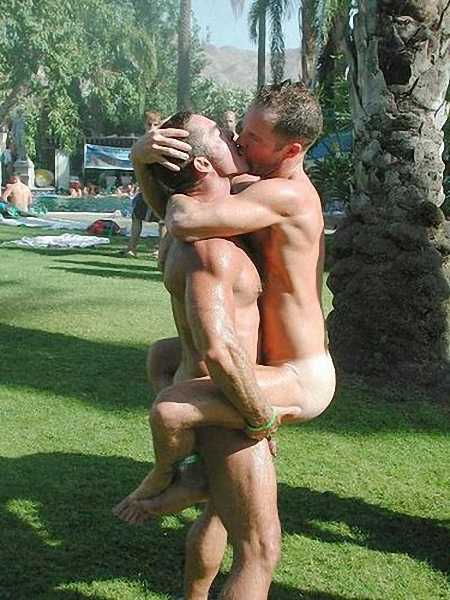 On Thursday after stopping to say goodbye to Don we drove out of Ft. Lauderdale on our way to Saw Mill Campground in central Florida. The KIA we were pulling was hardly noticeable behind the rig. We arrived in late afternoon and were led to our assigned site with water and electric hook ups. Saw Mill was clothing optional but nudity seemed more acceptable if you were around your campsite. We started by walking around wearing only tight cutoff jean shorts handing out cards. To our surprise we didn't have any text messages the first afternoon. We were puzzled until we got a text from one of the managers suggesting that nude photography was discouraged. Shortly after that text, a guy texted and asked if we would photograph him and his boyfriend.
We met the two guys at our RV. They were playful and laughing. We discussed where and how to photograph them. They seemed uninterested in formal posing and asked if we would follow them to the pool. Without hesitancy they undressed and left their clothes on our lawn chairs. Either they didn't know or they didn't care about the rule about nude photography. Jeremy followed them and got in front of them taking snapshots. They were having fun. Only a few folks paid attention to us. Back at our RV I handed them their clothes and they walked away laughing. They thanked us. I had earlier gotten their email addresses and promised to send them the best pictures.
We got a few additional inquiries but we couldn't find an appropriate location so we stopped taking pictures. We had heard that Saw Mill was cliquish but that wasn't our experience. We were invited to a pot luck on Friday night at the campground's main social hall. We had a nice time getting to know the weekend campers. The entertainment was a disc jockey playing country western music. Jeremy said, "Jerry, do you want to try country western dancing?"
"I can two step, can you lead?"
"Yes, but can you follow? I never danced with a guy who could follow correctly."
"I won't embarrass you." We got up and immediately got into the rhythm of the music. We were twirling around the floor like we danced every night. When the dance finished there was applause. We acknowledged those who clapped and proceeded to do a waltz to Patsy Kline's The Tennessee Waltz. Jeremy was a good dancer. After the third dance I whispered, "Jeremy, that was really fun. I hope we can learn some other dances." He smiled and squeezed my hand.
The temperature was high and humidity heavy. Fortunately, the campground had adequate power to run our air conditioner. We were able to sleep comfortably. The more I was with Jeremy the more I thought I was in love with him. It wasn't what he said but rather how he tenderly put his hand on my shoulder or my butt. He effortlessly placed soft kisses on my cheeks and the back of my neck. I was happy but cautious based on my discouraging history with handsome, gay men.
Occasionally, Jeremy would get one or more of Tom Bianchi's books down from his book shelf. We would sit together looking at the men and the poses. We knew Jeremy had sensual, expressive pictures and believed that a book about the men we met would get the attention of publishers of photographic books.
After we left Saw Mill we parked midweek at Paradise Lakes, a high end nudist campground north of Tampa. The facilities were clean and freshly painted. We were welcomed because Jeremy was a member of The Naturist Society. The resort had two large pools and many lounges which were occupied from early morning by attractive, well tanned straight couples. They also did nude yoga, played bridge or hiked around the large property. The responses to our business card approach were from married couples who wanted to be photographed in their homes or RVs. The subjects were older couples in good shape. We brought out auxiliary lights to create nice pictures. Jeremy happily accepted their tips and we gave each of the three couples a stick with their pictures. They all seemed pleased but these pictures weren't moving our project forward.
Our next stop was the River's Edge Campground in Georgia. River's Edge is a high quality, clothing optional campground. The campground was definitely the most upscale gay campground we visited. We encountered initial reluctance from the campers we approached about being photographed. We finally got interest from several gay couples but found that finding picturesque spots to photograph was challenging because there were so many campers around. We were with one congenial group or another all of the days we were at River's Edge.
On Monday most of the campers returned home for school and jobs. As Jeremy and I were eating stale donuts and drinking coffee, we discussed how our approach to photographing candidates had to change if we were going to get the pictures we wanted. We decided gay campgrounds weren't the answer. We decided to try driving off of the interstates and stopping in towns. It was a risky strategy because I was afraid we would be shot rather than doing the shooting. Also, if we had trouble with our RV, which was notorious for mechanical problems, where would we get it repaired? We had already stopped once in Tampa when our water pump stopped working. That was a big expense as was buying two new tires for the front of the coach. That was during at a forced stop near Dothan, Alabama.
Our rough plan for our journey would last into the fall and take us through Alabama, Tennessee, Indiana, Wisconsin, then went westward into Colorado. From there, we would drive to Santa Fe, NM before heading toward the Pacific Ocean. Our last photo destination would be Yosemite National Park before ending our trip in San Francisco. Since money was not plentiful we planned to stay in small RV parks, Walmart parking lots or register in no name motels for a couple of nights. On the days we stayed in motels we would do laundry. On several occasions we were invited to stay with friends or folks we met along the way.
Our plan worked as described until we reached California. Our RV journey ended suddenly at a truck stop near Fresno as we drove toward Yosemite. We parked among the tractor trailers as we usually did and went inside to use the facilities. We were walking back toward the RV and saw a massive rig rolling toward it. A heavy set man was running toward the tractor. There was no one at the wheel as the big rig smashed into the back of our RV and our KIA. The highway patrol came and the truck driver was vigorously questioned. Spectators estimated that the rig hit us going ten miles an hour. It didn't matter how fast because the back end of our RV was crushed and the KIA was totaled. Fortunately, no one was injured. We weren't as devastated as we would have been earlier in the trip but we had new issues to consider.
Before the accident, I called my sister and asked if we could stay at her house. I told her Jeremy and I were together. She was happy that we were coming. She assured me I wouldn't be shunned by the family. A few days later I had to call her back and told her about the accident and explained that we were stranded without a vehicle near Fresno. She called back with news that my father and younger brother would drive out to bring us back. The insurance company decided to total the KIA and RV. I waited nervously for my father's arrival not knowing how he would react to what my sister told him. We stayed in a grungy trucker Motel 6 to deal with insurance adjusters and accident reports.
My father and brother arrived on Friday about noon. I was shaking when my father approached. He hugged me and said smiling at Jeremy, "So I finally get to meet the famous photographer."
Nervously I said, "Father, this is Jeremy. He's my partner and soon to be my husband."
Looking puzzled Jeremy said, "You can't say such things because you have to get down on your knees and ask me. If I say 'yes' then you can say such things." I knew Jeremy was playing with me. I could tell from my father and brother's expressions that they weren't sure what to do. I got down on my left knee and asked him to marry me. He said, "Hell, yes. What took you so long?" Everyone laughed.
We brought our limited belongings out to the van. My brother drove us to the junk yard where the RV and the KIA had been towed. It only took a few minutes to load the plastic boxes of winter clothes and other mementos. Jeremy reached for the photo books on the ceiling shelf. Everything else we left in the RV.
After the warm welcome we received at my sister's house, she told us there was a family gathering at my parent's home to introduce Jeremy to everyone. I was nervous but shouldn't have been. We stayed with my sister for a week but needed to find our own place.
About midway through our first week in a short term rental apartment, my father called and invited the two of us to have lunch with him in Chinatown. We joined him in a small quiet alcove at one of his favorite Chinese restaurants. Without ordering, the food dishes started to arrive. We ate quietly before Father said, "Jerome and Jeremy, I have a proposal for you. Why don't you move into your grandmother's apartment? No one has lived there since she passed away. It needs to be renovated but with your architectural skill I suspect you can get the permits you need to get the work done. I will finance the work and deed the apartment to you as a wedding gift."
"Whoa, what a generous offer! I don't know if we want to live there while the renovation is going on. Knowing San Francisco, it could take months to get the permits and finish the work,"
Father said, "You are probably right. I know some people at city hall who can help. Stay in your furnished apartment until the rehab is completed. After you and Jeremy get your book project to a publisher I would like you both to consider working in our import business."
Jeremy looked surprised and said, "Thank you, Mr. Yang but I want to try to break into professional photography. I know it's a long shot but I want to try."
I said, "Father, I have a counter proposal for you. If I agree, I will you help me set up a home rehabilitation company and finance a couple of renovations to get the company started."
Not smiling Father said, "Jerry, you tried starting a business once before and it wasn't successful. Why do you think another will succeed?"
"Father, now I have a partner who I trust and wants me to be successful. That wasn't the case in Madison. Sometime I'll tell you what really happened."
"OK, I will think about your counterproposal and let you know. Let's finish our lunch and take a taxi over to the apartment so you can see what needs to be done."
We were dropped off in front of a three story white stucco building in the Russian Hill area. My immediate thought was structural since I was sure the building was built without earthquakes being considered. We walked up to the third floor and my father opened the door to a smelly but large apartment. The heavy drapes were drawn. Father opened them on the front windows. We could see over the roof tops toward the financial district. Father spoke, "Jerome and Jeremy this is your first renovation project. I own the building and suspect the other two units need to be renovated, too. Both have been occupied for many years by the same people. I suspect time will soon solve the issue of tenant removal. The tenants are elderly.
About a year ago we moved into our newly renovated condo on Russian Hill. I finally decided to join an established development firm and create my own design studio.
One morning sitting in the alcove overlooking downtown San Francisco having tea, I noticed an email from Kyle in Danneblog, Nebraska. I called Jeremy to come in from his computer where he was editing photographs. We read the email together and enjoyed seeing pictures of Kyle, Cary, Laura and Frieda holding two babies. I smiled at Jeremy. "Well, it looks like there's a new gay family in Nebraska. I think we can take credit for helping that happen." He kissed me tenderly.
I could describe more about the renovation project, my decision to work with father, and Jeremy's venture into professional photography. That will have to wait until another story.
The following pages reproduce those in our book – The Men We Met. As I mentioned in the opening paragraph, Alice & Sons Press published the book two years ago. The book sold well and the fellows we included seemed really happy to have been part of our project.
The Men We Met
Driving Across America
By Jeremy Oats and Jerry Yang
This book was published by Alice & Sons Press. Jeremy and I were fortunate to do book signings for several months following the book's publication at book fairs and LGBT book stores. Our book was nominated for a Lambda Literary award.
Introduction
In contemporary American society, male nudity in public places like gyms, lakes and beaches has become less acceptable. The reasons are unclear but we decided to find out if men really were that self-conscious or simply adhering to society's unspoken new rules. Sixty years ago, men and boys were regularly nude at the YMCA, school swimming pools and public lakes. We conjectured that men would willingly take off their clothes if they thought they were being photographed for a legitimate book. We decided to drive across country and test out theory. Many times we were correct. The following pages described our three month trip traversing the United States in a vintage RV. Our trip came to an unexpected, abrupt end in Fresno, California before reaching our destination-San Francisco.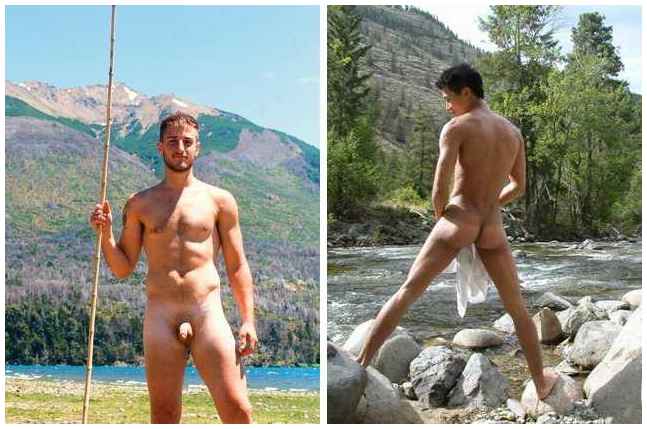 We decided to write the text in the first person because it makes what we described more personal and natural. We felt it was only fair to the men and boys we photographed to include pictures of ourselves. We snapped the above pictures of each other when we in the Rocky Mountain National Park in Colorado. The day before taking these pictures, about two months into our journey, we arrived in Estes Park, Colorado. We parked our RV and the KIA we towed in a sprawling city parking lot. Then we walked over to Wapiti Pub's for a burger and their famous onion rings.
As we usually did when we were seated, we looked around for candidates. By this point in our journey, we had an approach that worked many times. In this case, there were four guys across the room having iced tea or colas with their burgers. They looked like construction or highway workers. We quietly agreed on the two guys we would approach if either one got up to go to the john.
It happened that our first choice candidate got up first. Jeremy quickly stepped behind him. Rather than speaking to him at the urinal, we had learned to wait until the candidate was washing his hands. Jeremy was gone longer than necessary so I assumed the guy had some interest.
Marty
I was correct. Jeremy returned smiling and said, "His name is Martin. He agreed to discuss what we wanted to do after he got off work. He asked that we meet him here but I suggested he find our motor home which was parked in the city lot across the road. I pointed it out as we walked back to our tables. What took so long was he wanted to know about you. Frankly, he told me he hoped he could find a cute Asian. I listened but thought 'you can't have mine.'"
After we got back to the RV we straightened up since we hadn't cleaned in about a week. Before we finished Jeremy grabbed me and pulled me onto our bed. I melted into his arms as he smothered me with kisses. He said, "Jerry, I am so happy! You entered my life at the right time. Are you concerned about what will happen when we get to San Francisco?"
"I think about it but I am ready to face my parents. My sister continues to tell me they can't wait for me to come home."
"You're the lucky one. Wherever you are is home to me."
"I feel the same way." We cuddled and mutually pleasured each other but resisted going all the way because we weren't connected to electricity and water so we couldn't shower. We had reservations inside the park for check-in later in the afternoon. At about 4:30, as the sun had completely slipped behind the mountains, a noisy, older white Ford pickup pulled into the parking space next to our RV. Martin stepped out and hesitated. I looked at his muscled chest stretching his T-shirt under his unbuttoned flannel shirt. I wondered if he was changing his mind but he walked around the RV to our door and knocked.
Jeremy opened the door and welcomed Martin and asked him to take off his dusty work boots before he came in. He sat on the step and pulled off not only his boots but also his socks. He stepped in and looked around, "This is what you guys call home?"
"At least for the past several months since we left Florida."
"This road trip of yours is about photographing naked guys?
I said, "Not only photographing but finding out something about each of them, too.We're planning a book. Did Jeremy tell you that? If you don't want to be in it we completely understand."
"Shit, I look good naked. I'll show you if you want to see."
"Not now, because we need to get the RV into the campground in the park before it gets too dark. Do you know how far the campground is from here?"
"I'd guess it's about five miles in. Do you want me to lead you? I love the park and hike there as often as I can.
"Sure, that'd be great! He sat on our step and slipped into his boots without tying the laces or putting on his socks. We followed his pickup out of the parking lot and onto the highway. After paying our park entrance fee we followed his truck on the winding road to the campground. Only the tiniest glow of sunset was left when we set up. He helped me guide Jeremy into the parking space and pulled his truck beside the KIA leaving his headlights on to give us some light. After the water and electricity were connected and the KIA unhooked the three of us went inside.
Jeremy grabbed three beers and said, "Here, Martin have one!
He said, "Call me Marty everyone does." He finished one beer and a second as I warmed some pasta sauce and boiled water for spaghetti. It was clear Marty wasn't leaving, as he stripped off his long sleeved shirt leaving only the blue T-shirt. There was plenty of food because Marty had a real appetite. We chatted as we ate and then I asked if he minded if I turned my phone to record mode. He said, "I can't believe anything I am going to tell you is worth recording." I pressed the button on the phone. We found out that Marty had been born on a ranch near Ft. Collins. After high school graduation he started at Colorado State but dropped out after two years. He said he wasn't against college but needed a break from studying. He told us he got a job with the telephone company about four years ago.
He gave us details about how he got into nude hiking in the park. "One sunny day my buddy and I were hiking up by spectacular Lock Lake. I'll take you guys there tomorrow since I don't work on Saturday. Anyway, it was a warm summer day and I was going to hike naked. He said, 'If you are I will, too.' We proceeded to completely undress except for our hiking boots, packed all three of our clothes in our backpacks and started out. Not five minutes up the trail, we had an incredible view of the lake with the mountains behind. Three guys approached us who looked like a grandfather, father and teenage son. The young guy smartly quipped, 'How're they hanging?' I said, 'Just fine.'" They laughed and marched on."
We didn't have to invite Marty to sleep with us because he asked if he could stay. After a couple of hours of exchanging stories, I suggested we go to bed. He got his toothbrush out of his truck and brought a small backpack with a towel inside. He showered and he didn't bother to cover up but neither did Jeremy nor I.
After breakfast, which he fixed, we loaded the camera gear into his truck and we all climbed in. He drove about half an hour to a small gravel lot. He said, "This is the trail head for the Glacier Gorge Trail up to Loch Lake. There are some cool places to photograph. The river that runs out of the lake is cold but beautiful." We dutifully followed him and about an hour into his walk he stopped, "This is where my buddy and I stripped and started our first naked hike."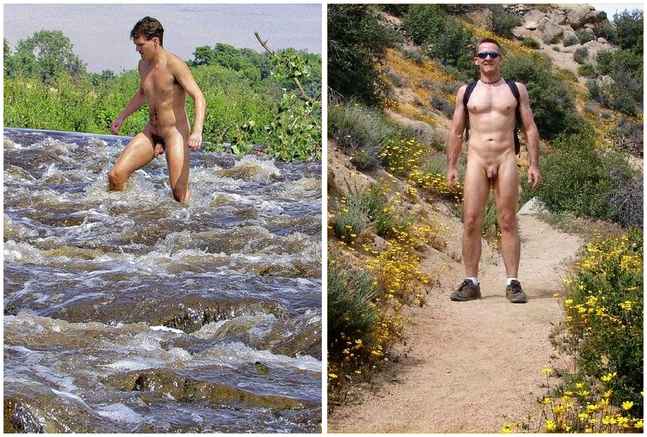 Jeremy couldn't stop Marty from showing us everything along the trail. We encountered two couples going the opposite direction. One guy said, "Put your clothes on!"
Marty smiled, "I'm modeling."
They walked on and didn't look back as Jeremy snapped picture after picture. We came to rapids where the water ran out of the lake. Marty stepped in even though the water was freezing cold; it had to have been snow a day or two earlier. He encouraged us to follow him into the crystal clean mountain lake. The water was freezing but that didn't deter him. He seemed so happy to be out with us in the mountains. After a couple of hours, we headed down the trail to Marty's truck.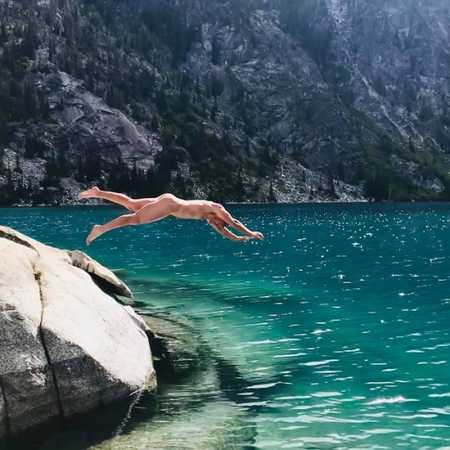 Once back at the RV, we decided to go back to Estes Park for dinner. Marty gave no impression that he was leaving. For no reason, he kept his clothes on until he was back in the RV. After a refreshing beer we invited him into our bed.
The sex with Marty was innocent and sweet. He loved to kiss and cuddle as we do. He was happy to be the bottom or the top, whichever we suggested. He never suggested he was gay or straight. He told us he liked having sex with men because there were fewer complications than having sex with a woman. He led us on two more beautiful trails on Sunday. On Monday morning he drove off to work as we were packing up to drive on. We exchanged hugs and he left our life. We concluded that Marty was out to experience life with no strings attached.
Scott and Brian
While we started our trip in Florida and not Colorado but decided to start describing our adventure with Marty's story. He was exactly what Jeremy hoped would happen when he asked handsome men to get naked and have their pictures taken.
We left Paradise Lakes, north of Tampa, in the morning and three hours later arrived at Southern Comfort RV Campground, about an hour from Tallahassee. The campground was one of the best maintained properties we visited and was on the Gulf. We were parked in an area with many substantial, expensive RVs. The sites were easily accessible with electric, water and sewer connections. Many of the campers came from the Midwest and were definitely not gay but were nice to us. On our third day, a Saturday, we met a strikingly handsome couple who agreed to be photographed. That happened only after the four of us each had more beer than I usually drink.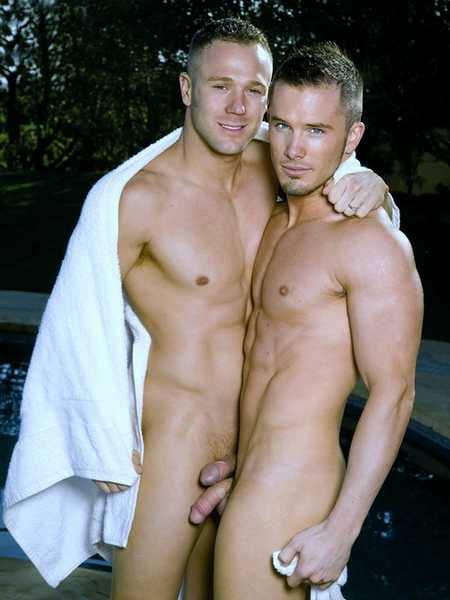 Scott and Brian were from Atlanta. We met them at the pool. They invited us and other friends to join them for burgers and beer. We were the first to arrive. Jeremy explained our book project and purposed photographing them. Scott said he was happy to be in the book but Brian wasn't sure since he was a teacher.
Later, we told them not to be concerned since we were months away from finishing the project. Brian said he would let us know soon. I did ask Scott if they give us their biographies. He said he would but didn't say when he would.
They told us they did modeling and were definitely a sexy couple. Very early Sunday morning, Jeremy made good use of the outdoor shower for the shoot. Both men had piercing eyes which Jeremy commented on several times during the brief session. I was initially concerned that their penises were too prominent but I didn't say anything to Jeremy. Even though there were only a few pictures most were magical.
We were in Indiana when their biographical write-up email arrived. I read that the guys were not just models but from well known Atlanta families. Brian was an officer with his family's manufacturing business and Scott was not only a teacher but a published author of children's books. I am happy they agreed to be photographed since they were definitely the hunkiest and highest profile couple we photographed.
Meeting Randy definitely didn't start out pleasantly. We had left Florida and were driving north of Dothan, Alabama when Jeremy commented that the RV wasn't steering correctly. We pulled off at the next interchange to determine what was wrong. There were no service stations so we pulled as far off the road as we could. The sign in front of us read 'Ozark 2'. The right front tire was half way deflated but we couldn't see any damage. As we watched, the tire slowly flattened completely.
Pickups and dullies sped by us and honked but didn't stop. I got back into the RV to get our directory of truck tire service companies. We knew couldn't change the tire ourselves because we didn't have the necessary equipment.
The closest service was twenty-five miles away in Dothan. As we were discussing the situation an old, scratched tow truck pulled to a stop in front of the RV. Painted on the driver's door was a faded 'Don's Towing'. The tow truck was for cars.
We were happy when a southern redneck felloa got down from the cab. He was wearing oversized mechanic's overalls and a greasy baseball cap. Out of his scruffy, bearded mouth came, "You boys havin' trouble?"
"Yes, we were getting ready to call a truck tire service center."
"Twenty-five miles down in Dothan but if they come out it'll cost you a bundle."
Jeremy remained calm and said, "We have to do something because we can't change the tire ourselves."
"I can help but you'll have to pay me in cash, no credit cards."
"Sure, what do you propose? Your tow truck can't tow us in."
"Shit, I know that. I'll drive back to the garage in Enterprise and get the big rig. It'll take me an hour. First, I've got to pick up a car down the road."
I said, "We'll be right here." As he walked toward his truck he pulled at his pants as if he was trying to get his stuck underpants out of his crack. He spit out a wad of tobacco juice as he reached for the truck's door handle.
After almost an hour we hadn't seen him drive by carrying a car so we weren't quite sure if he was coming back or not. "How long do you think we should wait for him before we call the truck tire service?" We agreed to give him two hours.
Jeremy heard the diesel pipes before I did. The fellow pulled in front of the RV. He got out of the monster truck but this time he was wearing tight blue jeans and a grimy tee shirt with a couple of holes. Don's Towing Service was printed on the front. "You boys give up on me? Secure things inside and I'll tow you back to our lot. We'll see about the tire."
He asked us to unhook the KIA. When the RV was securely attached, he towed the RV and we drove behind him. On the outskirts of Enterprise was the home of Don's Towing which was a final resting place for crashed cars and trucks. He pulled up near the garage which served as the office. He got down out of the truck and walked toward us. He said, "Fuck, guys I'm starving. Let's take your car to the diner and eat. I'll look at the tire in the morning."
I said, "You got a place where we can hook up to power and water, like a spigot? We have to sleep someplace since I didn't see a motel in town."
"Right, no motel. Electric, yes, if you got a long extension cord. Water, no. After we eat you can stay at my place. I live alone except for my dog and some chickens." We plugged in and stretched out our cord for electricity to keep the food in the refrigerator from spoiling.
As the three of us got into the KIA I looked at Jeremy who shrugged his shoulders. After supper on chipped dishes at a less than a clean table, we got back in the KIA and drove several miles to a scruffy trailer park where the fellow lived. By this time we knew his name was Randy. He opened the trailer door and a medium-sized brown and white haired dog jumped for joy. After jumping into Randy's arms the dog jumped down and sped toward a tree to pee.
I wasn't surprised that we found a cluttered living room with beer bottles on the table and the floor. There were dirty dishes in the sink and there was a moldy smell about the place. Randy said, "It's not much." He reached down to pick up several beer bottles and his tee shirt pulled up over his belt revealing not only a significant portion of his ass but a small tattoo that said, 'Entrance'. Jeremy smiled at me.
Without asking, he handed each of us a beer and opened the door to let the dog back inside. When he sat down the dog jumped into his lap. We sat on the couch which he said was a pullout bed. It turned out to have a very lumpy mattress.
The next day we drove Randy to the garage where we met two other rednecks who had already taken our tire off by lifting the RV up with the big towing rig. Randy said to the fat guy in overalls, "How bad is it?"
"Fucked! needs a new tire. Better get two to make it drive smoother." We had no choice but spend about $600 plus tax for two new tires that would be delivered the next day from the tire service in Dothan.
We told Randy we were driving to the diner for breakfast and would be back. He said, "I'm in." At breakfast he became interested in our cross country trip but we had not told him our objective.
Jeremy surprised me when he said to Randy, "I'm a photographer and we've been taking picture of naked guys we meet."
"You're shittin' me aren't you." I assured him what Jeremy said was true. I told him I interviewed the guys so we could write a book. "Take me back to the garage but come pick me up about noon. I'll take you to a place so you can take pictures of me buck naked. I don't care if someone sees my dick."
That's exactly what happened. Shortly after noon we picked him up. He directed Jeremy to drive out of Enterprise saying, "We're going to the lake.' We drove down several country lanes before he told Jeremy to pull over.
He pulled off his shirt, boots, jeans, socks and underpants as Jeremy got out the cameras. Other than the 'Entrance' tattoo he had one other tattoo of a fern frond on his lower left arm. Jeremy followed him around for twenty minutes snapping pictures. He had a cute smile and his ample dick was present in many pictures but I could tell that Jeremy was more interested in his hairy, plump backside. Randy was definitely not shy.
Once the shoot was finished Randy said, "Let's go where we can get a beer." We stopped at a grungy tavern on the way back into town. The place smelled of stale cigarettes and beer and we were the only people there. We ordered burgers and fries. Randy quickly drank three beers before the burgers arrived. Jeremy was driving so Randy didn't have to worry. When I said, "Randy, tell us about you." That's all it took before Randy's whole life story came rolling out.
He started, "If you want to know the truth, I'm the bastard son of a truck driver and a waitress at the diner. My mother ran off with another guy when I was five or six and my uncle, the fat guy you met this morning, took me in. I did all the normal stuff you do in a small town. Went to elementary school but the schools closed now. I went to Enterprise High School but I dropped out after tenth grade. I didn't like going to school and the teachers didn't like me.
I started working for my uncle at the junk yard about the time I got my driver's license. What else do you want to know?"
Jeremy said, "Randy, are you a virgin?"
"Hell, no! I've shagged plenty of girls and a couple of guys. Girls are too much work to get into their pants. With a guy, all to do is to tell him to drop his pants and bang."
"You guys are fags, aren't you? It's totally OK with me. I guessed because of the way you look at each other, all lovey. You want another beer?"
Jeremy said "Yes'" and I said "No thanks.'" We drove Randy back to his trailer. Once we got there Jeremy gave Randy a directive, "Randy, get naked and come into your back yard. I have an idea.
Without another word Randy was naked and sprinted around his trailer since other trailers were fairly close by. Jeremy could tell Randy was feeling the beers so he asked him to do crazy things like hold his chicken, kiss his dog and sit in the grass leaning up against a tree. Randy did exactly what he was told. Finally, the mosquitoes were getting aggressive so we went back inside.
Randy picked up the phone and ordered a large pizza with everything to be delivered. He was the only one still drinking beer. We each showered before the pizza arrived. After we ate, it was clear he was going to sleep soon. He invited us to sleep in his bed which was definitely more comfortable than his pullout sofa.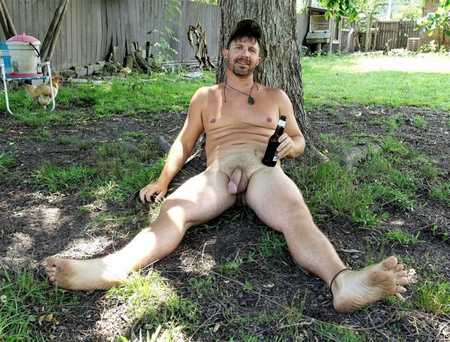 In the morning, Randy didn't seem to have any lingering effects of the beer when we drove to the garage. With the electricity on we turned on the air conditioner. We stood around as Randy and the others worked. The tires arrived shortly after ten and we were ready to hit the road by noon. Randy seemed sad when we got into the RV to drive on. He hovered like he wanted to go with us. We hugged and thanked him and his uncle. He finally said, "Jeremy, would you send me the pictures you took of me and a copy of the book when it's finished?"
We assured him we would do what he asked and drove off toward the Decatur/Wheeler Lake HOA campground north of Birmingham near the Tennessee Border. The campground was small and well maintained with water and electric hookups which we were able to reserve for only one night. That worked because we were scheduled to arrive at Whispering Oaks Campground south of Nashville on Friday for the weekend.
The campground had easy, drive-through parking. We hooked up electricity and water not expecting to see any photographic candidates. We rolled out our awning and put our lawn chairs in the shade. We began planning our next stop when we saw two guys paddling a canoe coming across the lake. We watched as the two guys stepped onto the shore and walked to one of the three permanent picnic tables not far from us. We didn't pay much attention since they didn't disturb our lake view until Jeremy said, "Jerry, let's go check them out."
Addison and Andrew
The guys were sitting on top of the table chatting as we walked toward them. They didn't pay any attention to us as we strolled along the edge of the lake. We stopped and watched a fishing boat move slowly across the water. I heard a voice behind us, "Oh, there goes Reverend Carl with his boy." I didn't look but assumed the fellow meant the Reverend's son. We didn't move until one of the guys approached us. He said, "Hello, fellows. You camping here?"
Jeremy turned and pointed, "Yes, that's our Georgetown RV and KIA over there. Jerry and I are on a road trip across the country taking pictures of the guys we meet You guys interested in being photographed?"
The shorter fellow said, "We just paddled over from the church camp where we're counselors. We got a break because the kids went home this morning and we don't see a new group until Sunday afternoon after church."
Jeremy hesitated, "Guys, we want to find a place where you can be naked. I didn't introduce us. I'm Jeremy and this is Jerry, my partner." Jeremy was trying to find out if these religious guys were interested.
"I'm Addison and he's Andrew."
Turning to his companion Addison said, "Andy, you up for being photographed in the nude. I'm sure if the Reverend finds out we'll get fired."
"He's such a hypocrite because he and his boy are probably naked together now."
Addison said, "Jeremy, why don't you drive around the lake and we'll meet at the dining hall. It's easy to find. The camp is deserted." I'll suggest several possible locations."
Addison and Andrew seemed nervous at first, as the stripped off their clothes outside. One or the other kept looking around expecting someone to appear but the longer they were naked the more comfortable they became.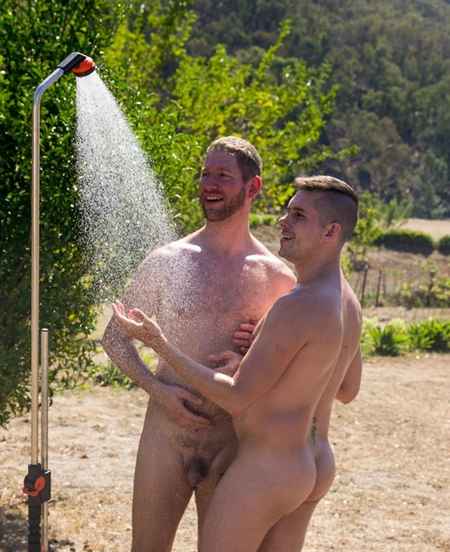 I said, "I want to interview you. That's part of the book we're planning. We can do the interview at the camp or you can come back over to the RV after the shoot."
Addison said, "Let's go back to your place."
The locations for Jeremy's photographs were spontaneous. They included the cabin porch, lounging on the steps of the small wooden chapel and under the spray of a makeshift shower near the lake. The light was fading so Jeremy had them standing holding hands looking at the last rays of the sunset. When Jeremy asked them to hold hands they hesitated but slowly complied.
After they dressed, the four of us got into the KIA and drove back to the campground. We had intentionally parked the RV away from other units which gave us privacy. When we arrived back at the RV, Addison said, "We want you to be nude. We'll get naked."
All of us shed our clothes and Jeremy said, "Jerry ask your questions. I'll fix us some burgers. I suggest we eat outside unless another unit pulls in".
I found out that Addison and Andy had known each other since early childhood because they attended the same Baptist church in suburban Nashville. While they never went to the same elementary or high schools together they are now attending Carson-Newman University together. They were juniors and hoped to graduate in a year. Addison was planning to teach in a Christian academy and Andy was unsure what he was going to do. To him it didn't matter as long as he and Addison lived in the same area.
Jeremy and I excused ourselves and went inside to get buns, condiments and drinks. He offered the naked guys a beer which both declined. Andy said, "We don't drink." He handed me two beers and two Cokes to carry to the table and he brought the rest. We sat at one of the park-provided picnic tables. No one was around except us.
I continued my interview. "I assume you are only friends."
"Yeah, Andy is my best friend." Andy nodded in agreement.
Andy boldly asked, "Are you guys gay?"
Jeremy smiled, "If you're asking if we're partners the answer is 'yes'."
Addison naively added, "Aren't you worried about going to hell?"
Jeremy rudely snapped, "You have to believe in hell to be worried about going there."
Aware of the tension in Jeremy's voice I interjected, "Have you ever met a gay couple before?" Both fellows shook their heads. "Let me ask you a question and you don't have to answer if you don't want to." I took a deep breath, "Have you ever touched each other's stuff?"
Even though it was evening I could feel the heat radiating from both their faces. Andy softly said, "Yes, at camp when we were thirteen or fourteen."
"Not since then?" I questioned.
Addison joined in, "We've rubbed each other off a couple of times in college but we're not gay."
"How do you feel being naked with two gay guys?"
"OK. You haven't tried to rape us or anything."
Jeremy was getting more agitated, "What do you mean rape?"
I spoke softly, "Jeremy calm down. I think he means cruised."
There was silence as the tension level lowered. I noticed that Andy was constantly pushing his erection down under the table. "I suggest we go into the RV because I'm getting cold." I felt, at that point, if they really wanted to leave they would say so. Instead, they followed close behind Jeremy. Once inside I intentionally drew the curtain across the front window and lowered the window shades. I did it as if I did it automatically.
After we were seated Jeremy said with irritation in his voice, "So you are both virgins?"
"You mean have I had sex with a girl. No, I never have. I have to find the right girl. I think I want to be a virgin on my wedding night."
"Me, too. Being with a girl really doesn't interest me that much."
At that point I walked over and kissed Jeremy firmly on the lips. He put his hand around my neck and pulled me closer. I was half expecting one of the guys to ask us to drive them back to the camp. That didn't happen. I got on my knees in front of Jeremy's swollen dick. I slowly licked the tip and then took it inside my mouth. I heard Jeremy gasp. I couldn't see Addison and Andy but suspected each had a dick in hand. After a few minutes Jeremy pulled me up for a kiss. I looked toward our guests and saw Andy on his knees in front of Addison. He was doing what I did to Jeremy.
Boldly Jeremy said, "Guys, having sex with a man is better, in my opinion, than having sex with a woman. Get in bed with us and let us demonstrate. You don't have to do what we do."
Addison said, "I have always been a sinner so I'm ready."
Andy said, "I've been waiting forever for you to ask me. Will you kiss me now?"
Addison pulled Andy up from his chair, hugged him and awkwardly kissed him. He took Andy's hand and led him toward us, who were already lying on the bed. They lay beside us as their engorged dicks stuck in each other's stomachs. Fortunately, condoms and lube weren't too far from our reach. I could describe what I saw but that would not be fair to their innocence. Needless to say, they didn't go back to camp that night. They weren't virgins when we got up in the morning. Neither Addison nor Andy said very much but their touching and kissing showed that their relationship had changed. We offered to make coffee which they shunned for two glasses of milk. We exchanged contact information so we could send pictures. We encouraged them to keep in touch as their life journey continued. We drove back to their camp and they both genuinely, without shyness, hugged us. As we drove off I smiled, "Do you think we made those two guys gay?"
Eric
Whispering Oaks was more beautiful than we expected for north central Tennessee. The trees were stately with many paths filled with naked men enjoying nature or doing what comes naturally for gay men. We parked our RV with several other units close to power and electricity. This was a clothing optional gay resort so we were naked as soon as we were set up. Plenty of handsome men were around but when Jeremy had his camera out they seemed to disappear.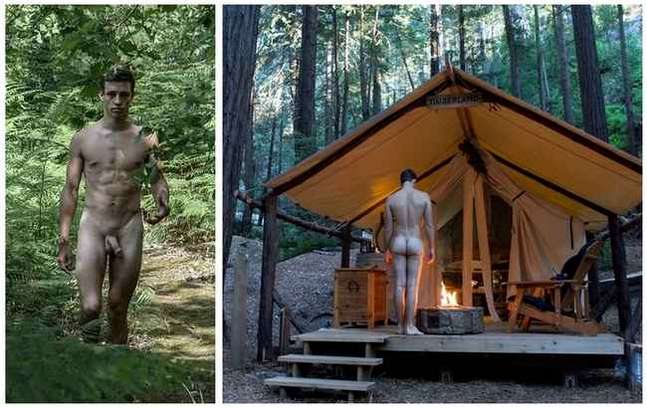 We walked onto a forest trail enjoying the beauty and serenity. Jeremy had his camera hanging around his neck. Walking toward us was a handsome guy with a sullen look. As we passed each other he said, "You can take my picture if you want to." We stopped. "I mean it. I like to have my picture taken naked. If you're interested you can find my portfolio on DudesNude.com. Jeremy didn't hesitate and put his camera up to his eye.
"Back up so your face is in the light." The fellow did what he was asked to do. Jeremy said smartly, "What's your name, naked Adonis?"
The guy said, "Eric Hanson. What's your's?"
"I'm Jeremy and my partner is Jerry." I felt good every time he called me his partner.
"Will you take slutty pictures of me? I love to have sex in the woods."
"I'll take as many pictures as you want but you have to provide your own penetrator."
Jeremy snapped pictures as I asked my normal questions about where Eric was from, what he did, did he have a gay partner and other things. His answers weren't particularly interesting until he told us he had done gay and straight porn in Los Angeles. Jeremy put his camera down, "You're a free agent, aren't you. I don't want some creepy guy trying to collect money because you have a contract."
"Totally free." Several other couples walked past us while we talked. As the three of us walked, Eric approached several older guys but wasn't successful finding someone to suck him in the woods.
We agreed to try again tomorrow. He walked with us toward our RV but midway took a turn down a walkway in front of tented cabins and he said, "Enjoy your day but come to my place tonight. It's a platform tent with the name "Timberlake" over the entrance down about fifty yards." He walked away.
Like most gay resorts we found plenty of friendly guys to talk with at the pool. After lunch we joined a group for volleyball. It had gotten cool so we put on long tee shirts. After dinner we decided to stop by Eric's before it got too dark. We walked toward and found Eric's tent. It was on a raised platform with a small sitting area, a small fire pit and in the back was a bed surrounded by mosquito netting. Eric wasn't around so we turned to walk away. We heard, "Yeah, guys, I'm here. Just finished what I wanted to do earlier. The guy really stretched me."
Jeremy said, "The light is perfect. Can I take a couple of pictures?""Take as many as you want."
Eric stepped up onto the platform and Jeremy said, "Stop." Eric looked over his shoulder as the camera clicked away. He provocatively pulled his cheeks apart. He turned toward the camera and his dick was totally engorged. I'm sure Jeremy saw what I saw. Eric's eyes were vampire red as he glared at the camera. Jeremy seemed transfixed on Eric's look as he directed him from one position to another. Eric collapsed into one of the chairs and the spell was broken. Without words the three of us sat staring at the little fire. I couldn't believe how tired I felt. Later, I woke up still sitting in Eric's chairs. Jeremy was slouched next to me and Eric was not in his bed. We didn't speak as we walked back to the RV.
On Monday morning after preparing to leave, we walked to Eric's tent to get his contact information. He was gone so he didn't get to see any of the really magical pictures that Jeremy took. Fortunately, I remembered his name and the fact he had a portfolio on DudesNude.com.
Our next scheduled stop was in Bloomington, Indiana but we had three days to find something to do because we weren't expected at the home of Jeremy's college friends, George and Avery, until Friday. Jeremy had graduated with them from Beloit College in Wisconsin. He hadn't seen them since they moved to Bloomington for graduate school. Jeremy told me that subsequently, George got a job coaching at a middle school in the region and Avery continued to work toward his doctorate. Jeremy wasn't sure but he suspected they were a gay couple. Jeremy told me Avery seemed happy when he called and suggested that we visit. He insisted that we stay with them which meant we had to find a place to park the RV and KIA. We leisurely drove from Tennessee, through Kentucky into southern Indiana. Jeremy had heard that there were abandoned quarries near Bloomington which he wanted to visit. We called Camp Buckwood to inquire about openings. Being midweek, places were available. On Monday afternoon, we stopped at an RV dealer in Bloomington because we were having problems with our air conditioner which was constantly shorting out its circuit. We stayed in a motel and did laundry that night. Unfortunately, the air conditioner unit had to be replaced which required an extra day before driving on to Camp Buckwood.
When we arrived we found the camp quiet which was fine with us. More importantly, we found that we could leave our RV in their storage area while we visited George and Avery.
James
Even though Camp Buckwood had a nice pool, Jeremy wanted to go swim in one of the abandoned quarries. He inquired about them with the lanky, late teenage desk attendant in the Buckwood office. The boy was hesitant to recommend a location. When Jeremy told him about our book project, the fellow was forthcoming about a quarry on his uncle's private property that he thought we could use.
He'd seen Jeremy's camera and probably assumed we would be swimming nude and taking pictures of each other so he sheepishly, he suggested he would like to model for us. Jeremy agreed to let the fellow whose name was James show us the way to the quarry. He didn't say anything about putting James's picture in the book.
When the three of us arrived on a warm August afternoon we could see a floating platform in the middle of crystal pool with water bugs scampering across the shimmering surface. The deserted, abandoned Indiana rock quarry was alive with birds and dragon flies. The inky blue water was in stark contrast to James's white, naked butt with his tanned arms and neck. We stood watching, shaded under the weeping willows on the side of the clear water. Abruptly, James dove into the water. He swam with strong strokes toward the protruding boulders across the pool.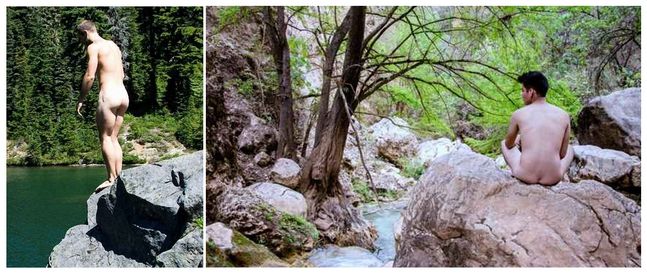 He climbed up, carefully selecting his stepping stones. As he crawled up, I watched his bare butt cheeks separate and his low hanging balls bounce against his muscular thighs. His muscled arms tensed as he pulled himself up. His sweet face glistened in the sunshine as he whipped his head to the side, removing the water from his eyes as he prepared to jump off the huge rock. Jeremy was fumbling with the telephoto lens so I called to James to wait. He paused and waited for my signal before James jumped feet first into the water. He swam toward us. I brushed the flies away from my face, as he waved for us to join him. Jeremy said he wanted to take more pictures so he encouraged me to join James who was climbing up to the ledge above us. I was careful but made it to the top, too. Jeremy stood below us. James jumped. I waited until James surfaced then did a shallow dive into the cool blue water. Jeremy motioned for me to come over to other boulders where he proceeded to shoot me from many different angles. He didn't say anything as I positioned myself until he said, "Enough, I'm hot." He carefully placed his camera on a flat rock.
Jeremy and I swam to the boulders and climbed to the top, Jeremy dove first and I followed. We swam to the swimming platform where James was laying. As we held the ladder I reached around Jeremy, touching his crack. I kissed him as James lay as if he was sleeping. Jeremy got up and pulled me up. We lay beside James for a while.
Eventually, we jumped into the water and swam to retrieve the camera. After drying off, Jeremy took a blanket out of the back and led me over to a clearing under a weeping willow tree. After clearing away a few twigs, he spread the blanket out and invited me to sit down.
He put his arms around me and said, "Jerry, I'm so happy. You make me so horny all the time."
"My feelings are the same." At that, he pulled me into another kiss and gently twisted my right nipple. I was instantly hard. The foreplay was gentle, as our bodies brushed each other. Slowly, he pushed me on my back to get into position to do what he planned. We hadn't made love for a while so I was tight. He slowly moved his index finger to my crack. I felt something slippery, so assumed he had brought KY or something similar. He slipped his digit inside and tickled my prostate. I closed my eyes, waiting patiently, as he widened the opening. He slipped his significant member up and down my crack.
I heard a branch crack, but I wasn't going to be distracted. I assumed James was watching. Jeremy smiled at me, indicating he heard the same thing. He proceeded to push into me. He felt wonderful, once I adjusted. I opened my eyes, as Jeremy slid in and out. Out of the corner of my eye, I could see James stroking himself. He was quiet as he watched our man-sex. Jeremy's movements were getting more intense. I stroked myself, to synchronize our climax. Jeremy was enjoying entertaining James and giving me great pleasure at the same time.
I knew from Jeremy's familiar sounds that he was approaching his climax. I sped up my hand action to catch up with him. It worked as planned. I shot across his shoulder, as he pumped his cum into me. He kept going and grabbed my dick, causing me extreme pain and pleasure.
James let out a "Whoa that was so cool. I'd like to find someone to be in love with like you guys are."
Jeremy smiled, "Good ones like Jerry are hard to find." Not wanting to leave, we got James down on the quilt. I kissed him and Jeremy sucked him to pleasure. He was happy.
George, Avery and Trent
Instead of packing up on Thursday, George and Avery had asked us to stay another night because they were curious about Camp Buckwood and wanted to join us for a night. They arrived with a tent and another fellow named Trent. The tent area wasn't far from us but we knew everything would be happen at our RV. At dinner that night Jeremy told them about the book project. When he finished I told them about our trip to the quarry but kept the intimate details to myself. They wanted to go. We went the next day after we stored the RV. Our spot was reserved for someone else for the weekend. We put our clothes and toiletries in the KIA. They followed us to the quarry. Our plan was to enjoy the skinny dipping before driving back to Bloomington. Jeremy had his camera out several times but didn't seem to be taking the time to really get good shots. I started to ask what he was thinking but figured when he was ready he would tell me.
I noticed on a couple of occasions that Trent seemed really close to Jeremy. I told myself not to be paranoid but it seemed like they were stroking each other under the water. My remembering what Jeremy and I did yesterday gave me confidence that Jeremy was mine. I was determined to not be childish and let Jeremy play.
After several hours of swimming and sunning we were on our way to George and Avery's. Trent rode with us squeezed in our tiny back seat. He was our guide to their condo since A very said he had to stop at the grocery store.
The conversation between Trent and Jeremy moved to an explanation of how Jeremy knew George and Avery. Trent asked Jeremy, "Were they gay in college?"
"A few other gay guys knew they were but it never became an issue"
Trent asked, "How did you meet them?"
"Friend of a friend. It was after my ex and I broke up about a year ago. It was tough for me. George and Avery were there for me. I spend a lot of time at their place. Turn right at the next corner."
Their conversation was taking place as if I wasn't even there. I boldly said, "Trent, if we're taking your bed you can to sleep with us."
Without conviction he said, "Sure." As the conversation continued I wondered if George and Avery knew about me. I wondered if they were trying to get Trent hooked up with Jeremy. My presence probably surprised them. I was determined not let what happened between my two ex-boyfriends happen again. When we pulled into a guest space at the condo building Trent walked ahead as we followed with our overnight bags. Once in the apartment he led us to our bedroom. I wondered if there would be three in the bed that night.
After finishing two bottles of wine at dinner Jeremy announced that he was going to do a formal photo shot in the condo. He said, "Tomorrow I have to drive to a rental place for auxiliary lights. While I'm gone Jerry will put makeup on your blemishes." Another bottle of wine was opened as George and Avery finished cleaning up. Trent, Jeremy and I sat at their kitchen island and quietly watched.
Once George and Avery had gone to bed I got up as if going to bed wondering what Jeremy would do. I assumed what Trent would do. Jeremy said, "Trent, you interested in sleeping with us?"
He surprised me when he pointedly said, "If that's the only way I can have you I'll do it."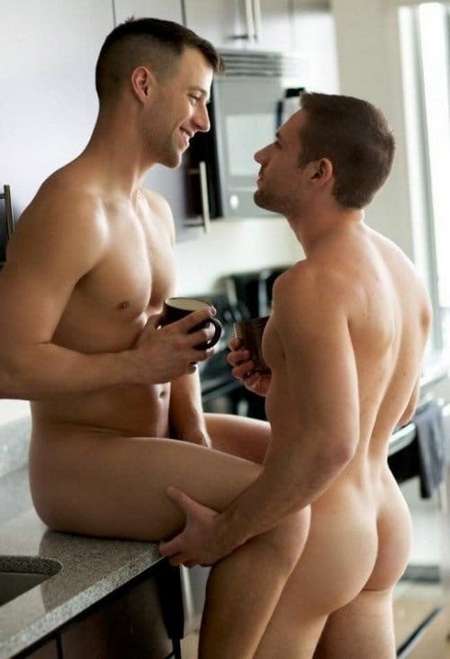 "Jerry and I would be happy to have you join us. I suggest a shower before we get naked into bed." In the bathroom we got naked in front of Trent's extended dick. Once in the shower I sucked him after Jeremy sucked him. He didn't seem totally comfortable but didn't object. Once the three of us were in bed the action began. Even though Jeremy was all over Trent I could feel it was fun for him and not serious. We allowed Trent to top both of us. Trent was a sensual kisser which he did with Jeremy more than me. I told myself not to be concerned. After a while we settled into sleep with Trent on one side of Jeremy and me on the other.
Saturday was cloudy but that didn't matter because we had the bright lights and a reflector. Everyone was naked through the entire shoot. The five of us viewed the proofs on the computer. There were some really good shots which I knew we would use in the book. In many of the shots, George and Avery's love for each other was evident. Trent's pictures were relaxed and happy. Our bedroom activities must have pleased him.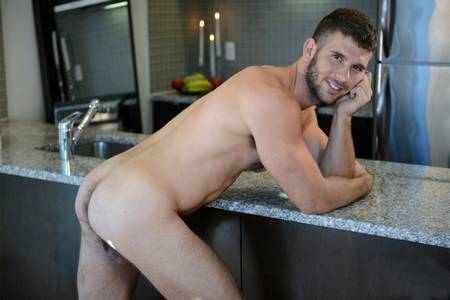 We said our "Goodbyes" Monday as all three of them rushed off to work. We took our time and got back in bed to plan the week. Our conversation led to lovemaking. As we were coming down Jeremy said, "Jerry, I know you thought Trent was trying to horn in on our relationship. He didn't have a chance even though he's a really nice guy. I hope he finds a wonderful partner like you." I kissed him and thanked him for saying that.
After hitching the KIA to the RV at Camp Buckwood we drove north toward a small gay campground in Lake Village, Indiana. It was rainy day so we really didn't expect any photography. The following day after studying the maps we drove around Chicago on our way to a campground at Devil's Lake, Wisconsin. The Quartzite campground is one of three in the state park but the only one with electric hookups but no water connection. That meant we had to conserve water and use the community toilets and showers. Our plan had us staying in the park for a week because we wanted to visit the famous Wisconsin Dells and Lake Wisconsin. We also wanted to check out the circus museum in Baraboo a few miles north of the park.
Jim, Jordan and Henry
The Wisconsin boys we met were so relaxed that almost every guy we approached to model said "yes" Their stories were different but they're regular Midwest boys. Around the majestic, mysterious Devil's Lake there are many trails crisscrossing the nine thousand acre park and the larger surrounding wilderness.
On our first hike we met Jim who was hiking alone. He had stepped out of the woods onto one of the park roads when we saw him. He had a pleasant smile so after sharing a "Hello" Jeremy asked him if he was interested in being photographed naked. He was hesitant at first but as we talked he became more receptive. We found out he was raised on a dairy farm in north central Wisconsin and was a carpenter. I shared that I was an architect and had designed a house near Lake Wisconsin.
He asked when he should shed his clothes. We had seen no one so I said, Now would be good. "He pulled his T-shirt over his head and dropped his shorts. As Jeremy snapped several pictures I asked, "Do you ever do carpentry in the nude?" He blushed.
"Sometimes, when I'm working alone. We're working on a project not too far from here. Would you like to see it?"
"You said 'We're'?"
"Yes, my brother and me."
"Can we photograph you working naked? Do you think your brother would be interested?"
"Probably. He's better looking naked than I am." Jeremy took more pictures but then Jim had to hurriedly dress because we heard people coming. He gave us directions to the house which was about ten miles away and agreed to come over the before we left the area.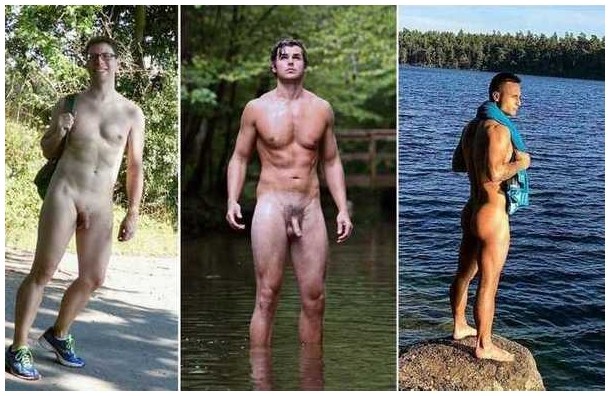 The next morning we hiked a well worn path around the west side of Devil's Lake hoping to find a secluded spot for a shoot. We came upon Jordan wearing red and yellow board shorts in the only secluded inlet on the lake. He was standing in the water looking up the steep rocky west side of the lake. With his hair was wet from swimming he was strikingly handsome. Jeremy waved him over. He came toward us and spoke first, "Hey, bro, do I know you?"
"No, I'm Jeremy and this is Jerry. We're photographers and wondered if we could take your picture. We're doing a book. What's your name?"
"Jordan, how do you want me to be?"
"Naked, looking directly at the camera."
"Naked, you must be crazy. I'd get my ass busted in a minute if I get naked."
"I can get set up and all you have to do is drop your board shorts and throw them to Jerry. I'll work fast."
He looked in all directions to be sure no one was around. He looked at us, "OK, but be quick." He pushed his shorts down, threw them to me and stood like a statue. Jeremy shot him frontal, looking left and looking away. Jeremy waved to me and I threw Jordan's shorts to him. He pulled them up as three young girls climbed over the rocky ledge. I wondered if they had been watching. He dove into the water so I didn't have a chance to ask him any questions. The girls walked by quickly.
Jeremy turned, "I see a guy sitting on a rock over there. Let's see if third time's the charm." As we approached the brown skinned man in a faded T-shirt and blue jeans, I guessed he was a Native American. Jeremy spoke first, "Hello. We don't mean to disturb you but would you be interested in letting me photograph you."
"I don't think so," the fellow said without really looking at us. Jeremy started to walk away.
I said, "May I ask you a question? Are you native?"
"Yes."
"Do you live in the area?"
"Yes, I'm Henry. I work at the Ho Chunk casino."
"I haven't been there but I went to UW Madison. My friends would occasionally drive up."
"You went to UW Madison?" By this time Jeremy was standing with us. He had his camera out.
"Yeah, but my friend, Jeremy and I are traveling around the country meeting interesting men and taking their pictures for a book we are doing. You're the first Native American we've met."
"How do you want to photograph me?"
"Naked, but further up the side of the mountain."
"I don't mind. My body looks good enough."
The three of us carefully climbed up over the boulders to get into the sunshine which was moving higher above the cliffs across the lake. Unconcerned, he stripped off his shirt, sandals and jeans. He was commando and his big brown, uncut dick confidently stood before us. Jeremy positioned him in several different poses. The fellow never smiled and gave a sense of confident defiance. He didn't seem at all nervous about being undressed even though several people on the path below had to observe him.
After he dressed, I invited him to come to the RV for a beer. He smiled and accepted but I guessed he wouldn't come. I was correct.
It wasn't even ten thirty and we had photographed three guys. That was a record even for a day. Jeremy commented on that fact and said, "What are we going to do for the rest of the day?" We walked slowly around the lake, making our way back to the RV.
Hank, George and Cory
"We need groceries and water. Let's go into Baraboo for lunch before we pick up supplies." Jeremy nodded his head in agreement.
Since it was too early for lunch, we decided to take a circuitous route into town. The sky was robin's egg blue and the temperature was a pleasant seventy-seven degrees. The countryside was lush green in all directions. We passed a few trucks and several tractors pulling wagons filled with what we assumed were soy beans. The wagons slowly swerved back and forth as the tractors carefully moved along the county lane we were on. We weren't in any hurry so Jeremy didn't try to pass.
We couldn't avoid the smell of cow manure since cows were on both sides of the road. Every couple of miles we came upon barns with cows gathered at feeding troughs. Jerry said sarcastically, "We are in the dairy state. We should expect to see and smell cows. I can't imagine working with cow poop smell all day."
Without warning, Jeremy turned the KIA into the driveway of a tidy farm. In front of us was a giant barn painted white with a red roof. Equipment and pickup trucks were parked beside it. Initially, we didn't see anyone so Jeremy began to turn around when a tall, thin guy came out of a shed near the barn. He was dressed in blue jeans, a shirt with sleeves cut off, a dirty baseball cap and tall rubber boots. He stopped and looked our direction. I suspected he was trying to figure out if he knew us. Jeremy stopped the car.
The fellow sauntered over to the car and said, "Guys, how can I help you?"
Jeremy said, "I'm a photographer. We would like to take some pictures of your cows. Would that be alright?"
"I don't see why not but I want to warn you your shoes will get messed up if you don't wear boots. We've got extra pairs if you'd like." Two other fellows came out of the big barn. They appeared to be about the same age as the fellow who greeted us. He waved them over. He said, "I'm Hank, the guy in the Packers hat is George and the other guy is Cory. I live here with my uncle and aunt. These guys' homes are nearby and are working here for the summer."
Jeremy said, "We'll take you up on your offer to wear the boots." We followed him into the shed where Hank pointed out the boots. I wasn't sure how Jeremy was going to bring up the subject of photographing the guys naked. After we put our boots on, the three of them went back to work.
Jeremy took pictures of the barn and the massive black and white cows. I could tell he was thinking as he photographed. Without saying anything, he walked into the barn and I followed him. He approached Hank. I couldn't hear what he said but Hank didn't seem angry and he didn't walk away.
Instead Hank called, "George and Cory, get your asses over here."
They turned off the hoses they were using to clean the milking room floor. George said, "What's up?"
Hank looked at Jeremy and said, "Jeremy wants to photograph us working naked. What do you think? Uncle Charles and Aunt Silvia are gone to town so we could do it."
Cory said, "What are you going to do with the pictures? I don't want my naked dick to show up on some gay porn site."
I said, "Our plan is to publish a book of pictures of naked guys we met as we traveled across America."
George said, "That's really weird, but I'm willing if you guys are." Both Hank and Cory nodded.
Hank said, "I'm not going to be wearing these ugly boots. Let me get my tennis shoes. You guys wear whatever you want. Jeremy, I want you and Jerry to be just as naked as we are."
"OK, but we will wear the boots." The five of us undressed. Cory looked toward the road, "Do you think anyone will see us butt naked?" No one answered his question.
Jeremy said, "Hank, get that wheelbarrow and I'll take a few shots." With a serious look he walked over and started pushing the empty wheelbarrow toward the feed shed. Jeremy took both frontal and butt shots. We then followed the boys into the barn where they took off their boots and continued washing the floor. All three guys seemed comfortable being photographed.
A half an hour later, Jeremy had enough. I asked, "You guys got a few more minutes to tell us a little about yourselves for the book?I need to get my notebook and a pen.
I sprinted out to the car which was parked in clear view of the road. A pickup raced by and honked. I assumed it was a friend of theirs.
Inside the shed where we left our clothes George and Cory were leaning against the wall while Hank turned the only chair around and sat down with his long dick hanging over the back edge of the chair seat.
Hank started, "I was adopted by my aunt and uncle when I was little kid. My mother is Aunt Silvia's sister. She was only sixteen when she had me. I've lived here ever since. I have no brothers or sisters since Aunt Silvia couldn't get pregnant. George's parents live down the road and Cory lives with his sister and brother-in-law over by Rock Springs. We always went to school together since we were kids and all three of us graduated two years ago and joined the National Guard. Sounds pretty boring, right?"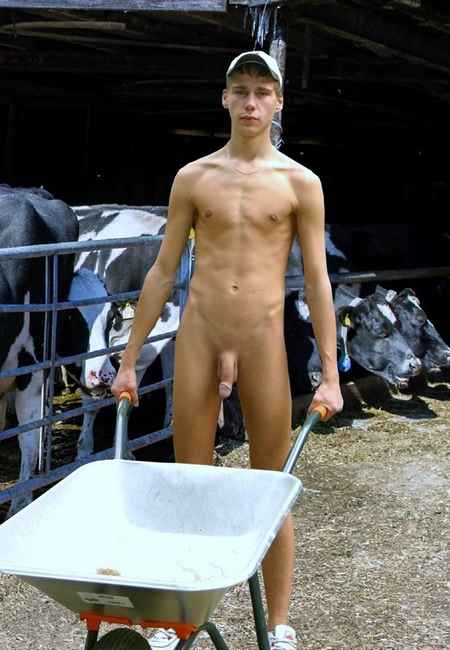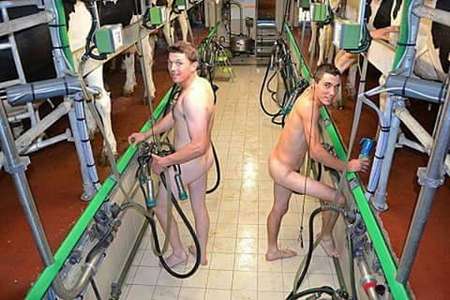 Hank continued to be the spokesmen for the group, "I only work here. George works in the automotive department at Walmart and Cory…What the hell do you do?
"I'm working on the maintenance crew at Circus World Museum. It's a summer job. This is my day off. I hope to get a job with a landscaping firm after the museum closes at the end of August."
Hank picked up the conversation, "You can tell we aren't shy around each other. I don't want you to put this in the book but we jacked off together for the first time when we were twelve. We even messed around with each other. You guys gay?"
Jeremy said, "Jerry and I are partners."
"That cool," Cory said. "I'm straight but haven't found a girl who'll do it with me."
George laughingly said, "Look at you. Your dick is sticking straight out. That's the only straight part of you, you asshole." There was laughter until Hank held up his hand.
"I hear Uncle Bert's diesel pipes. Get dressed." The five of us quickly dressed.
Jeremy and I walked with Hank to meet his aunt and uncle. We thanked Hank for loaning us the boots and left for lunch at the Pizza Ranch, but not before promising to email the best pictures to Hank.
Jim and Jeff
Shortly before noon the next day we pulled up in front of the project that Jim and his brother were working on. Seeing the house brought back thoughts of the lake house that I helped my ex-boyfriend build. I smiled, thinking about how he worked in the nude whenever he could. I thought about driving over to Lake Wisconsin to show Jeremy the house but decided not to bring up bad memories. The house Jim and his brother were building had a geodesic dome as part of a substantial house. They were making progress. We hadn't planned to stay long since we also wanted to find our way to the Wisconsin River. I had told Jeremy about the nude beach that I had visited years ago. He was disappointed to find out that it was closed. I suggested maybe we could rent a canoe and possibly find candidates on the river.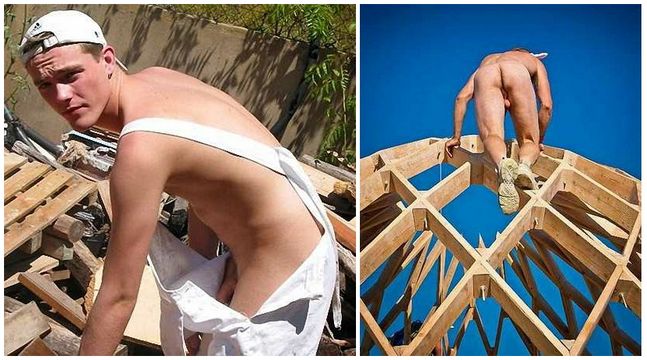 Jim and Jeff kept busy while Jeremy took many pictures. They took a break to tell me about themselves. Jim said, "Jeff and I are only two of six children. As I told you, we grew up on a dairy farm and went to work when we were little. Neither of us wanted to be dairy farmers. Our older brother bought the farm when Dad retired and moved into town after Mom died. We help Ray on projects he can't do by himself." They described their dream of starting their own construction company. Throughout the conversation they were comfortably naked. I hoped that they were more successful than I was starting a construction business. We wished them well with their project.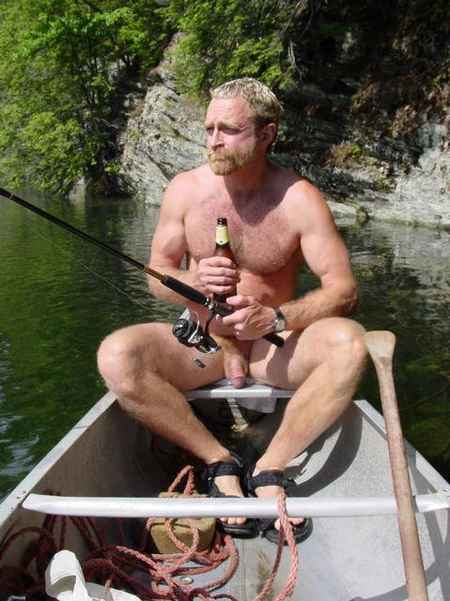 I remembered the Mexican Restaurant in Salk City and suggested to Jeremy that we eat lunch there before renting a canoe. There was a canoe outfitter across the bridge from Salk City. We ate quickly knowing we had to paddle down the Wisconsin River far enough to be picked up for the return ride to our car before the outfitter went home. It was a slow day for the outfitter so he agreed to meet us about six o'clock at a designated pickup location near the Arena landing.
With the river basically empty, we got naked except for hats as soon as we passed a small resort where kids were swimming in the river. We figured if we were naked the camera wouldn't be too intimidating. Not a half an hour into the trip, we encountered a fisherman who was also naked. When he saw us he waved and put his beer to his lips. We paddled closer and ask if we could take his picture. He said, "Sure." Jeremy snapped away and then we paddled on.
Man on the River
The sun was intense so I put my T-shirt on. Jeremy only wore his old cowboy hat.
As we approached a densely reed-covered island I recognized what used to be the Wisconsin River clothing optional beach. I told Jeremy about my first visit to the beach with an older man a couple of years ago.
The beach was closed but totally overgrown. A large faded sign threatened to arrest anyone who stepped onto it.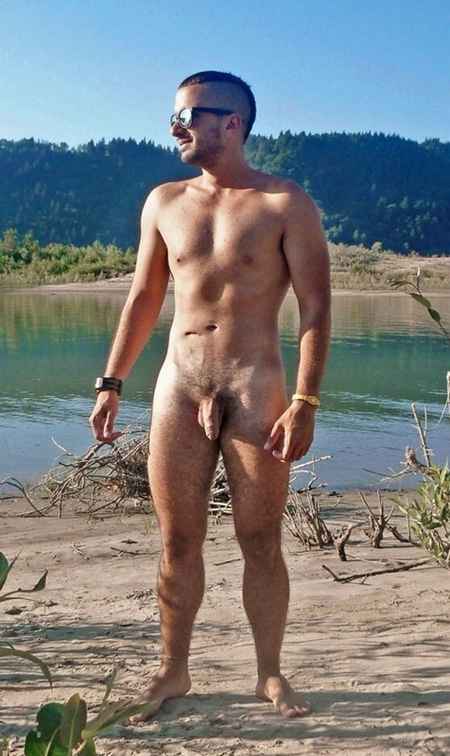 We paddled on and after a few minutes I spied a single guy standing on a large sand bar looking away from us. He had a beer in one hand and a cigarette in the other.
He didn't pay any attention as we approached even though I'm sure he saw us coming. We pulled our canoe up on the sand bar and Jeremy said, "Let's see what he does when he sees two naked guys walking toward him."
He stood with his athletic legs spread until we were ten feet from him. He still didn't acknowledge us.
Jeremy said, "Mind if I take your picture for a book we're doing?" He acted like he hadn't heard Jeremy and bent down to reach into his small cooler for another beer.
I said, "I think I saw you on the nude beach some time ago. How'd you get out here?"
"Swam. I parked my motorcycle under the trees over there. I think it's going to rain."
"Really? It's so sunny! This is a beautiful place. Do you come here often since they closed the beach?
"Yeah. Whenever I can." Then he dropped his sport shorts and kicked the wad away from his feet.
"Could we buy a couple of beers from you?"
"If you like Busch take two. The fucking DNR seems to have no interest in even considering reopening the beach."
With his harsh verbal response and now that he was nude Jeremy assumed he had permission to take pictures. The guy was probably in his late-twenties. He was well tanned and sported a small scar near his belly button. The guy's hair was richly brown and cut short. He hadn't shaved, giving him a rugged, manly appearance. His slender hips and his upper body were nicely contoured. He didn't smile once.
He smoked Camel cigarette after Camel cigarette, and tossed the butts into the river. As soon as he finished a beer he pulled another from his little cooler. He puffed and swilled. The condition of his body was not in harmony with his habits. He didn't pay any attention to Jeremy taking picture after picture of him or him and me.
"Is this your day off?"
My question was like a switch. With his glazed eyes he starting talking, "I'm working the graveyard shift. I don't see why they keep the store open; almost no one shops at three in the morning...But someone has to be there by four anyway...I guess it really doesn't cost that much." He rolled his balls in his hand and nonchalantly fingered his dick. "Four. That's when the dairy truck arrives. It's first; then the produce truck comes and later, the grocery truck. Someone has to be there to let them in, I guess." He popped another beer and lit another cigarette.
"I want to be an assistant manager in dairy," he continued. "I want to do the ordering. All I do is work the order. I already make more money than the third assistant manager...I've been doing groceries since I was sixteen."
He abruptly stopped speaking, crushed and dropped his empty cigarette pack, picked up his cooler, grabbed his shorts and walked toward the river. He slipped into the cool, dark liquid without looking around. His butt slipped below the mirrored surface of the water as it did the first time I saw him. He didn't say "Good bye." He just left.
Jeremy and I got into our canoe and vigorously paddled down river to make sure we were at the pickup location by six. As we paddled I exclaimed, "We don't know his name. I'll call him 'Man on the River'."
A few days later, after spending an afternoon at Circus World Museum in Baraboo, Jeremy drove us away from the beautiful Devil's Lake. I sat quietly enjoying the rolling hills of southwest Wisconsin pass before our bug free, windshield.
Our destination was Iowa City, Iowa, where Carl who had been an intern at my architectural firm in Madison now lived. I sent him a text from Wisconsin asking if he was in Iowa and telling him we were on a road trip and would like to stop and visit. Immediately, he texted that we should come and stay with him. He didn't mention a partner and I didn't ask.
Jeremy, like me, was quiet until we crossed the Mississippi River bridge at Dubuque. He said, "Jerry, are you alright with the way things worked out with Trent?" This was the first mention of Trent since we drove away from Bloomington.
"You're asking if I'm over my juvenile jealousy?"
"No, I want to know how you're feeling. I admit he was a handsome, charming guy. I bet he is still trying to figure out the three-way we had. I didn't tell you that George apologized to me for assuming Trent might be partner material. He said neither he nor Avery realized I had a partner."
"I apologize to you for being so childish but I was determined to keep our wonderful relationship going. On the other hand, I really enjoyed our three-way with Trent. I would do that again if you agreed, of course."
Jeremy was quiet and focused on the road. I had been getting nervous until he said, "Yeah, I'd do it again but only if you agreed." We returned to quiet as the miles rolled by.
Carl, Mark and Noah
We found Carl's apartment complex in Iowa City without difficulty. There was plenty of room in the back of the parking lot to park the RV. We unhooked our KIA.
When Carl open his door he seemed surprised to see that I was with Jeremy. He probably didn't know I was gay.
He said, "Jerry! Good to see you. Who's your friend?"
"Sure! This is my partner, Jeremy." I thought this question was a clever way to determine our situation.
He said, "My partner, Mark, should be along soon. We also have a foreign exchange student from Denmark living with us. When I invited you to stay I thought it was only you. What we'll do is have Noah sleep on the couch. You and Jeremy can have his room. You're only going to be here two nights, right?"
"Yes. Are you sure you want to kick the guy out of his room?"
"I can't guarantee he won't find his way into your bed or ours. We haven't decided whether he's gay or just likes sex." Jeremy winked at me.
Carl said, "Guys, let me show you around."
His apartment was a standard two bedroom, two bath unit with the kitchen at one end of a room that served both as eating space and a viewing room for their 75-inch flat screen television. Carl offered us a beer and we sat in the main room. The door opened and a short, impish fellow rushed in and suddenly realized there were guests as we stood up.
In a distinctive European accent he said, "Hello, I'm Noah from Denmark."Carl smiled at Noah and said, "These guys are on a trip and will be staying with us for the next two nights
Turning toward me Noah asked, "Where are you guys headed?"
I briefly described our three month tour of the United States, searching for nude guys for Jeremy to photograph and include in a book we plan to publish.
Both Carl and Noah were intrigued dnd asked if they could see some of the pictures. Since we didn't have our computer we invited them to come to the RV, not only to view the pictures but to see where we lived during much of the trip.
Huddled around the computer screen they saw some of the thousands of pictures Jeremy had taken.
To my surprise, Noah said, "Would you take my picture?"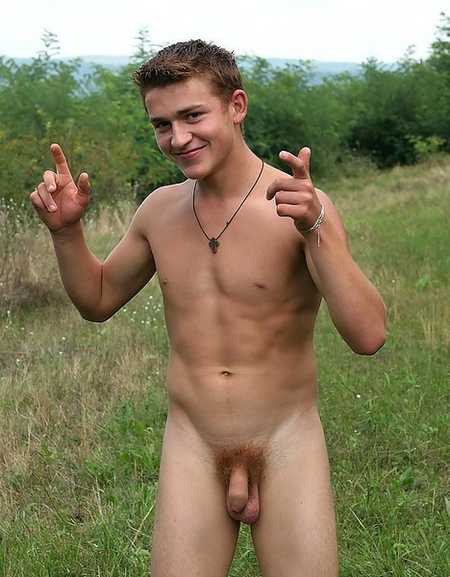 I thought he meant with his clothes on but in a minute Noah was naked and smiling. We followed him outside and he stood in the open area behind our RV. Jeremy captured several provocative stances that Noah struck. He didn't seem concerned about being seen as cars drove around the parking lot. Mark, after parking, joined us. Carl made the introductions while several men and women came over to admire Noah. During all this, Jeremy was having great fun taking joyful shots of this Danish leprechaun.
Finally, Carl threw Noah his shorts, "We know you love being naked but enough, already." Noah smiled his infectious grin and the crowd moved away.
That was not the end of the shooting. It turned out Noah was out of his clothes almost immediately when we returned to the apartment.
He gave me a few details about himself while sitting on a kitchen bar stool. He said, "I come from a little town about an hour from Copenhagen called Kirke Hyllinge. I know it's hard for Americans to say that," and he laughed. "My father and mother are doctors. I am the youngest of three kids. You may have guessed that my family and I love to be naked. Even in a cold country like Denmark, we live naked as much as we can. Our little town has a well known nudist camp that my family belongs to. Excuse me, I will be right back."
He got up and started toward the bathroom. Jeremy with camera in hand followed him.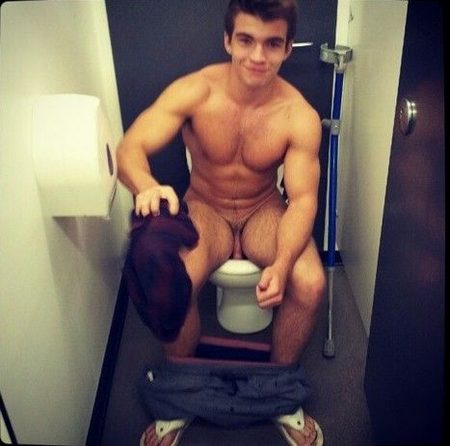 "I hope Jeremy gets a picture of him on the crapper. Noah never closes any door. He comes into our room unannounced when we're having sex and watches with his ever-present, joyful smile."
Jeremy came back and didn't say anything until Carl said,"You get him?"
"Yep, and he was totally happy with me taking his picture."
Noah returned and asked if he could see the pictures, "I've never seen me 'fäkalien' before. That's German for shitting." He laughed. "You should take Mark and Carl's picture in bed! They're really sexy."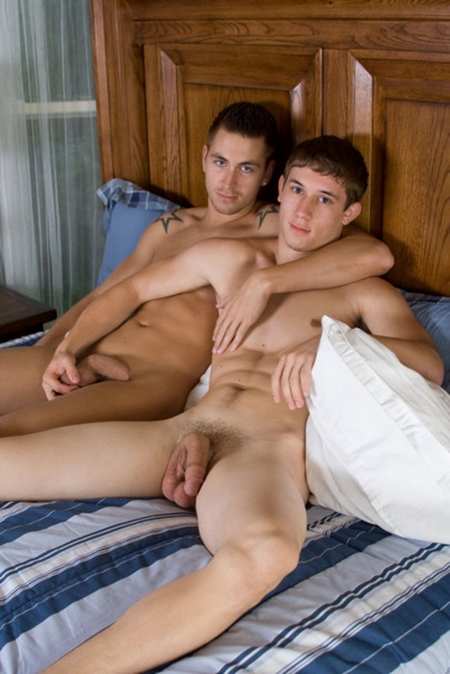 Carl said, "Noah, he hasn't asked us."
Jeremy said, "You look fresh. Let's do it now." The group trooped into their bedroom which was tidy. I figured I would ask my questions tomorrow since everyone seemed to be in a sexy mood. The pictures of Carl and Mark were as sexy as the mood.
In the morning, Noah and Mark left for school. Carl explained that Noah was a summer exchange student and Mark was an instructor in the English department. We walked into the kitchen to find Carl dressed and ready to go to the architectural firm where he was working. He didn't seem to be in a hurry and said, "We could hear that Noah found his way into your bed."
Jeremy said, "Yes we were well serviced. That boy is something!"
"He's only here another two weeks. His summer enrichment program in American history will be completed and he has to go home. He hopes to get into the University of Iowa in a year. Last night we could hear him talking but couldn't understand what he said."
"You mean when he didn't have a dick in his mouth? He was fascinated by Jerry's smooth, hairless body. He kept petting Jerry's chest like he was a puppy dog. We felt like we were his plaything as he rode both our dicks. I have never met someone as comfortable as Noah seems to be."
"Truly, that's the way he's been for the six weeks he's been here. Listen guys, I've got to get to the office. I suggest you drive over to the City Park along the Iowa River. You will probably find candidates for your project. It's a public park but there's a plenty of trails that guys use. Be careful."
As he suggested we found receptive candidates and Jeremy snapped pictures. None of the three guys he photographed wanted to engage in discussion about themselves but weren't shy about getting naked.
We had lunch at a coffee shop downtown not far from the old capitol. On our second night before we headed for our next scheduled stop in Grand Island, Nebraska, Noah kissed us good night and went to bed with Carl and Mark.
Kyle and Cary & Ty and James
Our plan was to stay overnight in a hotel rather than trying to find one of the few campgrounds in central Nebraska. After we checked into the Days Inn and locked up the RV, we walked next door to Denny's and seated ourselves at a table for four not too far from the bathroom. We scanned the restaurant looking for candidates.
Three tables were occupied by guys in western clothes and well-worn hats. There was a family of four at another table with a little girl screaming about something. At the only other occupied table was a well built but not muscular guy in a sleeveless plaid shirt talking to a woman with brunette hair pulled away from her face. They were facing away from us.
The waitress took our order before anyone moved toward the bathroom. It turned out the guy who was talking to the girl got up first to go. Jeremy was in pursuit as soon as the fellow pushed his chair back and pulled on the front of his jeans.
Jeremy was gone a short time before walking back to our table. I thought he hadn't been successful but he was smiling.
"He invited us out to his ranch tomorrow."
"He agreed?"
"I was amazed. We'll see."
The young woman got up, gave the fellow a peck on the cheek and walked out. The guy turned and walked to our table. He turned a chair around and plopped his butt down.
"You want me half-naked or buck naked?"
"Buck naked, preferred." I said. "Can I ask you a few questions? In addition to the pictures, we want to know something about the person we are shooting?"
"Ask away."
"Tell us something about yourself."
"OK, my name is Kyle Jameson. I live on a ranch, as I told your friend. The ranch has been in my family over a hundred years. We have a feed lot for about a thousand steers. That girl you saw me with thinks I'm going to marry her but I'm not ready to settle down. She wants a baby. I'm not sure she's going to wait for me. Other than drinking beer and riding horses have I told you enough?"
"You can fill in more details tomorrow. What time do you want to meet us?"
"In the morning before it gets too hot. I don't usually strut around naked outside but it won't be the first time." He got up, put his hand on the brim of his grimy hat and walked toward the door.
Following Kyle's directions we found the ranch about ten miles outside of Grand Island, near Dannebrog. We had decided to drive the RV out because we planned to head toward Denver when we finished with the shoot. We didn't want to backtrack to Grand Island.
We didn't know that Kyle had other plans for us. Jeremy photographed him with one of his favorite horses, Daisy, near a white wooden fence outside of the barn. Jeremy was pleased. I could tell that Kyle had something on his mind. When Jeremy signaled that he had enough, Kyle said, "Guys drive with me to a site out on the river where I want you to take some more pictures. He didn't ask if we were interested in other pictures. He said, "We'll leave the RV here and go out in my pickup. The South Platte River is really a shallow stream. We have a dug out spot where the water is deep enough to get in and cool off."
In addition to a cooler of beer, Kyle loaded a canopy tent and three lawn chairs as if he expected us to stay all day. Kyle was dressed in jeans,his cowboy boots and a dirty, white baseball cap.
He shocked me when he handed Jeremy a rifle to hold. He said, "Just in case a cougar or a coyote comes around I can scare them off. The gun works for snakes, too."
I was feeling like I didn't want to go. Jeremy could tell my apprehension and said, "Jerry, we'll be fine. Go ahead and get in the truck." I closed my door and Kyle closed his. He directed Jeremy to open a gate and wait until we drove through before closing it and getting into the truck.
We were quiet as we bumped along the vehicle path carved through the prairie grass. I could see some trees ahead and assumed that was the edge of the river. He stopped the truck. We helped him set up the chairs and the canopy, which was essential or the sun would have driven us off.
Before we sat down he said, "Get naked." We did as we watched the trickle of water flow past. Once we were undressed Kyle looked at us, "You guys are queer, aren't you?"
Jeremy said, "Yes, but I prefer to be called "gay". Rude rednecks insult us with the term "queer"."
"I didn't mean to insult you but "gay"to me means happy or joyful. I can't imagine that queer guys are happy."
Sensing Jeremy's growing irritation I said, "We're happy. Can't you tell?"
"Would you guys be willing to show me what it's like to be gay?"
"You mean the sex part?"
"Is there more?"
Jeremy snapped, "You're really a dumb redneck. Of course! There's more to being gay than sex."
Kyle said, "Let me start all over with this conversation. I've been wondering if the reason I don't like having sex with Laura means I might be queer, I mean gay."
"What makes you think you might be a gay?"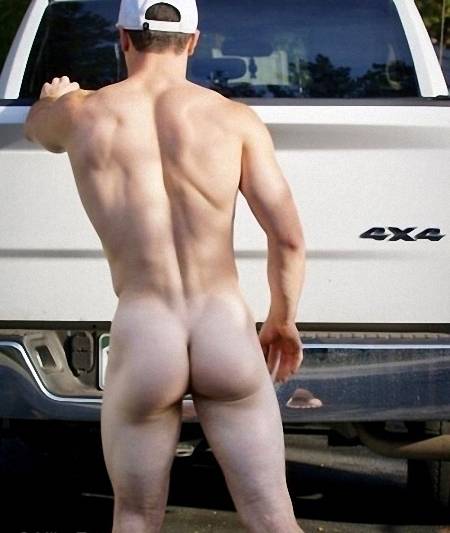 "I got a cousin named Cary, who's a neat guy. He always dresses well, his hair is always perfect and he has the cutest ass which he shows off in the tightest jeans. I get a hard-on every time he comes out. I don't see him that often because he lives in Denver. Jerry, you said last night you wanted more details. I didn't tell you that my parents died in a small plane crash about three years ago. That meant me, my sister and my baby brother own the ranch together. Neither of them have any interest in running the ranch but they want the tax write-offs it generates. Beth lives in Omaha and Bart is on the west coast. Anyway, the last time Cary was out all I could think about was fucking him. He is such a flirt as he sashays around in his tight jeans. I'm asking you to let me fuck you and be fucked by you. Before I go any further getting into Cary's pants I want to know if I like it."
Jeremy was calm and said, "I'll agree but Jerry has to speak for himself."
I smiled and nodded my head. "We agree but whoever is not in the action will be taking pictures from all angles. Do you have lube and condoms?"
"I'm prepared. They're in the glove compartment of the truck. I'll get 'em." When he got back Jeremy was on his knees in front of my already hard, stumpy dick. Kyle was plumping his own as Jeremy sucked me.
Jeremy said to Kyle, "Get your hand away from your dick." Kyle complied as Jeremy grabbed his ass and pulled him into his open mouth. When Jeremy's tongue touched his dick Kyle threw his head back. I grabbed the camera, readied myself for shoots from several angles. Kyle didn't move until Jeremy stood and pushed him over to the open tailgate. "Lean forward." Jeremy lubed the fingers on his right hand and began to slowly insert his index finger into Kyle's ass. I not only took pictures of the fingers but also as Jeremy pushed himself into Kyle.
Kyle let out, "Whoa, it hurts."
"It'll get better soon." Jeremy kept pushing in. Kyle relaxed as he got used to the feeling. Jeremy began going in and out. I could tell Jeremy wasn't interested in climaxing and had something else in mind. "You're no longer a gay virgin. You want to try for yourself. I think Jerry is ready. His dick is hard."
"It's so different than when Laura and I do it. She doesn't like to suck my dick and I really like the way you did it. Can I suck you first, before I fuck Jerry?"
Jeremy sat down under the canopy. "Suck Away."
Kyle got on his knees and gently lifted Jeremy's dick and swallowed it. Jeremy was not an innocent bystander as he moved Kyle's head vigorously I could tell Jeremy was ready to give him the whole treatment. With on "Aghh" he shot his load into the Kyle's surprised mouth who instinctively kept sucking. He didn't spit any cum out so he must swallowed it.
Kyle got up and pushed me harder than necessary to the tailgate of the truck. I could hear the camera clicking as he prepared me the same way Jeremy had prepared him. I felt Kyle's stiff dick push into me. He went slowly but even with a condom on I figured he wouldn't last very long. I was right.
After handing us a towel he had wetted in the river Kyle said, "Gawd, that was fantastic. Much better than sex with Laura. But I don't know how I could get away with being gay in redneck Nebraska."
"You might go to Denver occasionally if all you want is sex with Cary?"
"I don't know if he's even interested."
"Call him and invite yourself for a visit. We will be in Denver next weekend after we go to the Rocky Mountain National Park. We'd like to meet Cary. We're planning on staying with our friends Jim and Tony who love to country western dance at a bar called Charlie's. You could join us and see what Denver gay social life is like for rednecks like you."
"If my manager is available I'll take four days off which I haven't done in a long time. Why don't you stay at Cary's and give me moral support?
"We will, if Cary agrees. We'll see you in Denver but we need to get back to the RV and get on the road if we expect to get to Estes Park before it gets too dark."
That didn't happen because we encountered road construction and were only able to make it to the Walmart parking lot in Ft. Collins. We needed to shop for groceries and wash the bugs off the windshield before going into the mountains. We made it to Estes Park shortly after lunch the next day. That is where we met Marty who we wrote about in our first story.
On the road we had called office at the campground an explained that we were going to be a day late. They said they would hold our reservation if we agreed to pay for the night we missed. We agreed. As we described we explored many trails in the park that Marty showed us. We went into Boulder for dinner on Thursday night.
On Friday morning we drove the RV to an RV dealer on the south side of Denver where we had a service appointment to have an oil change, the tires rotated and systems checked. Even with a new air conditioning unit, it continued to periodically fail which we wanted the mechanics to try to correct. We were told we could pick up the RV on Tuesday. That was exactly what we wanted since Kyle practically ordered us to stay at Cary's.
We had a leisurely lunch hoping that Kyle would arrive at Cary's before we did. Kyle texted that he would arrive between three-thirty and four. We timed our arrival for four.
Cary opened the door to find two people he didn't know,standing there. He didn't know what to say until Jeremy said, "You must be Cary. I'm Jeremy and this is Jerry." His puzzled look told me he didn't have any idea who we were or why we were standing at his front door. Jeremy continued, "Kyle invited us to stay a couple of days. We're on a cross country photo expedition. We have just visited Kyle on the ranch."
Finally Cary said, "Now I get it. Kyle texted that he was on the north edge of Denver. He should be here in thirty minutes or so. He encountered road construction that slowed him down. Can I presume you guys are partners because there is only one bed in my second bedroom?"
"Yes, we are."
"Do you have any idea why Kyle wanted to come to Denver? He texted me last Monday night that he was coming."
I felt awkwardness that, I was sure, Jeremy was feeling. I changed the subject, "Do you happen to know Tony Smith and Jim Peterson? They live in the area someplace. Tony is a long-time friend of Jeremy's."
"Do they play volleyball?"
"Yeah! They play all the time."
"I know who they are but really don't know them."
"Well, when I originally called Tony to tell him we were coming to Denver he invited us to stay with him. Honestly, Kyle insisted we stay here. I can always call Tony if that doesn't work for you."
"No, no! For sure you're welcome."
"When we were with Kyle we told him we wanted to join Tony and Jim for country western dancing at Charlie's. I assume it's still open."
"I have never been in there but I think it's still open." Puzzled he said, "And my redneck cousin is going with you?"
"He said he was. I think I'm beginning to understand." At that point there was a knock at the door. When Cary opened the door there stood Kyle looking cowboy as ever. He walked in, dropped his bag and gave each of us a bear hug. There was silence as I waited for someone to say something.
Kyle took the honors when he said, "Cary, do you have a beer for this road weary cowboy?"
Cary left for a few minutes and when he returned he handed beers to each of us. After sitting in Cary's La-Z-boy recliner Kyle said, "Cary, here's the story. These gay guys asked me to model in the nude for their book project. I did and maybe Jeremy will show you some of the pictures. They told me they were queer, I mean gay. I told them I always felt differently when you were around. I thought you might be gay. Anyway, I have been feeling that I don't really want to get married but want to have kids. I know one usually follows the other."
"Stop right there, cowboy. I'm not queer as you call it but I'm not straight either."
"How the fuck can that be?"
"Let's just say if I see an asshole or vagina on a beautiful person I want to go inside." Jeremy and I sat listening to the descriptive dialogue. "So, cowboy, show me your asshole and I'll tell you what I think."
Kyle got up and didn't hesitate pushing his jeans and boxers down to his knees. He then bent forward giving Cary the view he requested. "So what do you think?"
"If you clean it up I'll give it a try."
"Do you mind if Jeremy and Jerry watch and take pictures?"
He didn't answer but said, "If you decide you are a bisexual like me, how's that going to play in central Nebraska?
Kyle said, "I'd probably keep it to myself."
Cary finished a second beer and said, "Kyle, Jeremy and Jerry want to go country western dancing at Charlie's. I suggest we go out to dinner before going there. I also suggest that we take two cars in case they want to stay longer than we do.
That's what happened. We met Tony and Jim at Charlie's at nine and Jeremy introduced everyone. When the DJ ended the music for the line dancing lesson, he started playing a two-step by Tobi Keith.
Jeremy said, "Let's go." He took my hand and we went onto the dance floor with Tony and Jim and several other couples.
Even though it had been two months since we danced in Georgia, our dancing seemed easy and normal. He was spinning me and switched from leading forward to leading backward. I was loving what we were doing. We didn't stop when the DJ played a faster piece before playing the Patsy Cline favorite, The Tennessee Waltz. Jeremy gently guided me as we circled the floor alone. At the end of the song there was appreciative applause from our group. Kyle said, "Where the hell did you guys learn to dance like that?"
Jeremy seemed embarrassed and admitted that we had only danced together once before. The music started again as Kyle and Cary went to the bar to get everyone a beer.
When we came off the dance floor the second time they told us that they were going back to Cary's. Cary wrote his address on a slip of paper which I put in my pocket. Tony, Jim, Jeremy and I stayed until eleven-thirty, talking and dancing. We told Tony and Jim about our project. While they were interested and encouraging, they said Tony's job was too public to take a chance that someone would see him naked in our book. We said "Goodnight" at midnight.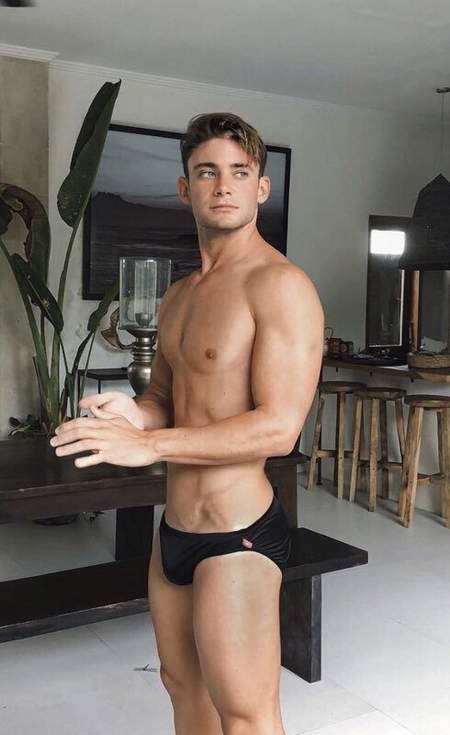 Saturday morning there was no movement in Cary's condo until past ten. When I finally heard someone, I got up to pee and see who was up. Like usual I didn't put pants on. Without thinking, I walked out of the bathroom and there was Cary looking at my naked body. I smiled and my hands automatically covered myself as he stood there in his black briefs. He said, "Morning, Jerry! Want some coffee or tea?"
"That'd be great. Let me get some pants on."
"No need on my account." He stripped off his briefs.
"I thought I should be a modest guest but obviously I didn't need to be concerned. I hope we didn't disturb you when we got back last night?"
"No, but I have some news for you and Jeremy. I can assure you Kyle is not straight. Only he can figure out if he's gay or bisexual. That boy knows what to do with his equipment. I probably look like I'm walking bowlegged." He laughed.
"I thought…"
"Yes, I did get to try out his asshole. I liked it but I liked it more when he did me. What worries me is what's he going to do with what he knows, living in the middle of redneck Nebraska." I listened and thought Jeremy might have some ideas. "What are you guys planning to do today?"
"Well, we have an appointment at two, before Charlie's opens, to photograph the two of the best country western dancers I have even seen. We asked them last night if they were interested and they were."
"Why before Charlie's opens?"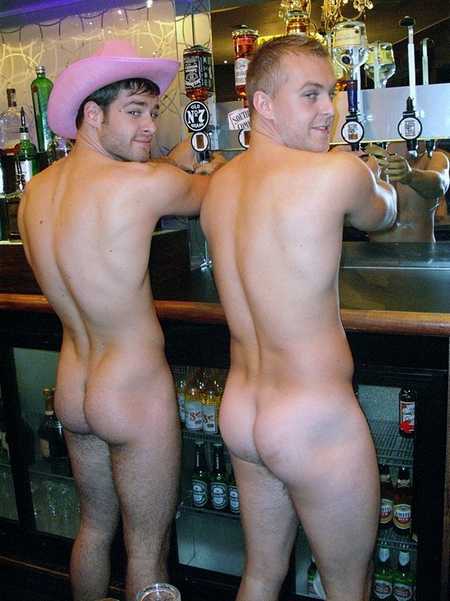 "Because they agreed to show the camera their shiny white butts which wouldn't work if the bar was open."
"And Charlie's agreed?"
"They agreed we could bring our lights in as long as we were done before they opened.
When we arrived at one o'clock, and Ty and James got out of their pickup to join us. Setting up the auxiliary lights took about 15 minutes, so Jeremy also used the time to tell Ty and James about the poses he wanted. Ty and James got naked except for Ty's purple cowboy hat.
The questions I had for them were similar to those I asked everyone we photographed. Ty was a bartender who grew up in the Denver area and James was a nurse in the critical care unit at St. Joseph Hospital. They were friends who liked to dance together but never considered living together. Both had significant others.
When Jeremy was finished shooting and Ty and James stepped away from the bar. Kyle asked Jeremy to take a similar picture of his and Cary's butts side-by-side at the bar. Cary didn't object so they undressed. Kyle said he wanted a souvenir of his coming out weekend.
Ty and James left us and a bartender got ready to open. We discussed our book project and Kyle asked if he and Cary could decide which pictures of them we would use in the book. We agreed we would consult with them if we found anyone to publish the book.
We left Charlie's and walked to Hamburger Mary's, which about a mile away. As we were waiting for our food Kyle said, "Guys I have a plan. It assumes Cary decides he likes sex with me. Laura has a good friend named Frieda and I think I'll invite them to live with me at the ranch. I won't marry Laura, for sure, but I think she might go for living at the ranch so she is close to me. She loves riding horses, as does Frieda. Cary can work from the ranch as easily as he can work from Denver."
"Redneck, what if I don't want to live at your dusty fuckin' ranch? How's your internet connection?"
"OK. When you come out you can have all the ass and pussy you want."
"You are an arrogant asshole. I love my place here. I'll definitely not sell but if you'll build a swimming pool I might consider living at your ranch part-time." Jeremy and I sat quietly as the two of them seemed to be sketching out a new life. I thought, 'what if the girls don't agree with Kyle's plan.'
On Sunday and Monday we toured Denver and did touristy things and Jeremy didn't use his camera at all. Our last night we enjoyed the comfort of Cary's guest bedroom and didn't really pay attention to what was going on in Cary's bedroom except that the noises were descriptive.
Kyle thanked us, hugged and even kissed us before drove off Tuesday morning to pick up the RV at the RV dealership. By ten we were on the road toward Santa Fe, New Mexico.
Jeremy talked about the Native American ruins that were in the area of the Santa Fe Skies RV Park where we had reserved space for a couple of days. The drive was easy for Jeremy since we were on interstate highways almost all the way and the wind was light. When we found the RV park we were expecting a wooded, shaded site like we had in Estes Park. Instead we were in open desert. The site had water, electricity and easy access to sewage disposal. For the first time in weeks, we erected our shade tent over the picnic table. We picked this campground because it was recommended by a gay and lesbian RV camping group.
The next morning we drove the KIA toward the Santa Fe National Park in search of ruins. Twenty miles from our RV, we were in the Sangre de Cristo foothills which stretch into southern Colorado. We stopped at a national park service information office to pick up maps to the sites we wanted to visit. We were prepared with hiking gear and plenty of water. There were spectacular mountain vistas of stately evergreen trees and majestic peaks whichever way I looked.
Jeremy set a steady, not unreasonable hiking pace. We encountered many other hikers, at first. Gradually, they thinned out and then, after less than a hour, we met no one. That was fine because we weren't looking for photo candidates. We were seeking sites where Native Americans lived hundreds of years ago. We climbed to the Puye Cliff dwellings and then hiked along a high up a mountain trail. It was getting late in the afternoon when we came upon a lone man.
He was totally naked and sitting cross-legged near what had to have been an early Indian structure. He appeared to be meditating as he stared across the magnificent valley.
Jesse
He got up and walked close to the edge of the steep drop-off. He didn't seem to be worried about the danger.
Jeremy must have suspected that the guy was ready to jump because he shouted, "Hey, man, don't jump!" and raced ahead. The guy abruptly turned to us and pointed at something, apparently trying to get us to go there. We stood our ground not twenty feet from him.
He glared at us. Jeremy called, "Can I take your picture?" He looked puzzled, but Jeremy hurriedly took out his camera.
I said, "Yeah, man, we're doing a book with naked men like you." Jeremy snapped a picture without the guy's permission. He didn't move from his noble stance. We stepped closer.
He spoke for the first time, "Fuckers, why'd you interrupt me? I'm tired of this fucking life. Call your picture, The Moment Before He Jumped." He turned and started toward the edge.
Jeremy said, "We'll watch, if you don't mind. We'll be able to tell the authorities what happened. We'll sit right here."
"No, man, I want to be alone. Get out of here!"
Jeremy stated firmly, "No, man, we're staying. Take a break. We have some water if you want a drink before you jump." He slowly stepped toward us with his dick sticking straight out from his body. He took a swig from my bottle. "Man, what's your name because I know they'll ask us. I don't see any clothes so I presume you don't have ID with you."
"Jesse, Jesse Barlow," he whispered. "No one will fucking care if I'm dead. You'll see."
I interrupted, "Yeah, Jesse, if we use your picture in our book I want to have something to write about you."
He snarled, "I'm an unproductive husband, unsuccessful father, out-of-work, broke guy who has no friends."
"And…?"
He sat down cross-legged and intently looked at us before he said anything more. I sensed that we were on the right track with this guy. He spoke almost whispering.
"My wife left me for a black dude because she said I couldn't get her pregnant. I tried. Her two teenage boys insulted me and didn't respect me." He went on to tell us about a weird spiritual group he belonged to that worshiped the dead. The more he talked, the darker the subjects became. He showed us where he had pulled the pins out of his nipples and where his Prince Albert had pierced his dick. Neither Jeremy nor I interrupted.
Darkness was descending and it was getting cold. I was concerned about getting back to the car safely. Finally, Jeremy said, "Hey, man, let's get off this mountain before we get lost and freeze our asses. Follow us back… How'd you get here? I didn't see a car or motorcycle in the parking area."
"I walked."
"From where?"
"Espanola, about five miles."
"Where your clothes?"
"Left them in my crappy Honda."
"You walked naked all the way. No one stopped you or asked what you're doing?"
"Nope, that confirms what I said that I'm a worthless piece of shit."
I was not too happy when missionary Jeremy invited Jesse to come to our RV. I was also surprised when Jesse said he would.
We followed his naked butt back to our car and drove down the mountain. When we got to the RV, sat him at our picnic table and went inside to get him a pair of my old running shorts. He seemed exhausted.
Jeremy offered him a beer which he refused. To my surprise Jeremy said, "How about weed?" I knew Jeremy had a stash of marijuana which we rarely used. Having it made me nervous.
Jesse said, "Yeah, man, I could really use a hit." We were quiet as he smoked. When we invited him inside, moments after he sat down in my passenger seat he almost instantly was asleep.
The next day we drove back to Espanola to retrieve Jesse's rusty, black Honda. We paid to fill it up with gasoline. He stayed with us for the remaining two days we were in the Santa Fe area. His mood was dark but his eyes cleared up. He seemed more stable. He was more interested in smoking weed than eating the hearty meals I fixed. He had many problems which we couldn't solve. Jeremy suggested he follow us to Albuquerque to a homeless shelter with mental health services. We stayed with him to make sure he actually went through the registration process. He cried as we got ready to drive off and we did a three way hug that he held for minutes.
Once he was out of sight I said, "Do you think we saved a guy?"
"I really don't know. If he follows through, he has a chance. We'll never know but we did the right thing, don't you agree?" I nodded my head.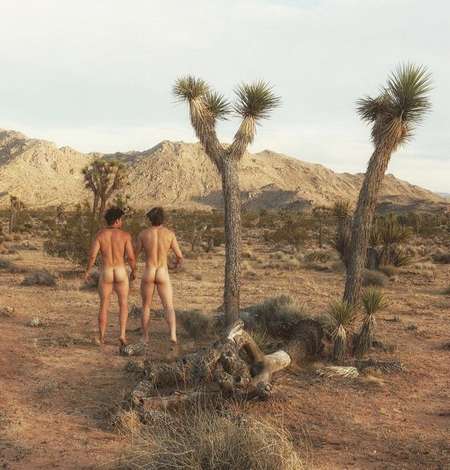 We stopped in Flagstaff, Arizona for the night but didn't linger. We were anxious to get to California. As we neared Palm Springs, we stopped at the Joshua Tree National Forest. As we pulled into the parking we saw two young guys getting out of their car next to us. Jeremy got out of the RV before I did and walked up to the guys. I knew what he was up to.
He got back in the RV and said, "They're going to walk some desert trails but agreed to pictures but don't want to tell me anything else about themselves. I agreed."
"Let's get our hiking stuff on and follow them. I'm guessing the shots will be butt shots but the scenery is incredible!" Jeremy got plenty of rear end shots and convinced them to slow down so he could get in front of them for several more The angle of their dicks told us they were excited.
We parted about a half an hour into the hike as they started a three mile trail that I wasn't up for. I wasn't sure how we would use their pictures but we had them.
In Palm Springs we made reservations at a clothing optional men's resorts called Inndulge and that meant we had to find a place to park the RV for a couple of days. We called Mike Thompson's RV sales hoping that they rented space for storage. They didn't but told us who to call. After we parked the RV, we drove to the Warm Springs area and checked into Inndulge. As we walked to our assigned room Jeremy and I could see candidates. We wasted no time getting naked although I had my pad and pen and Jeremy had his camera. When we checked in we told the manager he would see Jeremy's camera but there would be no pictures taken without the subject's permission.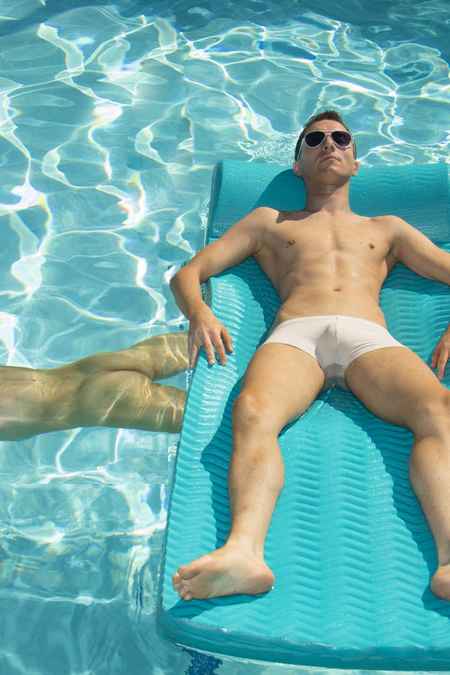 One handsome couple lay reclining in the pool. I approached one of them who was on a raft in a white, thin, tight boxer brief. He looked at me and smiled a "yes". I didn't ask any questions because he seemed to be more interested in sunning than talking. I figured I would catch up with them later.
We sat at a table under an umbrella because I had no interest in getting any darker than I already was. Jeremy scanned the area before suggesting using the hot tub. The idea of getting into a one hundred degree hot tub when the air temperature was about the same didn't appeal to me but I agreed to go. As we got up to go over to it I grabbed Jeremy's arm. "Wait, I think I know who those two guys are who are walking out of that room." Jeremy looked but his face told me he didn't recognize the guys.
Nico and Arthus
Speaking softly I said to him, "Those two guys have a travel vlog. I've seen some of their YouTube videos. Haven't you?"
Jeremy said, "I haven't but why don't you go over and introduce yourself. Tell them what we're doing. Maybe they'll let us photograph them."
I hesitated even though I knew they did outrageous, crazy things in their videos. I introduced myself. Jeremy was behind me. After introductions, I told them what we were doing.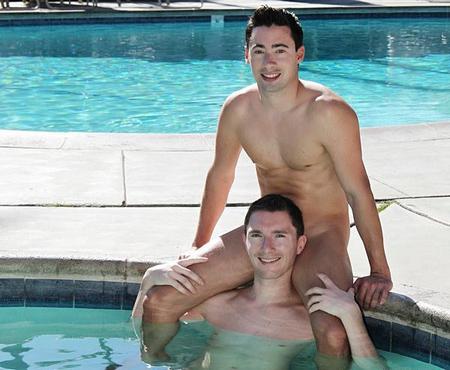 Nico agreed that they would let us photograph them. He said, "When you tell people in your book about us we want you to mention our business which is PetitQ Underwear." We agreed and I asked to interview them for more details. Jeremy had them get into the pool and smile for the camera. Jeremy took many shots poolside. When he finished ,they invited us to their room where Nico asked Jeremy to take shots as they modeled in their designer underwear. He took a few shots but said he wanted to photograph outside in better light. With each of the boys carrying several pair of underwear we went outside. Jeremy would shot pictures documenting the taking off and trying on in the temperature about one hundred. Afterward the four of us sat under our umbrella and each drinking beer. Arthus was the talker, "So what do you want to know about us?"
"Tell me something interesting."
"Well, we're French from a small village outside of Paris. We have been a gay couple for fifteen years. You know about our vlog?" I nodded my head.
Jeremy admitted, "I haven't seen them but Jerry has. What do you talk about on the vlogs?"
"We have our own YouTube channel which we've had for four years. We had the idea that gay guys have questions and they don't know who to ask like 'How to be a better bottom?' or 'What is it like to have sex with a woman?'"
"You talk about those things on the video? How do people respond?"
"We have thousands of followers. We know because of the number of subscribers we have."
"Do you make money doing the vlog?"
"Not enough. That's why we started the PetitQ Underwear business. We are our own models because our bodies are normal. Many of the underwear ads have muscle or gorgeous guys with substantial packages. We wanted to show the regular guys that they can wear sexy underwear and don't have to be a model to enjoy pretty pants. The reason we asked you to do photos is because we recently received some new designs. We want to show them on our new vlog."
I inquired, "Don't you do travel segments, too?"
"Yes, we got questions about where we travel so we thought we'll do travel segments around the world. Gay guys have money and they like to spend it on travel – sometimes with gay groups and sometimes alone but always visiting interesting places."
The sun had slipped behind the mountain as the four of us got into the water. After floating around we decided to meet for dinner in an hour after we took a rest. I'm guessing their rest was like ours - active. I loved when Jeremy topped me not once but twice.
We crowded into our KIA for a trip to Shanghai Red's Bar & Grill for an eclectic meal but not as eclectic as our dinner partners. Arthus talked the most and was definitely more flamboyant than Nico. As we drank and ate dinner, we found out that Nico had known Arthus since they first had sex at the age of thirteen. They each related their coming out story. Both remain close to their families.
Arthus parents, we heard, were less than accepting of some of the things they talk about on their vlog. They told us they did naughty things as teenagers like leading girls on and then dropping them right before they had sex. Neither seemed the least bit inhibited when talking about their varied, kinky activities. After Jeremy, Nico and Arthus drank two bottles of wine I had to drive back to Inndulge.
The following morning, Nico was in the pool alone when I came out for a swim. He grabbed me and kissed me on both sides of my face and butt cheeks. He laughed, "Bonjoir, Jerry"
"Bonjoir, Nico."
"Last night when we got back, Arthus suggested we have a four way with you guys. What I mean is one of us could take pictures and videos while we're having sex. Would you suggest that to Jeremy?"
"I suspect he'll say 'yes' but I don't know."
"You don't have to use the pictures in your book but we might use an edited video on our vlog. We are always careful that we aren't banned from YouTube. It would be so fun since you guys are so cool." I wondered if I would like being with these two guys for sex. If Jeremy agreed I decided I would go along and enjoy the experience.
After lunch we met up with Nico and Arthus in their room which was larger than ours. Jeremy brought auxiliary lights which he turned on with the admonition that whoever was shooting, whether video or stills, should be aware of their shadow.
The sexy session started with the four of us hugging and French kissing each other. Nico seemed the most interested getting it on with me. He put me in the middle between himself and Arthus. Nico started kissing me and Arthus was sucking my little dick which quickly grew. I could see Jeremy taking shot after shot with his dick fully erect.
I said, "I saw that video where you said you wanted to bottom more. Can I try? I'm little."
Arthus got on his knees and said, "Is the video running, I want proof I did it."
I lubed the condom and slowly pushed my slender, short Asian dick into his cavity. He didn't wince and said, "Hey, this is great. Better than you Nico." We stayed engaged for five or so minutes. Everyone laughed at Arthus, staggering to get off the bed as if I had stretched him.
Nico took the camera and pointed it at Jeremy and Arthus who were getting it on. Jeremy wasted no time spreading lube on his butt and slipping on a condom. Nico placed the camera on the table and hopped on the bed and went straight for Jeremy's asshole awhile Jeremy continued to fuck Nico. I figured it was my turn on the camera but I wasn't sure if I would agree to let them use the porno shots on their vlog.
Nico grabbed the camera and said, "Cum time! We lay on our backs and began to intensely work on ourselves. Nico kept the video focused on our middles. He got the three cum shots that he wanted.
They joined us in our room to review the photos and the video. The extra lights gave a clear view of all parts of our bodies. We laughed and looked at the video twice before realizing it was cocktail time.
After dinner, the four of us swam and played like little kids. Arthus reminded Jeremy that they still wanted the underwear photos so it was agreed that the shoot would be at eight-thirty the next morning.
It was a fun time at the Inndulge with Nico and Arthus. We promised to send them the underwear pictures within a few days. Nico and Arthus convinced us to drive them into Los Angeles. Jeremy really didn't want to have to contend with the traffic but agreed to drop them off in the east side of the metro area at a light rail station. They were on their way to an underwear fashion show in West Hollywood.
We planned to drive to the Pacific Ocean for surf shots before heading north toward Yosemite National Park. Our destination was San Onofre State Beach. The recognized nude area was north of Camp Pendleton, the Marine training base. There were parking areas where we could stay overnight in the RV but without services. We planned to be there only one night.
The Three Mikes
Once we were parked, the climb down to the San Onofre beach was by way of a steep cliff path. The early September day was warm but the stout wind of the ocean gave me goose bumps. Naked people were on the beach so Jeremy approached three of the guys. No one turned him down and each seemed pleased to have been asked to model.

Coincidentally, all three were named Mike. They all lived in the area and had seen the other often but didn't seem to know them. After Jeremy started shooting the first Mike, the other two guys watched while joking around. That pattern continued as Jeremy took shots of each. By the time he was done they knew each other much better.
I got contact information on each and promised to send them copies of the book when it was completed. The final shots were of the three of them with arms warmly embracing the others. They ran into the water splashing each other as Jeremy and I walked down the beach. There were fewer people the further we walked. Jeremy put his arm around my shoulder as we enjoyed the cool ocean breeze and I thought. 'Finally I have found Mr. Right!' In the distance, we could see people running toward us. We stopped and concluded they must be Marines on maneuvers. Jeremy had his camera up as the men got closer and closer.
We were waiting for them to pass but they stopped. One guy said, "Guys, you're on Camp Pendleton Property!"
"Sorry," I said as we turned around.
Another one said, "What are you taking pictures for?" Jeremy briefly explained our project. The same guy said, "We'll show you our butts if you promise to use the photo in your book."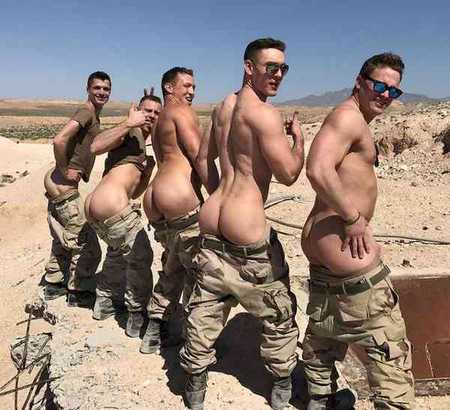 Jeremy said "Sure." At that point they lined up and dropped their pants.
He shot maybe ten pictures before the first guy said, "Guys, got to go." They pulled up their fatigues and ran up the beach.
Unknown to us, that was the last picture Jeremy would take. We planned to go to Yosemite National Park before ending our trip in San Francisco, but we were abruptly stopped when a large tractor trailer rig smashed into our RV parked at a truck stop outside of Fresno. That picture of our defenders wasn't the way we had planned to end our book.
Author's Notes
The story is completely fictional and any resemblance to a person and the described meeting with Jeremy and Jerome is accidental. Unlike the author's previous stories where pictures were used to enhance the story, in this case the pictures allowed the author to create the story. The author reserves all rights to the story. The inspiration for the story came from a book entitled "Men I've Loved" by Tom Bianchi. All the pictures were found on the internet and none had photographer credits. I would be happy to credit the photographer if he or she would contact me. I want to thank Dick H. for suggesting improvements, editing and proofreading the story. I encourage readers to share the story and send their comments to rawlingbros@gmail.com.