Learning A Different Culture
by John S. Lloyd
Marcus de Rivera and Richard Blake were sitting together listening to their scoutmaster at the regular weekly scout meeting in the basement of the St. Matthew Cathedral's Fellowship Hall in South Bend, Indiana. Both boys were thirteen years old and attended school together at Holy Cross School. Marcus had moved with his family from Mexico when he was in the fifth grade. They moved to South Bend so his father could attend Notre Dame University to get his doctoral degree. Subsequently, Dr. Rivera became an Assistant Profesor in the Spanish department so the family has remained in South Bend.
Recently, Marcus learned from his father that the family would be moving at the end of the school year to Chicago. Dr. Rivera had been named a liaison to the Mexican Consulate. Marcus was excited but unhappy that he would be leaving his friend Richard, or Rickie, as he preferred to be called. The boys were half listening to their scoutmaster, Mr. Ford, when they heard "World Scouting Jamboree". The statement caught their attention.
Mr. Ford said, "Scouts, I have a fantastic announcement. One of the major supporters of Boy Scouts in South Bend has offered to pay for four scouts and one leader to travel to the World Scout Jamboree in Japan next year. We have set up a committee to screen applicants for this event.
"I am handing out a sheet which details what a scout must do to be considered a candidate for the scholarship. The sheet gives details of expectations and a deadline for the committee to receive your application."
Rickie looked at Marcus, "Should we try for it?"
Marcus looked puzzled and said, "What if one of us gets picked and the other doesn't?"
"Can't happen because we'll submit a joint application. Anyway we're going to have to work our butts off in the next months to even be in the running." Rickie put his left hand on Marcus bare thigh and squeezed it. Marcus smiled back at Rickie.
Rickie and Marcus have worked on advancement and merit badges together since they were in the sixth grade. They have both reached the Life rank and only have a few more badges to qualify for advancement to be an Eagle Scout. They attended summer camp the last two years at Camp Tamarack in the Woods Scout Reservation. They both really liked the outdoors and have camped together with the Blake family on several occasions in and around Lake Michigan and smaller lakes in Northern Indiana. It was on one of camping trips with Rickie's father and older brother that the boys first experienced skinny dipping.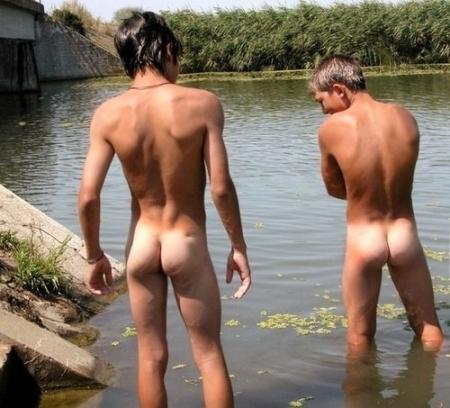 Mr. Blake had reserved a campsite in Indiana's Pokagon State Park on the lake camp was quite a distance from the main camping area. Rickie complained about the long hike to the camp's restrooms and showers. The reason for the location became clear when Rickie's dad told the three boys they were going to swim naked. None of the boys had ever done anything naked outdoors before. They soon learned to like the freedom from their board shorts.
Mr. Blake and Rob, Rickie's nineteen year older brother, erected a large four person tent with two wide inflatable mattresses. Rob and Mr. Blake would sleep on one and Rickie and Marcus on the other.
As soon as Rickie and Marcus were in bed, they quietly got naked and held each other. In the tent they couldn't do what they easily did but still enjoyed spooning each other.
Their habit of sleeping together had started at Marcus house. He was an only child so when his parents were not at home he was alone. He intentionally would invite Rickie to sleep over when he knew his parents were going to be away late at official college functions. The first few times Rickie slept over, the boys played board or video games or watched action movies on television. They showered separately until one night when Rickie was in the shower and Marcus surprised him by pulling back the shower curtain and stepping in with him. While Rickie was initially surprised, the boys grabbed each other's stuff and rubbed each other. They were twelve years old so nothing happened except they felt good.
Over the next months their sexual exploration ventured beyond just touching each other. Each loved to kiss and hug. Their emissions eventually started and got stronger as their bodies matured. They talked about how great it was to be doing what they were doing even though as Catholics they knew what they were doing was wrong. They jokingly remarked that they would ask the priest for absolution but never did. Rickie particularly liked Marcus' long uncut cock and he sucked it as often as he could.
After telling their parents about their intention of applying for the scholarships, their next challenge was deciding how to apply jointly. The requirements required originality, correct English and something about another culture. The culture did not have to be Japanese even though the boys thought choosing Japanese history and culture would be interesting. They presumed other scouts would choose something like Native American culture. The question they considered was how would they learn enough to complete the application.Marcus suggested that he and Rickie approach Marcus' neighbor, Mr. Takii, who lived across the street.
Dr. de Rivera told them that Dr. Takii had recently received his doctorate from the University of California, Berkeley and was hired to teach Japanese and Mandarin. The boys asked Dr. de Rivera to call Dr. Takii and explain what they wanted. The neighbor was happy to hear about the boys' interest and invited Rickie and Marcus to come over the following Saturday.
When Dr. de Rivera told the boys about the invitation the boys quickly got to work developing a list of questions for Dr. Takii. At Dr. de Rivera's encouragement Marcus called Dr. Takii to confirm the time of the appointment. Dr. Takii suggested that the boys come to the back door and knock. If he didn't come immediately they should come in and take a seat at the kitchen breakfast counter. After Marcus hung up he asked his father if Dr. Takii had a wife. His father was not sure but knew that if he did she was not living with him.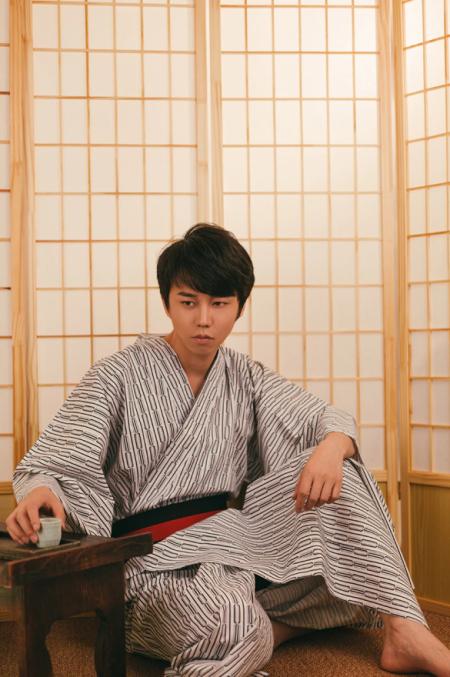 Saturday morning the boys walked across the street and did as Dr. Takii suggested. They didn't get an immediate response to their knock so they let themselves in. On the counter sat a tea pot and three porcelain cups. They stood quietly waiting for Dr. Takii to appear. When he did the boys were surprised how young he was. He had long black hair and big eyes and he as dressed in an elaborate dressing gown.
He smiled and said, "Hello, boys. My name is Makoto and I would like you to call me that. I, also, would like you to take off your shoes which is a tradition in a Japanese house." Both boys toed off their trainers. "Now I would like you to go into my den and sit cross legged in front of the low table. We will start your understanding of Japanese culture with a traditional tea ceremony. They glanced at each other and did as Dr. Takii asked
A few minutes later Dr. Takii came in carrying a tea pot and cups on a lacquer tray which he placed in the middle of the low, square table. He poured some hot tea in each cup and with two hands handed a cup to each boy. When he sat down Rickie noticed that he didn't have underwear under his robe. He was careful not to look too closely.
Dr. Takii began telling them about the tradition of the tea ceremony which goes back hundreds of years in Japan. Marcus got out a tablet to take notes but Makoto indicated that he didn't need to write anything down. He said, "When you boys get the project written up I will review it for accuracy. I want you to listen and concentrate." Marcus put the tablet down. The boys listened and watched as Dr. Takii showed them a map of the five main islands that make up Japan. He told them about the long military history of the country.
After about an hour he could tell the boys had had enough and suggested another session the following Saturday. The boys thanked him and walked back to Marcus' house. Rickie dictated and Marcus typed what they could remember.
The following Saturday they were invited to have a traditional Japanese meal. Again dressed in his elaborate red, embroidered dressing gown, Makota fixed tempura shrimp, pickled vegetables and several types of sashimi rolls. Like last Saturday, he invited the boys to sit on cushions at his low table. Since Rickie had mentioned what he had previously seen, Marcus paid particular attention as Makoto arranged himself for their meal. Marcus got the naked view of Makoto as he sat down. They took their time eating as Makoto described not only the food but he traditional Japanese house. After lunch he invited the boys to see his bedroom. They were surprised that there was no bed. There was only a futon on the floor. Makoto explained that he slept on the futon with a small wooden block for his pillow. He had decorated his traditional American bedroom with paper screens over his closets, silk screen scrolls on the walls and several Samarii swords on a rack in the corner.
After the boys returned to Marcus' house to write their summary, both commented that they would not want to sleep with their head on a wooden pillow.
Their deadline for the appplication was approaching so they set about finding pictures on the internet of the tea ceremony, a traditional Japanese meal, pictures of the interior of historic Japanese homes and Japanese weapons. They inserted the pictures in the text. Makoto had indicated before they left that their next lesson involved something about the predominately male culture of Japan. They didn't know what Makoto meant but were comfortable with him and trusted him. They were both increasingly excited about the possibility that their completed application would get them the scholarships to the jamboree.
The following Saturday, Makoto asked the boys to arrive at three and plan to stay for dinner. The invitation was approved by the boys' parents.
They arrived on a rainy, cool day in early November. Makoto met them in a different dressing gown which appeared thinner than the one the boys had seen earlier. Again, they sat at Makoto's table for tea and Makoto's fascinating lecture on the militarism of Japan. He explained the extreme male culture of ancient Japan. After thirty minutes, Rickie noticed Makoto's gown was open and he was exposed. He assumed Marcus saw the same thing. Makoto got up, straightened his gown and asked the boys to follow him into his basement.
In a brightly lit room, Makoto said, "This is my version of a Japanese onsen. Japanese have a tradition of going to natural hot springs for soaking and relaxing. Since there are no hot springs in Northern Indiana, I created my own with this spa."
The boys stood silently and listened. Before them was a large tub of water. Beside the tub were three short stools and beside each stool was a small plastic bucket, a bottle of liquid soap and a fluffy device used for washing. Across the room was a small shower stall and a lounger covered with a white sheet.
Makoto said, "I would like you boys to undress in front of each other. I will show you how we prepare to enter the hot water. Don't be shy because in Japan this is tradition."
Marcus and Rickie looked at each other and took off all their clothes as Makoto stood in his robe. When their clothes were piled up he took his robe off. He said, "Have a seat on a stool. Take a bucket and fill it with warm water and pour it over your body. Once your body is wet add soap to the scrubber. After it is lathered wash all of your body making sure you completely wash your butt and around your penis. You boys make sure you pull your penis hood back when you're washing. Japanese people in the onsen are very strict about cleanliness." Marcus complied as did Rickie. After all three were completely soaped Makoto directed them to fill their buckets and rinse not only themselves but to make sure all soap was off of the other. Much water was splashed but the most unusual part came when Makoto directed each boy to pull their butt cheeks apart so he could make sure all soap was rinsed away. Makoto then directed them to get into the warm water where they relaxed for thirty minutes.
Makoto explained that onsen exist in cities all around Japan and at lavish resorts in the mountains. When the boys got out, Makoto suggested showering off the bromides which are used to keep the water sanitary. After rinsing he handed each boy a small towel that was more like a washcloth. The boys dried as well as they could before he handed each boy a garment he called a yukata and a pair of slippers. He said, "You boys relax on the lounger and I will fix our dinner."
At Makoto's table, each remained dressed in Japanese style and enjoyed traditional Japanese dishes. About nine o'clock, the boys dressed in their shorts and T-shirts, thanked Makoto and agreed to speak during the week to decide if they needed more information for their application. They went back to Marcus' room. It had already been decided that Rickie was staying overnight. As they lay naked together in Marcus' bed, Rickie said, "Maloko's dick is smaller than ours. Did you notice he had a hard-on when we were showering?"
"It was impossible to miss. Do you think he's gay?" Marcus smiled, "I don't know if he's gay but we know he likes to look at our naked bodies. Do you want to go over again for another onsen or do you think we know enough?"
"I think we should describe today's onsen experience just as it happened. I mean, leave out the hard-on part. What Makoto showed us was fascinating. Hopefully, we'll win the scholarships we will get to try an onsen in Japan."
We asked Makoto to review the application. Makoto had a few suggestions and invited them come over to discuss his comments. When they arrived he handed them their application and complimented them for their excellent document.
Marcus and Rickie thanked him. He invited them to dress in their yukata and slippers follow him to the onsen. After relaxing for thirty minutes they showered.
Makoto seemed nervous until he grabbed his small cock and rubbed it. He said,"Boys, I'm sorry but I need to service myself. You can go upstairs if you want."
Rickie boldly said, "That's OK we'll watch."
Makoto said, "I shouldn't have asked but I couldn't help myself. You guys are really handsome."
Marcus asked, "Are you gay?"
Without hesitation he said, "Probably, but I have to be discreet since I have a wife in Japan." They hugged him and assured him they would not tell anyone. With a traditional Japanese bow they left his unique house.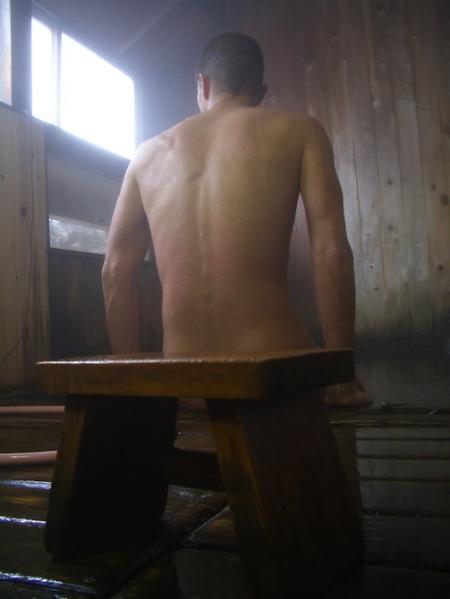 They submitted their application even though both sets of parents agreed to provide financial help if they didn't win. They told the scoutmaster that theirs was a joint application. Rickie went on to explain that if the joint application wasn't approved they would not accept if only one of them were rewarded with the scholarship. Fortunately, their application was accepted. They were notified that the week after Thanksgiving the committee wanted to schedule oral presentations. They learned that theirs was one of six applications but the only one submitted jointly. They prepared a Power Point presentation for the committee including pictures of a traditional onsen.
Before Christmas, Rickie and Marcus were notified that their application had won them one scholarship to be divided. With their parents' help, they knew they would be able to go to Japan.
Rickie called Makoto to tell him the good news. He invited the boys over for a celebratory dinner. Rickie asked Makoto if Rob, his older brother, could come along since Rickie had told him about the onsen. Makoto readily agreed.
When the three boys arrived, Makoto was waiting with their yuhatas and slippers. Rickie told Rob, about the process so he didn't seem surprised when they undressed in Makoto's den.
Rickie couldn't help but notice that Rob had a partial hard-on when he was undressed. Rickie had not suspected that his brother might be gay.
Their onsen preceded dinner. Rob seemed completely comfortable and judging from the conversation during dinner Rickie had the impression that Rob knew Makoto from the university.
As Rickie and Marcus were preparing to leave, Rob was not coming with them said, "I'm staying with Makoto tonight. I'm in Makoto's Japanese language class. We have gotten to know each other. He is my tutor."
Rickie boldly said, "Are you gay, too?"
"I know it's an unusual way to come out, but 'yes'. I don't want you to tell Mom and Dad, yet. I'll tell them when the time is right. Makoto has accepted an assistant professorship at the University of California at Davis. I'm transferring there. We plan to live together."
Rickie and Marcus walked quickly through icy winds to Marcus' house. Both seemed shocked at Rob's revelation.
Rickie and Marcus spent the night wrapped in each other's arms dreading the next morning when Marcus and his family would leave for Chicago to find a place to live. Plenty of tears were shed as the boys considered their futures apart. The one thing they knew for sure was that they would be together in Japan for the jamboree the following summer.
Rickie didn't see Marcus for months after the de Riveras moved to Chicago. Their email and text traffic was not extensive but they did keep in touch. Rickie was lonely for Marcus but as the school year started, he busied himself with swimming and studying. He was determined to get into a good university and planned to study biology so he could qualify for medical school. With Marcus gone, Rickie lost interest in scouting, even though his parents badgered him to complete his Eagle Scout requirements. Rickie kept stalling because all he wanted to do in scouting was to attend the jamboree in Japan.
After many discussions, Rob succeeded in convincing his parents to allow him to transfer to University of California at Davis ostensibly to study aerospace science and engineering. They insisted he complete two years at Notre Dame before transferring. The cost of going to California to college wasn't so different than being at Notre Dame except for the transportation costs. Makoto moved to California at the end of the semester. Rob was without his partner and Rickie was without his best friend.
One night, after Christmas break while Rickie was studying, Rob, without knocking, opened Rickie's bedroom door. He surprised Rickie who was masturbating. Rob acted nonplused as Rickie stuffed his dick into his underpants. Rob blurted, "Sorry, little brother. What are you doing over spring break?"
Rickie said, blushing, "No problem, I can continue when you leave. Regarding spring break nothing is firmed up but Marcus asked me to go to Florida with him and his parents."
Rob said, "Why don't you guys come to California with me. I told Mom and Dad I wanted to visit Dr. Takii, check out the school and look for housing. That's what I told them."
"You and Makoto plan to live together, correct?"
"He invited me to live with him in a condo which is being built. He is living in a rental house now."
Mom and Dad were not thrilled about Rob and Rickie taking the trip to California since it would be expensive. They reminded Rickie that he had been working hard to save money from his job at the super market to put toward the Japan trip. When Marcus' parents agreed to let Marcus go with Rob and Rickie, the Blake parents gave in and reluctantly agreed to let him go, too.
Marcus met Rickie and Rob at Chicago's Midway Airport for their seven day trip – one day to go and one to return. Rob told his parents that he had enough credit on his credit card for the hotels and said he would start a new job as soon as he got back to pay off the trip. The parents were skeptical. Both Rickie and Rob knew money was not going to be spent on hotels because they were going to be staying with Makoto. The boys flew to the Oakland Airport because Southwest Airlines flew nonstop to Oakland. Makoto greeted them with hugs and they started their trip to Sacramento which took about two hours. The traffic getting out of Oakland was heavy.
Makoto pulled to a stop in front of an In and Out Burger restaurant and said, "Guys, this place is a California institution. Let's grab dinner before we go to my place." The flight had been without food so the three of them were hungry.
Rickie thought Marcus was unusually quiet and whispered to him when Rob and Makoto went to the bathroom. "Is something wrong?"
"Not really."
"What is it? Why are you so quiet?"
"Do you still want to sleep in the same bed with me?"
"Why wouldn't I?"
"I feel so guilty not telling you. I've had sex with another guy in my school." Rickie was surprised but tried not to show it.
Regaining his composure Rickie said, "I didn't think you were going to be a virgin forever. I had hoped I would be first. I'll settle for second."
"How about third?" He said smiling with his eyes looking at the table.
"OK, third but I get to choose whether I'm top or bottom."
"Deal, but know I've never been a bottom. Will you go easy if you choose to be the top?"
Before he got an answer, Makoto and Rob returned. Makoto encouraged them to finish their meal. Rob seemed to have something on his mind. Rickie suspected what it was.
Makoto stopped his white Accura in front of a small two-story house with a high fence around the tiny backyard. Makoto said the house had a small, tiled pool. Rickie was surprised since Rob said he was invited to live with Makoto in his new condo. Rob said, "Makoto purchased a new condo which is under construction and it won't be ready until the fall."
As they entered Makoto said, "I'm lucky I found this house. There is a bedroom in the loft where you guys will sleep. Rob and I will sleep down here next to the only bathroom.
Since the air was warm, Rob suggested a swim. After half an hour, the two couples went to bed. The traveler's bodies were tired from the trip.
Rob had received his official acceptance to UC Davis. Early the next morning before the others were awake Rob went to the admissions office to officially accept. Rob had prepared all the necessary forms to show Mom and Dad he was serious about transferring. When his visit to the admissions office was completed, he called Makoto and suggested that he and the boys meet him at Denny's for breakfast. Marcus and Rickie had slept late but quickly dressed. Once they had ordered, the friends started to plan their week. Makoto suggested of going to the wine region in Napa. That idea was squelched because the boys were underage. Yosemite and Grand Sequoias National Parks came up. Yosemite was close enough to drive but an overnight was required. Makoto suggested driving up to Lake Tahoe and hiking around the south end of the lake.
The night before the planned trip, Marcus and Rickie got in bed after they showered. As was their practice Marcus spooned Rickie with his stiff dick wedged in Rickie's crack. Rickie was used to that but Marcus reached his index finger down and, with a little resistance, slipped it into Rickie's asshole. Rickie winced but enjoyed the feeling until Marcus touched a trigger. Rickie loudly whispered, "Whoa!" Marcus withdrew his finger but then Rickie felt Marcus's slippery, stiff dick at his entrance.
Marcus pushed his stiff member into Rickie. With a popping feeling Rickie knew he was inside him. The intrusion hurt initially but he relaxed and enjoyed the new feeling. In less than two minutes he felt Marcus's dick release fluid but what he didn't know was that Marcus had put on a condom so the sperm was trapped inside. They lay together until Marcus softened.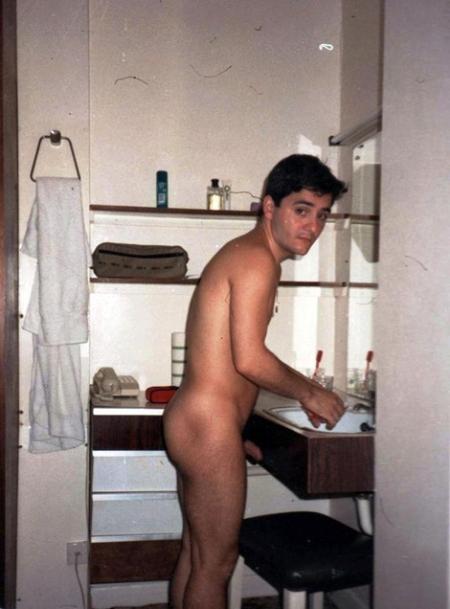 When Rickie turned toward Marcus, smiled and said, "You're not a virgin anymore."
"That was wonderful. Do you want to feel me that same way?"
"If you want to, I think I'm ready. As I told you I have never been on the receiving end."
Rickie deliberately repeated what Marcus had done to him. A street light shone brightly on their sweaty bodies. Rickie could see condoms and lube on the bedside table. He made use of both as he gave Marcus the pleasure he had been given. After he finished Marcus suggested they go downstairs for a shower. They didn't bother to put any clothes on.
When they descended the stairs the lights were off but they could hear noise coming from Makoto's bedroom. The door was slightly open. Even though the light was dim they could see naked Makoto sitting on top of Rob. He was going up and down which gave Rickie an idea for another position for them to try.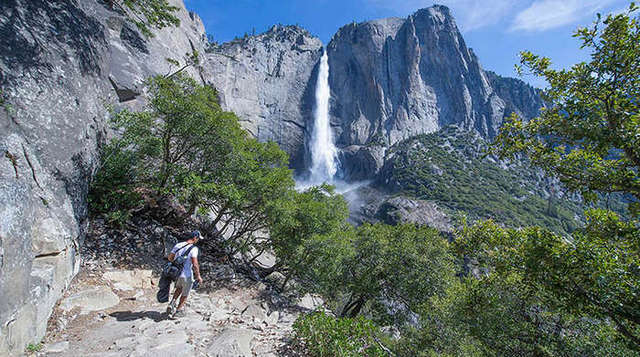 The next day they made the planned trip to Yosemite National Park. It was a spectacular crisp, clear day. Their destination was the Lower Yosemite Falls. Since it was spring, the falls were spraying millions of gallons of water per hour. The four of them hiked as close as they could to the falls. They stood for a long time appreciating the beauty of the falls.
There was no economy lodging in the park. They drove about twenty miles to a motel. The four of them slept side-by-side. There was no playing other than their regular spooning. They returned to the park the next day for a longer hike.
When they returned to Makoto's in the evening, Rickie wanted to try the position of sitting on Marcus' long uncut member. Marcus did the same and sprayed cum onto Rickie's face. He touched his finger to the white liquid and put it on his tongue. Marcus reached up and sampled it, too. When they were finished they went downstairs to shower laughing all the way.
To their surprise Makoto and Rob were going after each other in the living room with all the lights on. Makoto looked at them but didn't stop what he was doing. Rob didn't see them until he had spilled his sperm onto his stomach. By this time, Rickie and Marcus's dick were straight out. Makoto smiled, "You boys need a shower. Go ahead. Rob and I will be in soon."

The following day they drove to Sacramento. not to see the capitol but to visit the California Railroad Museum. Rickie and Marcus were fascinated by the displays depicting the challenges of building the western portion of the transcontinental railroad. Makoto treated the group with tickets on the museum's excursion train. They ended their day eating at another In and Out Burger shop.
On their last evening before they returned to the Midwest, Marcus and Rickie were in bed. Marcus, with his head propped on his left hand, smiled and said, "Gawd, I'm going to miss your sweet ass."
"I'm going to miss yours as well."
He continued, "I think we should continue to be best friends. I can't guarantee I won't have sex with other friends. Is that OK with you?"
"I agree, and I can't keep masturbating and nothing else. I don't have anyone in mind! I guess I'll find some other gay guys."
Marcus said, "If I was back in your school I would subtly approach Mark Jensen or Marty, what's-his-name."
"His name is Abrams, Marty Abrams. You think they're gay?"
"I don't know but why not try to invite them over for a movie in your basement."
Rickie puzzled, "You mean both at the same time?"
"Yes, but instead of watching an action movie put in one of Rob's porn DVDs. You know the ones we watched. If nothing else, you might get them to pull down their pants and jack off. It could lead to more fun. Who knows?"
Rickie thought about that for a while and then said, "We're still going to the jamboree together, aren't we?"
"Of course, but having sex with thousands of guys around will be difficult."
In the morning they got a surprise from Makoto and Rob. Makoto suggested that they think about touring eastern Japan with him after the jamboree. Makoto said he needed to go home for a visit and could do that while the jamboree was going on.
Rob wasn't sure he had enough time to earn the money for the trip and move to UC Davis. He said he would have to work many extra hours if he was to join them. Rickie was worried that Marcus' parents, who didn't know Makoto as well as his parents did, might be hesitant to let Marcus stay in Japan after the jamboree.
The boys anticipated objection from Mr. Ford, their scoutmaster, if they told him they were staying in Japan after the event. Marcus and Rickie discussed their approach as they were flying back to the Midwest.
* * *
The 23rd World Scout Jamboree took place in Kirarahama, Yamaguchi in western Japan from July 28 to August 8, 2015. Marcus de Rivera and Rickie Blake attended along with over 20,000 scouts from around the world.
Marcus and Rickie had not seen each other since they were together in California over spring break. Both had summer jobs and were really busy. Rickie mowed four lawns and worked at the super market. Marcus worked at the ice cream shop in his new Chicago neighborhood. They texted regularly but hadn't had an extended conversation since flying back from California. Rickie suspected that Marcus continued to be sexually active but he didn't know for sure. He certainly had things to tell Marcus.
Their overseas adventure started on July 21 at O'Hare Airport with the respective parents of five scouts there to send them off. There were about one hundred other scouts from Midwest states flying on the same plane. Rickie's parents were there along with his older brother, Rob. He was smiling as he pulled Rickie aside and said, "Have fun but be ready for a lot of fun when we see Makoto on August 6. He hugged Rickie, which Rob usually didn't do. The plane departed for San Francisco.
When the plane took off, it was almost completely filled with scouts and scout leaders. Mr. Ford, their scout leader, decided their group would stay one night in Tokyo before flying to the event. That meant Rickie and Marcus got to sleep together but there were two other scouts in their room. Mr. Ford and his son had a separate room. Rickie and Marcus were not shy in front of the other two scouts who seemed uninterested as the two of them paraded around their room naked before going to bed.
They went into the bathroom together and closed the door to get a little privacy. The shower was sexually playful but they kept the noise to a minimum. When they got into their bed the other two scouts seemed to be asleep. With lights out they spooned quietly. In the morning one of the other scouts got up to use the bathroom and saw them together but didn't say anything. Rickie noticed the tented front of the boy's boxers when he returned so suspected what he had been doing.
They arrived at the jamboree site with buses full of scouts from around the world. They were met by several senior scouts who took them through the registration process. The boys found out that they would be in the southern camp which was populated mainly by English speaking scouts. Their guide showed them to a large camp set up by the Japanese army, assisted by senior scouts. Each tent held nine scouts and one leader on canvas cots. There were twelve similar tents in their sub-camp. Each sub-camp had a latrine, a large outdoor shower and an assembly area.
Every morning the scouts gathered after breakfast for announcements and directions to various activities, including sports, survival skills, and ultimate physical challenges like on the TV shows, and lectures on religion, peace and preserving the environment. One activity involved driving by bus to the Hiroshima Memorial to hear about the effects of the two atomic bombs dropped on Japan ending World War II. Their guide told them that 39,000 people in Hiroshima died from effects of the bomb. Rickie felt sad that so many people had to die. He, like the others in his group, was quiet as the tragic event was described.
Even though Rickie and Marcus had been together regularly since the trip started, they never had privacy to pursue their extracurricular activities. One afternoon late in the week, Rickie and Marcus were sitting alone in the canteen drinking a Japanese soft drink. Marcus said, smiling at Rickie, "Well, did you get it on with Marty or Mark."
"I think you mean Marty and Mark."
"You did both of them separately or together?"
Rickie said, "Before I tell you, do you promise to tell me what you did?"
"Sure, but I suspect your story is more interesting than mine."
"Here's what happened. After spring break I decided to eat lunch with Marty who had the same lunch period as me. He seemed happy when I joined him and his friends. That turned out to be the set-up for what happened later.
My approach to Mark was different since the only class we had together was gym. I tried to stand next to him when teams were picked and we would chat. A couple of weeks later, I saw him downtown going into the ice cream shop. I followed him and pretended it was an accident. He is really cute with his wavy black hair and brown eyes. As we were walking out of the shop Marty walked in to get a cone, too. I said we would wait for him even though I didn't know if Marty really knew Mark. As we ate our ice cream in the small park across the street I could tell they did know each other.
"Anyway, we agreed to meet after school the following week and walk to the ice cream shop together. Neither of them is involved with sports, so neither had team practices, but Marty told us he had choir rehearsals on Tuesday and Thursday after school so we met on Wednesday.
"I brought up the idea of them coming over to watch movies on Saturday night when mom and dad would be gone for the weekend. They both seemed interested. I told my parents I had friends coming over for movies. They seemed pleased since I was going to be alone. They insisted that there would be no drinking or smoking.
"I knew Rob was going to be working but I didn't know his schedule. I didn't want him to bust into the family room and find us naked. I told him my plan. He laughed and called me a 'devious mother fuck'. I asked him where he kept his porn films. He acted surprised but told me. He promised me would not accidentally show up and would text when he was coming home. Saturday came and it was an unusually warm spring day so I opened up the windows."
Marcus said, "Hold that thought I have to pee. I'll be right back." When he returned he wasn't alone. Two other scouts from our tent were with him. So the direction of the conversation changed. He said, "More later, don't forget where you were."
The rest of the week was busy and fun as the jamboree wrapped up. On August 6th, instead of getting on a bus to go to the airport, Marcus and Rickie were met by Makoto and Rob. Makoto had rented a car. He planned a two week trip up the west coast of Japan before returning to Tokyo.
Their first stop was the Hot Spring Resort Kazeno Kuni. The resort was less than an hour away from where he and Rob picked the boys up. Rickie was excited to see both his brother and his boyfriend. Rickie knew Rob and Marcus would have plenty of private time.
The resort was older but stood beside a lake fed by the hot springs that ran through the hotel. Their room had two beds and a loft where they could watch television. When they turned the TV on we found that all channels were in Japanese. The first night, Makoto had reserved a small private dining room for a traditional Japanese dinner. Toward the end of the meal Rob said, "Little brother, I have been wondering how your threesome worked out that day I loaned you my porn DVD's?"
Marcus piped up, "Yeah, you never finished telling me."
Rickie filled the three of them in, repeating some of the details that he had shared with Marcus earlier. "It was a warm spring day and I had opened up the windows so the TV room was warm. Mark and Marty arrived together and parked their bikes in the garage. I had pizza and sodas waiting. Nothing really happened until we sat down to watch the super hero's flick that I picked out. The movie concluded about ten. By this time we were in boxers, T-shirts and socks. I had planned that we would sleep on two futons so I asked if they were ready to go to sleep.
"Marty said, 'I'm not sleepy. Do you have something else we could watch?'
"I got up and pulled Rob's porn DVD's out of the drawer. When the images started no one spoke for quite a while. I turned off the lights because I knew I would get stiff."
Rob interrupted, "Enough preliminaries, get to the action."
Rickie continued, "By the light of the TV I could see both Mark and Marty with their hands in their boxers. I boldly took off my boxers and began to rub. To my surprise, Mark reached over and began to play with my dick. Marty moved so he could to get Mark's dick. After licking my dick for a while Mark took it into his mouth. I almost immediately came. Within a few minutes each one of us was undressing another. There was more sucking than kissing. I suggested we take a shower together and no one objected. We had fun soaping each other and finally watching as each of us came. That was all that happened that night except that you called and said you would be home in thirty minutes. I don't remember when you got home."
"No, you were asleep on the futon but I could see someone sucking someone as I walked to my room."
Rickie said, "I'm tired. Marcus and I want to get it on. Let's go to our room."
That night Rob and Makoto and Rickie and Marcus had sex next to each other. They slept until eleven o'clock because the room was cool and dark. Makoto told them that he had scheduled massages for each of them which were to follow soaking and scrubbing in the health rooms. He told the boys he had requested male masseurs but that had not been confirmed. Relaxing felt good after a strenuous week at the jamboree.
On the third day of the visit, Makoto returned the car and the four of them took the bullet train to Kyoto. They arrived at the small, intimate hotel called Stay Sakura Kyoto Gion Miyagawa. It was inexpensive and didn't have its own onsen but Makoto told them there were several nearby. They saw the many ancient sites in Kyoto and Osaka which could be reached by a vast subway and train system.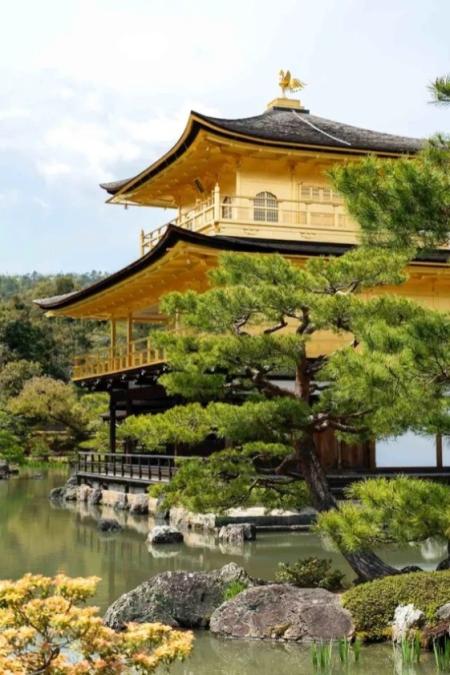 Rickie and Marcus couldn't get over how many people were around as they toured shrines and temples like the Golden Temple Kinkaku. After touring for what seemed like hours they ended their day at the Goko-yu Bathhouse, about eight blocks from their hotel.
The sex at night with Marcus was enjoyable especially since they both brought enemas for personal hygiene. Sexual activity and modesty were not a concern to anyone in the group. Marcus definitely preferred being the top and Rickie was more than happy to be the bottom. There was never a suggestion of the two couples doing things together even though each couple happily watched the other couple do what they did.
One week of the tour Japan was completed. Then the group boarded another bullet train to Fukashima Prefecture where they experienced the most spectacular scenery. When the train arrived, Makoto called the Japanese version of Uber to drive about thirty miles into the mountains.
The scenery was lush cedar trees dripping from the rain that fell almost all the way to the resort. Rob had told Rickie and Marcus that the resort was a spiritual place and very expensive. The four were escorted to their room by an elderly man in a long Japanese embroidered kimono. He had wispy white hair and a tiny white beard tied several places making it look like a long stick. We slipped our shoes off before entering. The accommodations had two futon rooms that opened onto a room surrounded by paper walls called shoji screens and a low square table in the middle. Makoto told the three guys that all meals would be served in the room.
Once inside, the old man did not leave and seemed to be waiting. He stepped toward Makoto and extended his arm so Rickie expected Makoto to give him a tip. Instead, Makoto took off his jacket and handed it to the man. He then took off his shirt and T- shirt and handed them to the man's waiting hands. He reached down and took off his socks before unbuckling his belt. After slowly slipping it off, he lowered his pants and underpants in one move. He stood naked as the three of us watched. The little man stepped to the side and laid Makoto's clothes on a rack, picked up a yellow robe and helped Makoto put it on. He followed the same procedure with Rob who didn't even try to hide his cock. The old man acted like he didn't notice.
Rickie was next. He quickly got naked hoping the man would walk away. He was afraid his dick would get hard which he knew he couldn't keep subdued.
Marcus had started to undress himself when the man swatted his hands away. He stood stunned as the man unbuttoned his pants and slipped them down. He next pulled Marcus' under pants down, exposing his extended member which Marcus tried to hide. The man again swatted his hands away.
When the old man finished completely undressing Marcus, he signaled for the group to follow him. He slid the shoji screens back to reveal a lovely pool of water. The full window wall looked out to the distant mountains. He motioned for us to wash. Rickie and Marcus hung their robes on the wooden hooks in the wall. Each took a squat
Makoto said, "Boys, after you dry go behind this wall. The old man and his partner will give you a relaxing massage. Have either of you ever had a massage?" The boys both shook their heads. "OK, don't be surprised if the masseurs touch your private parts. That's part of the massage. They may even give you what is referred to as a 'happy ending.'" That is all he said. The boys dried with tiny towels that were provided.
On tables beside each other, the old man and his younger assistant massaged each boy with their four hands. The experience, as Makoto had described, was totally relaxing. The two men moved slowly from one boy to the next and then back again. When they massaged Rickie's groin muscles he quickly got hard but they didn't touch his dick. He looked over and Marcus was smiling. It was only when the two were finished with each boy that one returned to Marcus and the other stayed with Rickie. Rickie felt a hand wrap around his soft member. He felt his dick quickly fill with blood. Rickie looked across at Marcus' sheath being slipped back and forth over his hard member. Rickie felt the old man's soft hands moving up and down his shaft. The feeling became too intense and he began to pump his cum onto the man's hand. He could tell from Marcus' sounds he was at the same place. Silently the two men left the boys on the table where they fell asleep.
Sometime later Rickie felt Marcus shake his shoulder and give him a kiss. Rickie lifted his head and smiled when Marcus said, "I have never had that kind of an experience. Let's wash and get into the roof pool to watch the sunset. I suspect the other guys are getting their massages now."
The water was hot so they quickly had to sit on the side. The sun was setting as they sat on the resort's highest level to watch the light fade. Rickie realized that they were alone almost for the first time since the trip began. He got close to Marcus and put his hands on Marcus' shoulders and he said, "I can tell you that when we started studying Japanese culture, I didn't imagine it would lead us here."
"For sure." Rob said, "This really is a spiritual place. Makoto was right. What are you thinking right now?"
"I was thinking how much our lives have changed since we came out."
Marcus didn't respond. Rickie was puzzled that Marcus didn't immediately agree.
Finally, Marcus looked in Rickie's eyes and said, "Rickie I have loved all the sex we've had and I want to keep doing it while we are on this trip. I've been thinking that I might like to try being with girl. I've found myself looking at girls' shapes and breasts while we were at the jamboree. I even got hard a couple of times." Rickie was silent. "Don't get me wrong I love being with you. You are my best friend and I am so lucky."
"So you want to stop having sex with me?"
"No, that's not what I mean. I just don't want you to think I am only going to be with you."
"I have always been fine with that. I but I thought you meant with other guys."
"Boys or girls I want to try a variety."
Rob and Makoto came onto the deck ready to wash and join the boys. There was little conversation except Rob suggested he needed a nap before dinner and everyone agreed. After soaking and drying the couples went to their separate futon mats and slept soundly until they were awakened by the little man who held their robes as two lovely Geishas set their dinner. The fact that Marcus had a hard-on pushing out his robe was not lost on Rickie.
Their time at the resort was wonderful as they walked through the woods and watched the brooks and streams rush down the mountain. On their last night together, Marcus suggested sex and said he wanted to be the top which was usually what he wanted. Rickie thought the sex was good but felt differently than he had before. Rickie decided he wouldn't say anything to Rob about his conversation with Marcus until they got home.
Their time in Tokyo was completely for touring before boarding the plane for San Francisco. During the trip back Rob told Rickie that he wasn't going back to South Bend. He had already moved his car and things to Makoto's place in Davis.
When the group left the immigration hall at the San Francisco Airport, Marcus' parents unexpectedly met them. Apparently they decided to vacation for a couple of weeks in California before returning to Chicago. Rickie hugged Rob and Makoto and thanked them for the fantastic experience. He stuck his hand out to shake Marcus' hand but Marcus wrapped his arms around Rickie and squeezed. He whispered, "I will always love you, good friend. Be well and text me when you get home."
Rickie was shocked and felt tears creeping into the corner of his eyes. He turned away to get into the line for security and then board the plane for Chicago.
Author's note: The story is completely fictional and the author reserves all rights to it. Sharing is encouraged. I want to thank Dick H for his excellent editing and proofreading. The photos were found on the internet without photographer credits. I would be happy to credit the photographer if they contact me. If you have comments about the story please email them to rawlingbros@gmail.com. I am always happy to hear from readers.