French Horn Trio
by John S. Lloyd
The day was cloudy and cool for my run. I arrived at the gym early. Few people were around as I got dressed in my running shorts, tank top and new trainers. I headed toward the outside and noticed two guys about my age entering through the other double doors. Both were handsome and looked remarkably similar but I didn't look closely as I began doing my warm up stretches. I started my regular two mile run over the ground covered with the yellow and red leaves of fall. Two girls on bicycles rode by me going the opposite direction. An older fellow was walking his cocker spaniel.
Toward the end of my run I stepped on a stone and slightly twisted my right angle. I slowed and favored it as I walked back into the gym. I thought the hot tub's swirling water would be good for my injury. Once in the men's only tub I relaxed feeling I had done a good thing for my thirty something body. As I walked toward the showers I casually threw my towel over my shoulder rather than wrapping myself which was the normal way men walk around in the locker room at our gym. I stopped and looked at myself in the mirror. I smiled thinking I looked pretty good with only slight love handles showing but still a flat stomach. My flaccid cock hung slight to the left and rested against my normal sack of balls. My hair looked fashionably short having been cut yesterday.
I walked into the last individual titled shower stall which was like the three others facing and interior wall. None of the stalls had curtains. All were empty when I entered the stall and turned on the shower to let the water warm up. I doused my head when I felt someone else in my stall. I opened my eyes and one of the fellows I saw when I started my run was waiting for me to stand aside so he could get under the water. The other stalls were empty. I couldn't figure out what he was doing in my stall. I automatically stood aside as he went under the shower before stepping back to soap himself. He said, "Hope you don't mind if I join you. I'm rushed this morning and this is my favorite shower. The water flow is strong."
"I've got time. I'll go use another stall, that's alright."
"No don't leave. I won't be long." I watched as he soaped under his arms, down his belly, pulled back his foreskin to clean his dick before slipping his right hand down his ass crack. He rinsed before reaching down to wash his legs and feet with his butt pointed toward me. I could feel movement in my crouch but chose not to notice it. He rinsed and stepped aside. "Thanks," was all he said as he stood before me as he drying off. He had to notice my cock which was extended but not full. He didn't say anything and walked toward the lockers.
I was annoyed at his boldness but couldn't keep my eyes off of his body. I guessed he was late-twenties with dark brown hair cut rather short. He had the shadow of a beard and soft hair covering his body. As I dried off the fellow he entered with came into the shower room and took my shower. At least I had finished. He was equally well built but looked a couple of years older than the other guy. I assumed they were brothers because his cock like the other fellow's hung uncut the same manner.
Back in my empty locker row I sat puzzling at the effect the first fellow had on me. The second fellow came into my row with his towel wrapped around him which was customary. He stood about three lockers from me. All he said, "Did you see my brother leave?"
I looked assuming he was talking to me since I was the only person around. He didn't appear to be waiting for an answer. I said, "So that was your brother?"
"You probably saw him shower. He was in a big hurry because he is closing on his condo today."
"In fact, he and I used the same shower stall."
"He likes the one on the end because he says the water flow is better. I can't tell any difference.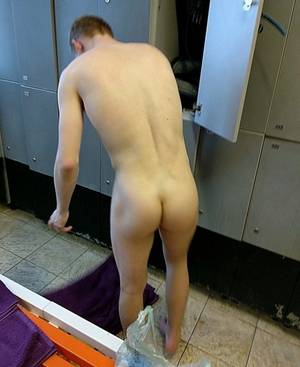 I'm not normally chatty this time of day but I decided to be pleasant. "Where's he buying the condo?"
"A new building over on Monroe. I've seen his new place and it's nice."
"If it's the building I think it is he'll be my neighbor."
"It's a new six story building and his unit is on the third floor. It has two bedrooms, two bathrooms and a den in addition to the open living area. By this time the fellow was dressed and turned, "Sorry my name is Bruce and my brother is Walker but we call him Wally. Got to go. See you again." I watched him walk away and realized I only had on my boxer briefs.
When I got back to my condo which was one of three units in a building across the street from what was going to be Wally's new home. I could see evidence that a few of the units were occupied. I wondered which of the units on the third floor Wally bought.
Two days later I was back at my gym doing my work out and run. The day was sunny and the cool fall air made my run pleasant. I was careful not to twist my ankle. I could still feel the tinge of pain for my previous run. Same as two days before the two guys were coming in as I was starting my run. Neither said anything so I assumed they didn't recognize me. I took a longer run than usual. I decided to use a different stall so Wally could have his favorite if he was still around. Neither Wally or Bruce was in the showers when I entered but not three minutes later they came in together.
Bruce said, "Yeah, I forgot your name. I'm Bruce and this is Wally."
"I understand I'm going to be your neighbor," Wally said smiling broadly.
Shyly I said, "Hi, I'm Mark Abrams. Nice to need you." As we shook hands I could feel the blood moving southward."
"I'm Wally. I think I took a shower with you the other morning. I was in a hurry. Sorry about that."
"That's OK. I saw you come in this morning and decided to select a different stall since the end stall is your favorite Bruce told me."
"Not favorite but the water flow is better." He stepped in as I stood there looking at these two naked, handsome brothers washing themselves. After drying I was in the same aisle as before when both guys came strutting in with their towels thrown over their shoulders. They continued drying and I stared at the similarities in their bodies. I said, "So which of you is older. I can't tell."
Bruce said, "I am by three minutes."
"You're twins?"
"Yep, that's us. Wally just moved into town. He went in the Army after he graduated and retired recently. He's been staying with me. I insisted he get his own place because living with this idiot long term would drive me crazy."
"You, Mr. Neat Freak, are driving me crazy. I live a couple of blocks from his new place. Do you know the Hilliard Street apartments?" I nodded my head as I dried my hair.
I said to Wally, "When do you move in?"
"I hope they finish with a few modifications I requested by next week. Do you have a card?" I retrieved my wallet and handed him a slightly wrinkled card. Wally thanked me. We dressed and left at the same time. When I got home I opened my living room sliding glass door that led onto my tiny balcony. The noise on Monroe Street had quieted. Most people were already at work or at school. I sat down at my desk and logged in.
The next day a text message arrived from Bruce inviting me to come to his place for cocktails on Saturday night. I thought 'How nice' and texted him that I would be happy to join him. He texted back that he was introducing his brother to some of his friends so expect a small group. I was pleased because I didn't know many people since I was pretty much a loner.
I didn't see Bruce and Wally at the gym the rest of the week. I was unsure how casually to dress. I chose to be conservative which was my natural anyway. I arrived with a box of hostess chocolates since I didn't drink wine and thought bringing wine wasn't right for me. When I was buzzed into Bruce's building I went to the fifth floor and rang the bell at 5-E. Someone I didn't know opened the door. "Hi, you must be their gym friend?"
"That's me. I'm Mark Abrams and you are?"
"Torrie, I'm known these guys since grade school. I work with Bruce." That began a pleasant evening with about a dozen friends drinking and nibbling on meat, cheese and vegetable trays from Albertson's. I had a chance to talk to Wally privately for about ten minutes and learned that he and Bruce and their little brother grew up in Allentown. He and Bruce went to Penn State and graduated about six years ago. Wally reminded me that Bruce was working in the area and he recently got out of the Army. He said he was interviewing for jobs. He said that cyber security firms were interested in him because of his Army experience. He hadn't decided which offer to accept and told his potential employers that he had get settled before he was ready to start. He said, "They all said they would wait."
I could hear the distinct sound of brass band music which I thought was unusual for a cocktail party. He must have seen my face because he said, "Oh that's the 100th Army band I played with. I play French horn and have since middle school." I'm sure my face must have looked surprised so he continued, "I'm going to try to play with the Allentown/Bethlehem Community Band. Have you ever heard them?"
"I have. They play summer concerts in the park in Allentown." He was pulled away by a muscular guy with a bushy beard and loud voice. I stepped back and filled my drink glass with some scotch whiskey which was beginning to have an effect on me. Since I was walking home I didn't worry. My tongue loosens after a couple of drinks which gives me more confidence. I approached the group that Torrie was standing and hoped I wasn't interrupting. I realized they were talking about a bicycling team that two of them cycled with. I listened until Torrie turned to me, "Mark, you're in good shape. What do you do to keep yourself fit?"
To me his comment sounded almost like a come-on but I smiled and described my gym and running routine. I paused and said, "Did you hear how I met Wally?"
"Torrie said, "Tell us." I told them the story and there was understandable laughter. Torrie said, "Those two crazy guys are more comfortable with their clothes off than on. When we were in prep school we saw those ugly dicks swinging often. None of us had frontal skin and they were always willing to show off." The party was breaking up about eight-thirty so I left and said to Bruce, "See you at the gym."
Every morning I would look across the street to see if there was movement in any of the third floor windows facing me. I detected movement on the second floor and the fourth by no activity on the third. On Thursday I was at the gym and had to do my run on the treadmill because it was raining. Wally came in and walked over to me. "Morning, Mark. I take possession tomorrow. Do you want to come over and see my place?"
"Love to. What time?"
"I'll stop over at your place about ten. I want to see what I'll be looking at from the other side of the street. We can walk over to my place. You're in the three story building, right?"
"Only condo building on my side of the street. I'm on the third floor."
He arrived about ten fifteen and looked my industrial designed two bedroom unit with my bedroom in the back and my office set up overlooking Monroe Street. He stood at my balcony window and pointed directly across the street, "That's my unit. If you see me in the kitchen wave." I laughed. After a quick cup of coffee we walked across the street and he opened the front door with his new fob.
His unit was empty with the walls painted a light mustard tone. The kitchen island was black slate as were the counter tops. The white subway title backsplash was not my favorite but was a nice contrast to the black counters and white marble floors. Both bathrooms were big with rainfall shower heads. I said, "Just like the gym, lots of water in an open space."
"Yep, nothing to hide from anyone."
"Do you need any help moving in?"
"Thanks, but I'm fine. Bringing my things over from Bruce's tomorrow and waiting for some furniture to be delivered. He finished his statement and his cell phone buzzed. After engaging he said, "Third floor Unit B." He turned to me, "Bedroom furniture is arriving." In moments there was a knock at his door. Two burly guys one black and one Hispanic muscled a king size mattress into the master bedroom and returned to their truck for more furniture. Twenty minutes later Wally and I were assembling the bed frame and attaching the headboard. We stripped the wrapper off of the box springs and managed to get the giant mattress in place. When we were done Wally said, "Mark, thanks so much. I'm off to Macy's to get sheets and that kind of stuff. See you tonight at Bruce's for dinner? I'm cooking."
"Sure, I'll be there. What can I bring?"
"Bring some red wine. I'm doing Italian."
As it turned out I didn't see movement in Wally's condo over the weekend so assumed there had been a delay for his move in. When I saw Bruce at the gym I inquired. He said, "Oh, Wally and I had to go our parents' house to see my grandparents who were visiting from Florida. I think Wally will be back tomorrow and plans to get his stuff out of my place. Look out your window on Thursday and I think you'll see him. I think he plans to sleep there. I watched all day Thursday hoping to see movement and finally saw Wally late afternoon. I could see that more furniture had been delivered. With no window covering everything was visible.
I was not surprised when I saw Wally the next morning naked making coffee in his new kitchen. He moved around as if he had total privacy. Holding his coffee cup he stood at the window looking across the street. He saw me at my desk and waved. I returned his wave smiling at his confidence. He didn't step away until he turned as if he was looking for his cell phone.
I saw him at the gym couple of days later and he was telling me about the new items that had been delivered. He, also, told me that he had accepted a position with one of the companies that he had described earlier. As we were drying after our showers he said, "Come over Friday. I think Bruce will be over. I'll order a pizza and we can drink a beer or two. Oh, I auditioned for the band and they definitely want me to play."
"Great news. See you at six and thanks." By the time Friday came I noticed new vertical blinds were installed so I figured my morning dose of naked Wally would end. But what I noticed was his blinds were only drawn in the afternoon and evening to block the sun. He opened the blinds fully as soon as he got up in the morning.
A week later I looked across the street and saw two male bodies. The naked one was Wally but in the shadows I could see a young guy in running shorts and a tee shirt. I wondered who he was. Quickly the second guy disappeared and didn't return. I concluded without other evidence that Wally had more than an innocent interest in men. On the mornings after I saw the young fellow at Wally's I paid more attention to Wally's comments about men in the gym. He was always complimentary of guy's physiques and encouraged them in their workouts but nothing that I would have considered gay. His demeanor around me was only a friendly hand on my shoulder but no swat on my back or butt.
With forty picture windows across the street I was more modest than I was before the new building was built. Every week there were more of the units in Wally's building with drapes or blinds. I wondered if anyone in my building played attention to Wally. I assumed the young married couple living below me were too busy with each other and their jobs to spend much time looking out of their window. The first floor unit was owned by an older woman who was a flight attendant. She rented her second bedroom out to a young woman who traveled so there was rarely anyone in that condo in the morning.
On my way to the grocery store one afternoon I saw Wally walk into his building with a young guy. The fellow looked to be college age. He opened the door for Wally and followed him in. I assumed the guy lived in the building. The next morning I checked to see if Wally was with someone in his kitchen but he was alone. I scanned the building and noticed the same guy looking across the street from a unit above Wally's and to my right. He waved at me and I returned his wave.
One snowy December morning I decided not to go to the gym and waited until afternoon hoping conditions improved. I got to the gym for my workout and my treadmill jog. I found Wally working out with a young fellow spotting him. I said, "Wally, great to see you. Are you working out in the afternoon now?"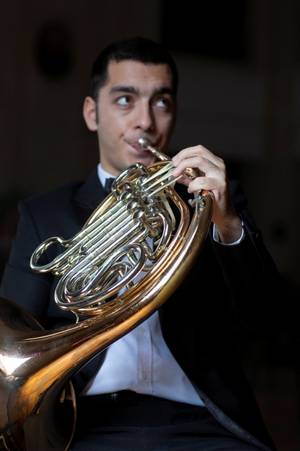 "Hey, Mark, let me introduce Josh. He lives with his parents in my building. I've been coaching him on his French horn. He plays in the community band and the orchestra at Lehigh University."
"Hi, Josh, nice to meet you." Josh shyly smiled and shook my hand. His handshake was firm which complimented his solid but slender body. He had dark, piercing eyes and unusually full lips.
When he released my hand he said, "Mark, I see you at your window some mornings with your coffee. I'm the guy who waved some time back."
"Yeah, I remember. How's your workout going with your task master?"
"Wally's great and has really been pushing me. He's got a great body."
I smiled, "He does and he works to keep it that way. What a coincident that you and Wally both play the French horn."
Without a comment Josh turned to Wally who was flat on his back on the weight bench. "Got to go, Wally. See you Thursday for my lesson?"
"I'll text you. I may have to move the lesson until Friday. Take care." Josh walked toward the locker room. Wally said, "Mark, spot me because this is as heavy as I go." I got behind him and felt his eyes on my crouch which was tenting slightly. He did ten reps and returned the bar to the holder. He laid there. "Got two more reps to go." For each rep I got closer to his head and felt sure he was looking up my leg at my jock strap. When he was done he moved to another apparatus and I got onto the treadmill. Half way through my run Wally got on the apparatus next to me and said, "Josh is a cute guy and he has a sweet ass. We usually shower at the same time but he had to get going to orchestra practice."
"How often do you coach him?"
"Twice a week we coordinate our workouts. I really don't coach him as much as encourage him."
"When do you give him his French horn lesson?"
"Usually on Tuesday and Thursday after we workout. That's not as regular. He's pretty good but needs to improve his technique. He needs to practice more but he's busy with school."
We were silent for a while as I ran along beside hunky Wally. I wondered if I should ask if Josh had done more than visit his condo for lessons. I thought that was pretty bold but once we were both naked in the shower I said, "Wally, I assume you've checked Josh out in the shower room."
"Yeah! He isn't shy."
"Has he been naked at your place?"
Wally looked at me and teased me as he dried his genitals and his butt with his leg pressed against mine. "So you saw him?"
"Honestly, one morning I saw someone with you in the kitchen. I didn't know who it was."
"It was Josh. He stopped over for a morning quickie before he went to school. I was hoping he would have stayed longer but he was in and out."
"If I could be bold what did you two do?"
"I don't mind but don't tell Josh I told you. He gave me a great blow job but he didn't want one in return."
"I may be crude but how did you get from a French horn lesson to a blow job so quickly."
Wally smiled, "You are a bold bastard. I'll tell you. I was walking in the building carrying my French horn case shortly after I moved in. He followed me in. Once we were on the elevator he said, "I play the French horn. I want to get better would you give me lessons. I'm happy to pay for them."
As I got off on the third floor I said, "Sure, come to 3-E and we can discuss. That's how it started. During his first French horn lesson I commented on his need to focus on his embouchure because he wasn't getting enough air through his lips."
"I assume embouchure is how you hold your lips."
"Not how, so much as the placement of instrument's mouthpiece on your lips. Josh looked at me and smiled and said, 'I know how to use my lips' and smiled as he rubbed my crouch. I was hard instantly and he pulled my shorts down. I laughed but didn't react." Wally looked at me, "And after he got me off, as I told you, he didn't want me to return the favor. That was the end of his first lesson."
"When was the next lesson?"
"We've had three horn lessons since then and he hasn't suggested another blow job and I haven't encouraged him. That's not the entire story. He saw my gym bag by the door when he came for the second lesson. He asked which gym I went to. I told him and he asked if I would coach him because he felt he was too skinny. I didn't think so but agreed that we could work out at the same time and I could give him some pointers."
"Next time we're at the gym I want to check him out. When are you going to coach him and give him his lesson?"
"Thursday but I may have to reschedule because of a meeting at work. I text him the day before to confirm. He knows my normal workout schedule for weights on Monday, Wednesday and Thursday about four. I'll let you know the next time we go. Why do you care anyway? Are you gay?"
"You haven't figured that out. I drool when I look at bodies like yours. I'm too shy to do anything."
"What do you like to do? I'll give you lessons." He laughed.
Thursday morning he stood at his window signaling me with thumbs up. I assumed that meant he and Josh were going to be at the gym that afternoon. I intentionally arrived at fifteen after four assuming they were already dressed and working out. I went into the weight room and found Wally by the weight bench. Josh was on his back and Wally was straddling him so Josh could see right up his pant legs. Josh's bulge was clear. After three reps they changed places and Josh's position was similar to Wally's.
They moved from station to station with one spotting the other when necessary. I did my routine and decided to skip my run to see what happened. When it seemed they were about to finish I quickly went to the showers and took Wally's favorite stall to see what he would do. Josh came into the showers and took the stall next to mine. Wally saw me and walked right into my stall as he did the first time we met. I couldn't see Josh's eyes but knew he had to notice.
Wally smiled at me and stroked my dick which responded immediately. I rinsed quickly and stepped out to dry off. Josh turned my direction and smiled as he looked at my situation. He and Wally started drying at the same time. Josh said, "Hey, Mark, I haven't seen you lately." I nodded my head acknowledging his comment. "I see you took Wally's favorite shower?"
Smartly I returned, "His name isn't on it."
Wally entered the conversation, "Josh, Mark and I are good friends. We met in my shower stall."
We all laughed before Josh said, "Mark did Wally give you that hard on I saw when you stepped out."
"Naughty boy, he rubbed me. I get that way every time I see his gorgeous naked body."
"This is often, I assume, since he hardly ever wears clothes at home."
I said, "How do you know?"
"When I come for my French horn lesson he always welcomes me naked. Then he goes to get his pants on."
"Does having pants on affect the lesson?"
"Gawd, yes. If he's naked I can't concentrate." We continued drying as we walked into the locker room where I watched their cute butts get dried and dick and balls rubbed almost rare before underpants were slipped on.
We walked out together and began the three block walk to our condos. Josh boldly said, "Mark, can I see your condo?"
The three of us went into my building and walked up the two flights of stairs. Josh said, "Nice. I see you working at work desk and I couldn't quite imagine the layout."
"I'm rarely naked in the front room because I would be exposed to everyone in your building." After a short tour Wally and Josh left together. We agreed to meet Monday at the gym.
Saturday I went to Wally's for dinner. Wally fixed lasagna, salad and I brought two bottles of Chianti. Bruce and his girlfriend, Melissa, were there and so were Josh and his friend, Matt. I assumed they were boyfriends the way Matt hung on every word Josh said. As the conversation progressed it became clear that Matt was a musician but instead of playing a French horn he played trumpet. Both he and Josh were in the Lehigh University orchestra. Matt was shorter than Josh and had ginger hair. He didn't smile much. He wasn't heavy but not slim like Josh.
During dinner Josh asked if any of us cycled and both Wally and I held up our hands. He proposed riding together in the spring. The conversation was pleasant. I had specifically asked Wally to stay away from the subject of politics. He had expressed strong opinions about the current administration in Washington to me. He remained quiet on the subject.
Bruce and Melissa left first leaving the four of us. Josh got up and turned the handle on the blinds to the closed position and said boldly, "Naked everyone. I want to play truth or dare." I looked at Wally who was already dropping his pants. Matt and I followed his lead without asking Josh why 'truth or dare'? I was surprised how much red hair covered Matt's body. His butt was even furry.
Josh said to Wally, "Truth or Dare?"
"Truth."
"Have you ever kissed a guy?"
"Yes, many times."
"OK, kiss, each of us. "
"That's wasn't part of the question." Wally smiled as he leaned forward to first kiss Matt, then Josh and finally a long kiss for me.
Josh said, "Wally, your turn."
"OK, Mark, truth or dare?"
"Dare."
"I dare you to suck my dick," Wally said smiling.
"In front of everyone. They might be jealous."
He continued, "If you agree I think Josh should suck Matt." There was silence until Wally moved toward me, "You might have to fluff a bit to get things going."
Matt interrupted, "Wait a minute. Josh and I are boyfriends but only with our clothes on."
Wally smiling said, "You don't have your clothes on now and I see something sticking out of your red bush."
"OK, I cum quick. I don't want to get cum on your beautiful new rug."
Josh laughed, "Don't worry I'll take care of that.
When I reached over to cup Wally's balls he took in a deep breath. With my right hand I slowly rubbed his ample skin back and forth. He was hard in less than five strokes. I licked the pre-cum off end of his dick and slowly put my mouth around it. He grabbed my head with both hands and began to fuck himself. I couldn't see Matt but the verbal clues told me he was enjoying what Josh was doing. We both received a nice gift.
When we changed places I was so excited that I came in Wally's mouth in less than two minutes. As I relaxed I watched Matt's face as he worked on Josh. He tried to pull out before Josh came but Josh held tightly to Matt's head. Josh yelled, "Oh, yeah!" He fell backwards onto Wally's leg. No one said anything until Matt spoke, "Are you guys coming to our fall concert next Saturday? We're performing Hall of the Mountain King by Edvard Grieg. We have two more rehearsals so I think we'll do pretty well."
Josh said, "You're thinking of Mountain King while I played a beautiful tune on your flute. What a romantic." No one was in a hurry to get dressed so Wally said, "Mark, do you want to stay overnight?"
"Sure, then I don't have to get dressed but I do need to shower."
"We'll do it together. What about you boys? You can have the other room it has a queen size blow up mattress."
"We can't. Supposed to meet our cycling group at ten for a winter ride. I don't have my bike or proper clothes," Matt responded.
"Me, neither, maybe next time. I hope there'll be a next time. I can't wait to play your piccolo, Mark."
"You call mine a piccolo. I call your's a French horn the way it curves around.
Wally entered the conversation, "Enough, get going guys. Mark and I have business to attend to." They were dressed in minutes and out the door. "See you guys at the concert."
The Lehigh University Symphonic Orchestra performed in Baker Hall at the Zoellner Arts Center on the main campus in Bethlehem. Wally and I sat with Bruce and Melissa. We could see only the heads of Matt and Josh sitting behind the strings. The orchestra did a creditable job according to Wally. He particularly complimented the performance of Hall of the Mountain Kings. We saw the boys after the performance but not again until after the Christmas break. Josh, his mom and sister went to Western Pennsylvania to be with her family. Matt went home. I don't remember where. I didn't want to fly to Los Angeles to be with my only brother and father so decided to stay in Allentown. Anyway being Jewish we didn't do much for Christmas. When Wally found out he insisted I come to Maryland to be with his family. I accepted but said I would only stay a couple of days.
His parents were happy to meet me and I was happy I had accepted Wally's invitation. One night late Wally and I were sitting by the fireplace as the fire died down. He said, "Mark, any chance I could convince you to move in with me?"
"Are you sure you're ready for me fulltime?"
"I've been ready since the first time I showered with you but you didn't seem interested."
"I think I'm ready to see your naked body every day. Are you sure?"
"Yes, I'm sure. I'm falling for you and I can't help myself."
"I'm ready but I have to decide what to do with my condo. I have a sense there is more to your offer."
"No, there isn't. I want you closer to me. I have decided to go back and get a bachelor's degree in instrumental music at the University of the Arts in Philadelphia."
"You mean move to Philadelphia?"
"Yes, what do you think?"
I said smiling, "I can work at home here or there if you really want me around all the time."
"I do. I think my company will let me work from Philly as well. We may need to get a more spacious apartment, ideally three bedrooms."
"Are you thinking we should sell our places in Allentown?"
"Rent or sell? What do you think?"
"You know Philadelphia is going to be more expensive. And you're going to have tuition."
"I get some tuition help from the Army."
I can sell my place. What about yours? You just got it all decorated."
"I can sell it furnished or unfurnished. I can always buy new stuff."
After returning from Maryland Wally's decision to move to Philadelphia started a whirlwind of activity. First, I learned from my downstairs neighbors that they were moving to Florida. They asked if I wanted to buy their condo. I thought the price they were asking was reasonable which prompted me to decide to keep my condo and rent both of the units. I decided to require a minimum lease of one year. After I closed on the second floor condo I advertised both units. Because of the shortage of quality rentals in the area both apartments were secured with two month deposits within a few weeks. I moved my furniture into a storage unit.
Wally's experience was different. He hoped he could sell his beautifully decorated condo for a premium. He wasn't in a hurry and moved into a small month-to-month efficiency apartment near the university. I moved across the street into Wally's condo while it was on the market. An attractive, young Asian physician who was joining a group of neurosurgeons bought Wally's condo and paid full price. I stayed in Wally's until it closed then I packed up my clothes and my computers and moved in with Wally. Since the semester had started Wally had not done much to secure permanent housing for us. I immediately started looking for a three bedroom condo for us to buy or rent.
We wanted to live downtown not far from the university and the other arts venues. I wasn't having any luck finding anything reasonable. We decided we had to look further out. Wally came home one afternoon with an interesting proposition. His French horn coach, who was the third horn player for the Philadelphia Orchestra, lived in the Society Hill area in his family's ancestral home. Wally told me the fellow lost his lover several years ago to cancer. His coach insisted we come see the house which he would share with us.
Wally accepted his invitation. I wasn't sure I wanted to be in a shared house which I hadn't done since college. Wally's coach, Adrian, showed us around the first floor of his historic house which included a dated kitchen, den which had been converted into Adrian's bedroom and two front parlors. There was a small guest toilet which Adrian used except when he climbed the stairs to take his bath.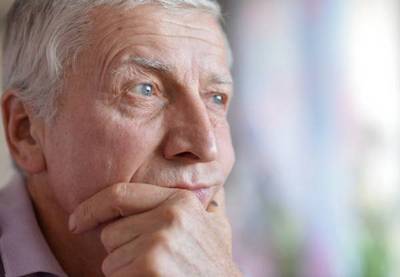 Adrian was a handsome man in his early sixties with grey, white hair. He had bright, blue eyes under his pointed eyebrows. He was out of shape but not overly so. When he found out we liked to work out he suggested we join his gym which was a few blocks away. That information was important for us. He said if we were there it might motivate him to go more often.
As we sat in the kitchen eating nook having coffee Wally said to Adrian, "Your home is lovely and close to the university but I don't think we can accept your generous offer."
Adrian frowned and said, "Why, is the rent too high?"
"Not at all. You're my coach and a good one. When I'm home I rarely wear clothes and Mark's the same way. I'm sure that would not be acceptable to you."
"Nonsense, having two gorgeous guys running around naked would be a real pleasure. My lover and I had few inhibitions. We went to the Warm Sands area in Palm Springs whenever we could. I may not be naked as much as you guys because my body sags and I get cold easily."
"OK, let Mark and I discuss…"
"What's to discuss. Just accept and if you don't like it in a couple of months you can move." The offer was too good so we moved in. Wally told Adrian politely but firmly that he had to update the kitchen. Adrian agreed and the next week the three of them sat in Adrian's dining room with a young architect. We told him what we wanted. Two weeks he had completed preliminary drawings that the city would require to get a building permit. Adrian called a friend who worked for the city building department. He asked to have a 'friendly' inspector assigned to his job. After the permit was granted a tall, rugged fellow with massive hands showed up one morning. Adrian had his dressing gown on and we were dressed in our underwear drinking coffee. The fellow came into the kitchen and said "Hello," to Wally and me. He handed Adrian the approved permit and seemed to be straightening his pants as he scanned the room.
"Where're you guys going to eat while the construction is going on?"
Adrian said, "Mark and Wally have cleaned out a bedroom upstairs and we've installed a microwave and convection oven. Instead of bringing the old refrigerator upstairs we bought a small one from Costco. The bathroom is right next door for water. We hope this project doesn't take more than six weeks. We're hoping to get an inspector who can help us get that accomplished," he said smiling at the fellow.
The man put his hand on Adrian's shoulder and smiled, "If I this scenery like this I'll make sure I attend all the inspections." He squeezed Adrian's shoulder. Adrian's robe had become untied and the inspector got a full view of Adrian's body. He said, "Call your contractor and tell him to get going."
"Our contractor is a she. Do you know Gretchen Miller?"
"The bitch. Yes, she and I have had our run-ins. She knows what she's doing. Do you dress like this when she's around?"
"She's not interested in us."
"She appreciates a nice male ass as I do. I know her partner, too. How she lives with Gretchen I don't know?"
Gretchen and her crew started the demolition two weeks later. The two guys who worked for her were total muscle including their heads. She ordered them around like they were three year old children. Wally convinced Adrian to move upstairs during the construction. We set the fourth bedroom up as my office. It was also their practice room when the two of them were home. After the demotion was completed the house was much quieter as Gretchen's crew worked. The same inspector came three times and I heard he and Gretchen arguing only once about some electrical outlet placement.
Upstairs as spring approached we could comfortably be naked more of the time. Adrian loved to join us but always had his tee shirt on to keep him warm. As the project was nearing completion the inspector whose name was Paul was around more often. He and Adrian would drink coffee in the front parlor for a longer time than, I thought, an inspector had to spend. When the project was completed Gretchen had removed the wall between a butler's pantry and the kitchen, install all glass front cabinet doors and retiled or painted the entire newly enlarged room. A new gas range, convection microwave, side-by-side refrigerator and quiet dishwasher were delivered and installed.
Paul regularly visited Adrian. One evening when we were eating at the counter in the new kitchen Adrian said, "The orchestra's season ends on June 13. Paul and I are going to Palm Springs for a couple of weeks."
Wally said, "You mean, Paul, the building inspector."
"Yes, he and I have become good friends."
"Do you want us to find a new place for next fall?" I said.
"Of course not, why would you want to do that. Since my wonderful Harold died I haven't had the kind of romance you boys have. I want some for myself."
"Is Paul moving in?"
"No, not for now. He has to take care of his mother at her house. He may sleep over from time to time."
With all the activity going on at Adrian's house Matt and Josh didn't come down very often. Before we left Allentown Wally auditioned for the second horn position in the Allentown Symphony Orchestra. He was selected but wouldn't start regular rehearsals with the orchestra until the fall. He was asked to substitute for the retiring chair for two concerts in the spring. That meant he had to drive to Allentown once a week for rehearsals. Wally would usually coach Josh on those trips. Wally reported that the gentleman playing fourth horn was having major health issues and his position was probably going to be open.
Josh didn't think he was ready to audition but Wally convinced the auditioning team to listen to Josh and give their opinion. They graciously agreed knowing they may be faced with finding another horn. After the audition the conductor asked Josh what he planned to do after his graduation from Lehigh. He told the conductor he had been hired as an engineering trainee at AirProducts. He would be staying in Allentown. The feedback from the audition team was encouraging.
Adrian encouraged Wally to join the musician's union because his membership would make him eligible for paid substitutions with a number of regional symphonies like the one in Abington, Valley Forge and even the Bay Symphony in Atlantic City. Adrian felt that Wally was proficient enough to step into any of the four horn positions since the summer orchestras usually played light classical music that wasn't as challenging.
Occasionally, when Josh and Matt were in Philadelphia both Adrian would work with Josh. Wally felt Josh was improving nicely from the time they started working together. Wally wasn't surprised when Josh got a call from the conductor of the Allentown Symphony to come and meet with him about his becoming fourth horn in the symphony. That meant weekly he and Josh would be rehearsing together and usually sleeping with Matt before Wally returned to Philadelphia. Wally asked his company to lighten his work schedule for the summer which they did. Wally was proficient and his company didn't want to lose him.
After Adrian's new kitchen was completed Josh and Matt came to Philadelphia occasionally and stayed with us in Adrian's house. Adrian was particularly happy because he had four handsome young men to admire. Paul, on the other hand, seemed to have little interest in the youthful flesh running around.
After Paul and Adrian returned to Philadelphia from Palm Springs before the July 4th holiday Adrian announced that everyone, including Matt and Josh, were invited to his house on the Jersey Shore. Neither Wally nor I had any idea he owned a house at the shore. That was not a problem for anyone since Josh had not started at AirProducts. Adrian announced that everyone should arrive on July 3 and plan to stay until July 10. Paul couldn't stay that long because he had used two weeks of his vacation in Palm Springs. Everyone else planned to stay.
Adrian instructed Wally and Josh to bring their French horns because he wanted to play horn trios together. Josh expressed his nervousness to Wally but agreed to bring his horn along. From the first day they rehearsed the three of them sat shirtless on the sunny porch. They were definitely not hidden from the street. They were engrossed in their music and didn't seem to care what people passing by saw. I was curious so I walked outside to see what could be seen. As long as they were seated the passersby could see only two young and one aging torso holding French horns. When they stood at their music stands I insisted that the blinds be drawn. It was clear their music was more important than their privacy.
Adrian's shore property was a sprawling two story white clapboard house with a widow's watch on top. His backyard was fenced but not completely private. According to Adrian two executives from New York owned the recently completed modern house next door and had many guests. Adrian explained to the owners that they might see naked men in his yard. They had no concerns as long as they could come over from time to time. He assured them that was fine with him. Paul was the only one of our group you was reluctant to be nude. One evening at cocktails when Adrian had too many martinis he said, "Paul show the boys what you have. It is impressive."
Paul having had an equal number of drinks said, "Fuck you, old man." I thought he was mad but stood pulled his Polo shirt over his head and dropped his shorts.
Matt gasped, "Oh my gawd, look at that."
Paul's dick seemed semi-hard and hung far down his leg. "I told you, old man, they'd laugh."
"They didn't laugh. They're as impressed as I am. It is absolutely my pleasure to…" There was quiet laughter as we continued our conversation. Adrian made the decision to have pizza which Wally ordered on his cell phone. When the delivery came Wally went as he was to collect our food. He said he gave the delivery kid a good tip.
After the week at the shore the group wasn't together for weeks. Josh started his new job and played several summer concerts with the Allentown Symphony. He stopped his lessons for the rest of the summer. He was so busy he didn't realize that Matt was having an affair with a friend of theirs. I was sitting in the room when Josh called Wally. Wally hit the speaker button to hear that Matt was moving out. As I listened I got the impression that Josh wasn't really that disappointed. He said to Wally, "Matt never liked when you slept over with us. He said he didn't like to share me."
"To bad for you. Are you going to stay with your parents?" Wally followed up.
"It's my place. My grandfather willed it to me. In the fall you can stay with me whenever you come to Allentown for rehearsals which, by the way, start September 2. Both of you and Mark are always welcome."
"I know. Mark, whose here by the speaker phone, told me he likes your bubble butt."
Josh returned the compliment, "Mark, I like the soft black hair all over your body especially on your butt."
I said, "Josh, I love how you use your embouchure when we kiss."Wally laughed, "When are you coming to Philadelphia to try our new three way relationship?"
"Sorry not soon because of work and rehearsals."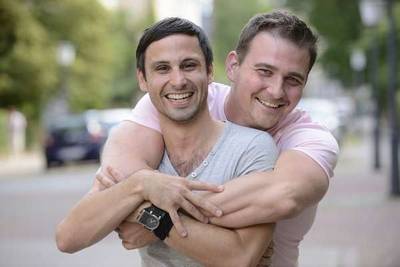 Wally got a call from the union that the Allentown Symphony needed his services for their last summer concert. That meant he had only one rehearsal to prepare. We decided to go up to Allentown and stay with Josh before the concert. Josh was thrilled that I was there to wash his clothes, cook his meals and provide other desired nighttime services. They got home from the one and only rehearsal Wally attended and they replayed passages of the music scheduled to be performed the following Tuesday in the outside park pavilion.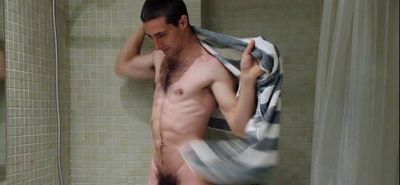 I had showered and was reading in bed when the two of them came into the bedroom drying themselves. Josh dropped his towel and jumped on the bed. "Here's how I use my embouchure." He kissed me tenderly as Wally went straight for Josh's asshole which was in the air. Josh suddenly stopped his kiss and laughed, "That tickles." Wally went deeper with his prominent, day old beard. "Keep going. You have good embouchure, too."
That was the beginning of my fun in bed with Wally and Josh. The next morning Josh left for work, I started my computer as Wally was still asleep. Shortly before noon my cell phone buzzed. I picked it up and saw Adrian's name. I answered. The voice wasn't Adrian's but his next door neighbor, Marjorie. She said, "Wally?"
"No, Marjorie it's Mark."
Solemnly she said, "Adrian fell down the stairs and cracked his head. They took him to Pennsylvania Hospital."
"Did you call Paul?"
"Whose's Paul?" Her response told me I needed to return to Philadelphia and see what was going on. Adrian had no immediate family in the area. I told her I would return in a couple of hours. I was not aware if Adrian had documents allowing anyone to see him. When I reached the hospital I was permitted to see him for a few minutes in the intensive care unit. I was told that the doctors wanted to closely monitor his brain activity since they weren't sure if he fell or had a seizure and fell. From the waiting room I called Wally who was relieved that Adrian hadn't broken a hip or arm.
Wally and Josh didn't come to Philadelphia until the Friday before Labor Day. Adrian had moved to a regular hospital room. I could tell that it would be a while before Adrian was mentally ready to return to the orchestra. When Wally visited him he agreed and called the assistant conductor in charge of personnel to report Adrian's condition. Wally reported that the woman was concerned because he had missed two rehearsals. Wally hit the speaker button and I heard, "You're the horn player who lives with Adrian, correct?" Wally answered in the affirmative. "Adrian told me you play second horn in Allentown, right? If Maestro Nézet-Séguin agrees could you play third until we decide whether to schedule national auditions for Adrian's chair. Do the doctor's have any prognosis for Adrian?"
"They're optimistic but say it's too early to know how long the recovery will take."
After the conversation Wally was really nervous for the first time. Before playing an official note in his role as second horn in the Allentown Symphony he was going to be playing with the Philadelphia Orchestra. The music for their first concert had long ago been announced so he began feverishly practicing. It turned out that the third horn part in the scheduled three program repertoire was fairly straight forward. When he told his employer what had happened his employer granted him a leave of absence through the end of October.
Unofficially, I was thrust into the job of house manager and caretaker of Adrian's affairs. Paul was concerned but focused on his playing. Decisions regarding Adrian's care at home was up to us. Wally and I decided to set up the study as Adrian's bedroom and keep him on the main floor by giving him sponge baths. When he came home he seemed fairly normal except he forgot certain details. Either Wally or I slept on a daybed on the first floor in case Adrian needed to get up in the night. Needless to say our love life was drastically reduced because of Wally's anxiety and Adrian's condition.
Wally encouraged Adrian to practice. Adrian didn't seem interested and wanted to watch television which he rarely did before his fall. The orchestra's assistant director of personnel visited Adrian on two occasions and concluded that she had to announce a national audition for Adrian's chair. She encouraged Wally to tryout but he knew he didn't have the credentials that the orchestra required. After the first three concerts the other horns were politely complimentary but he knew he was out of his league. To his surprise the personnel manager asked him to continue for at least one more series of concerts. At home he was irritable which was so different from his normal happy disposition. He was driving to Allentown to rehearse and practiced for hours for the Philadelphia Orchestra's second series' with more challenging music. He was relieved when the concerts were over and the audition committee had selected the third horn from the St. Louis Symphony for Adrian's chair.
Wally continued to play through the Christmas season before the new member arrived. The other horn players and Maestro Nézet-Séguin thanked him and encouraged him to seek a position with one of the strong regional orchestras like St. Louis or Cincinnati. Wally was proud that he had done a credible job but was happy in his second chair position in Allentown for the time being.
Adrian was not improving. I could no longer care for Adrian alone. We hired a male practical nurse to come in three days a week to bath Adrian. Adrian's physician suggested that a mental health coach be hired to work with Adrian to improve his mental faculties and his mood. Adrian improved with the coaching and then relapsed. He was lethargic and uninterested in anything except daytime television which I thought was mindless. In November I told my employer that I couldn't continue because of my responsibilities with Adrian. He thanked me and told me I would be welcomed back if my situation changed.
I was bothered that Wally and Josh were having more sex than I was. I said to Wally one night at dinner, "Wally, I know you love Josh. Am I still of interest to you?"
"What do you mean? Of course you are. You're worried that Josh gets to fuck me more than you do, right?"
"Something like that."
"I recommend we ask the male nurse to stay overnight downstairs so we can sleep together. Josh is coming down. If you don't want him in bed with us I'm sure he'll understand."
"No, that's not it at all. You seemed to be more distant. You're rarely your happy, playful self when we are together. I haven't showered with you in a month."
"OK, when Josh arrives on Friday evening let's consider our options."
Wally and I knew Adrian wasn't going back to the orchestra. Sadly, he didn't ask what happened to his position. We hired a private detective to see if we could find any relatives. After several weeks the fellow reported that he had not found any close relatives. We emailed Adrian's lawyer, whose name we found in a drawer, about what to do. He called the same day to report that Adrian had redrafted his will shortly before his accident and named Wally and I as recipients of his estate when he died. He also had given Wally the medical power of attorney which we didn't know.
The lawyer told us that Adrian's physician would have to certify that Adrian would no longer able to attend to his business affairs. When contacted the physician agreed to schedule a series of mental exercises to determine if Adrian was able to take care of his business matters. The tests were not conclusive and the physician would not give Wally complete control. However, he did certify that Wally could make business decisions until another battery of tests was scheduled six months later. Fortunately, Adrian was coherent enough to understand that he needed to give Wally and me access to his finances. We knew immediate maintenance was needed at the Jersey Shore house.
We tried on several occasions to involve Paul since we knew Adrian really liked him. He continued to defer to us and came around less frequently. Over the Christmas holiday we decided to move back to Allentown before Wally's new semester started. Wally's class schedule dictated that he drive to Philadelphia only once a week. After class and his lessons he would check on Adrian's house.
Since we were unable to locate relatives I knew Adrian was going to be part of our lives as long as he lived. Instead of having Adrian move in with us we found an assisted living facility in Allentown and scheduled his transfer. Unfortunately, before we got him moved he had another seizure which was diagnosed as a stroke. He lost control of his right arm. His speech wasn't affected but his mobility was. That required that we find a rehabilitation center in Philadelphia for Adrian.
Wally moved into Josh's apartment and I stayed in Philadelphia until Adrian could be transferred. I was able to rejoin my company and started working again. I was lonely without Wally in Adrian's big old house filled with beautiful antique furniture and art objects. After Adrian left the rehab center the practical nurse began coming five days a week to help me care for Adrian. I knew the day would come when all of Adrian's possessions would have to be sold or given away. I saw Wally and Josh less frequently but it seemed that our relationship was getting stronger not weaker. In early March Adrian was transferred to Allentown.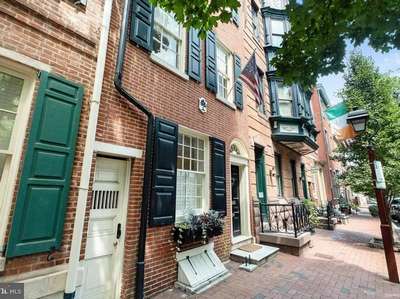 We kept Adrian's physician informed about what was happening but he stood firm about the six month waiting period to do another cognition test. After that test Adrian's physician was completely convinced that Adrian was not capable of making decisions for himself. The physician gave us the papers which signified that Wally was the principal decision maker and Josh and I were secondary. Officially, we had permission to begin the slow process of getting rid of Adrian's possessions. On a spring weekend the three of us went to the Jersey Shore to meet with a realtor and determine if anything should be sold separately since we were going to list the shore house as furnished. We removed a few old family pictures and a couple of art objects. The house was listed.
Back in Philadelphia I contacted an antique dealer who Adrian had introduced to us. He and his assistant came to examine the house's contents. He drew up a contract to auction about thirty-five objects, five pictures and Adrian's collection of five French horns. The instrument that he regularly played was the most valuable. Wally held that out of the auction. After discussions with several Society Hill realtors it was decided that the house would be listed as unfurnished with the write up focusing on the rehabilitation of the kitchen and the historic nature of the house. We would show the house with the furnishings in place except for the den which we returned to its original décor. I felt particularly bad about selling the Society Hill house since it had been in Adrian's family for decades. I knew he would never live there again.
The shore realtor recommended that we list the house for $1,000,000 furnished. The Society Hill house was listed for $1,250,000 unfurnished. We told both realtors that we were not in a hurry so they should discourage low-ball offers. I talked to the Philadelphia realtor almost daily with questions about this or that. She scheduled an open house for the Sunday after Thanksgiving, reported many visitors, and assured me nothing was disturbed. Two days later she called to present two offers - one for full price but with a contingency based on the sale of a suburban house and the other a clean offer for $1,150,000. She encouraged us to accept the contingency since she thought the suburban house in Bryn Mawr would sell quickly. She told us that the owners were realistic about the suburban house's value.
The house on the shore was a different story. Since it was late fall the realtor told us that he didn't think that interest in the house would begin until March. I called the New Yorkers who lived next door to let them know the house was for sale. I knew they wanted a pool and cabana but didn't have space on their existing property for either. They asked if the Adrian's house was designated historic and could be torn down. They called our realtor to determine the historic status and were told they could tear the house down if there was no objection from the neighbors. The guys made an offer contingent on getting approval to tear the house down and we accepted. We patiently waited for an answer from the village attorney who contacted the owners of neighboring properties. Having gotten no opposition the demotion was approved and we closed on the deal at $880,000.
Wally applied for Adrian's pension from the union even though he was a few months short of receiving full payment. We agreed with Wally's recommendation that we wait until Adrian was the eligible for the full amount. I knew if he died his estate without a spouse would get nothing. The same was true for his social security. We weren't worried because we had plenty of money to keep him well cared for.
Wally finished his degree at the University of the Arts and accepted several students in the Allentown area for lessons. While his attention was focused on making music he decided to continue to his master's degree in composition. That required less travel to Philadelphia than his bachelor's degree required. Josh was busy with work, rehearsals and the gym. That left me to look for a new place to live, check on Adrian and manage our finances.
Adrian's condition deteriorated in that he could no longer recognize me, Wally or Josh. He remained pleasant which was often not the case when someone with early onset dementia. Wally, in consultation with Adrian's attorney, chose a fifteen year payout for Adrian's musician's union annuity. His pension payment plus his social security paid for his monthly nursing home which totaled $4500 per month. With the help of a financial advisor we invested Adrian's substantial assets which we knew would eventually benefit us. We made sure Adrian had everything he needed which turned out to be not very much. One of the three of us visited him weekly and sometimes more often. We drove him to get ice cream in town which seemed to lift his spirits. He seemed to be languishing in a never-never land.
Attending an Allentown Symphony concert one night I spoke to the neurosurgeon, who purchased Wally's condo, and his gorgeous Asian girlfriend. I mentioned our housing search. Two weeks later he called and proposed that we buy their condo. The doctor was building a sprawling mansion in a newly developed neighborhood west of the main hospital. The price he asked was reasonable. We ended up buying Wally's original condo. Wally was ready to move back in the next day. We had to wait a two months for the doctor to move into his new home. After closing we decided to do some repainting. We bought a new king size bed and returned the second bedroom to its original purpose as a bedroom with a queen size bed leaving room for my desk and computer.
Wally began to accept students. He had them come to our condo but that was not satisfactory for me. So he rented a small music studio near one of the high schools. He met both middle school and high school students there. He rarely said much about his students. He never disparaged their talent only their lack of practice. At dinner one rare evening when the three of us were together he exclaimed, "Guys, I got a new student today and the kid's a prodigy. He's skinny, blond and a bit nerdish but boy can he play his horn. When he played it was difficult not to over react. I know he's going to be great but really don't know how much I can teach him. He's a high school sophomore or junior but he's really small."
As the weeks passed I heard more and more about Albert. He was the only child of a single mother who was a psychologist in private practice. When Wally met her he reported she was not very pleasant and had no idea of Albert's potential. Josh suggested that Wally invite Albert to the condo to play horn trios by a fellow named Antonin Reicha. Wally and Josh had played the trios with Adrian when they were at the Jersey Shore. Wally suggested the idea several weeks later. Albert said, "I'm not good enough."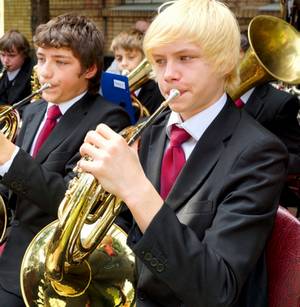 Several lessons later, Wally reported he again invited Albert to join Josh and him. Albert said he would play as long as it didn't cost his mother any money. Wally knew Albert felt his lessons were already a burden on their finances. Wally assured him their playing together would not cost any money.
Albert and his mother met Wally at the music studio where Wally explained the exercise planned for Saturday morning at our condo. His mother seemed suspicious but didn't object as long as Albert was home by one. Wally assured her he would put Albert on the bus by twelve thirty. I hung back when Wally opened the door for the shy, blond kid carrying his horn case. The boy looked amazed as he surveyed the condo. He didn't say anything. Josh came in for his introduction to Albert. He, Wally and Albert walked into the second bedroom which was set up with three music stands. On the stands Wally had placed the music - Fanfare and Ballad for three French horns by Gavin Lendt plus the Reicha pieces. Wally knew the music was straight forward and of medium difficulty. He didn't want to intimidate either Josh or Albert. The three of them got their instruments out and warmed up their mouth pieces. Wally asked Albert to play the first part, Josh, the second, and he would take the third. He set a metronome up in front of them and tapped a start. Albert's tempo was too fast and Wally signaled a stop. Albert said, "Sorry, I'm nervous. I went too fast."
"OK, let's start again." Wally tapped his foot and this time the three of them started together. After two minutes Wally signaled a stop.
Josh said, "Why'd you stop us? I thought we were doing fine."
"I want each of us to play attention to intonation and not only notes. I know we can play the notes."
"From the beginning." I sat in the living room listening to truly wonderful music. I could hear muffled voices as they replayed several sections. After about an hour and a half Wally called the rehearsal to an end. The three of them emerged from the room talking over each other. Wally told Albert to get his coat and he would walk with him to the bus. Albert clearly didn't want to leave but Wally insisted he get his coat. Albert agreed to rehearse the following Saturday.
Later that day Wally's cell phone buzzed while we were sitting in the kitchen having a cocktail. He looked at the number and momentarily held his finger over the delete button but at the last second answered coldly, "Hello." After listening he said, "Yes, Mrs. Abbott we had a great rehearsal. We're going to rehearse next Saturday if that is OK with you." After he hung up he reported that Albert was totally excited about the trio. Wally admitted, "Guys, I've told you this kid's a prodigy. I will coach him for a while but he needs a big time coach. However, in the meantime, while I have him I'm going to suggest to our conductor that we feature him at one of our subscription concerts. Perhaps, we can audition a few other young artists and have an entire concert focused on young people. That might draw new people which we definitely need with our budget challenges caused by the diminishing arts funding."
With the concurrence of the orchestra's board of directors and the conductor it was agreed that the February concert would feature three young artists. The conductor knew Wally wanted Albert to be featured. Wally explained what he and Josh were doing with Albert. Together Wally and the conductor searched the trio horn repertoire and could not find any which had orchestral accompaniment. The conductor suggested that Wally, Josh and Albert play a horn trio encore which Wally had hoped would be the outcome. Wally decided to tackle the challenge of modifying several popular songs for the trio. He approached his composition instructor who agreed to work with him.
As the weeks went by and the weather got warmer the guys wore less and less when they practiced. One Saturday Josh and Wally decided to wear only boxer briefs. When Albert arrived. He arrived wearing silky running shorts and a tight tank top. I knew their plan and watched Albert's face as Josh opened the door. He walked straight into the practice room and put his French horn down before returning to the kitchen where we were having coffee. He blushed. It was obvious by the movement in the front of his shorts that our skimpy shorts had gotten his attention. He stammered naively, "I'm not sure I can concentrate with you guys undressed."
Wally said, "Seriously, we'll dress if you want us to. We usually don't wear even this much around the house." I was surprised that he was that open with Albert.
"Probably, you can see by the front of my pants I'm excited." He pulled at the front of his shorts to straighten his stuff. He turned and went into the practice room but returned wearing only his tiny patterned underpants. "I'm ready if you are."
The practice was not as smooth as others but the reason was understandable. The three of them were comfortable both physically and musically. They had only a couple of sessions before they took a summer break. Albert confirmed what Wally already knew that he had received a scholarship for the Chautauqua Student Music program in New York State and would be away for six weeks.
On Saturday before Albert was scheduled to start the summer program his mother called Wally. With the speaker phone on I heard her say, "Wally, I have gigantic favor to ask. I got a call from my sister that our mother fell and seriously hurt herself. I need to drive home to Connecticut today. Any chance you or one of your friends could drive Albert to Chautauqua?"
Wally said, "Sure, if I can't I'm sure Mark will drive him. When does he need to be there?"
"He has to be there on Monday."
"If he's packed I'll come get him. He can sleep on our couch and we will drive up tomorrow."
Wally hung up knowing I had heard the conversation. "What do you think? Should we all go and see the place. I understand there's an adult orchestra as well."
I had heard of Chautauqua but really didn't know much about it. Wally exclaimed that it was a program of not only music but lectures on many subjects and other activities. He said, "I know it's a drive. Let me look at Google Maps for the route." I sat quietly as he tapped the keys on his computer. I didn't interrupt him and in about twenty minutes he said, "OK, I've booked a room at the Comfort Inn in Jamestown, NY. Let's see if Josh wants to go? He's told me more than once he wants to get in bed with Albert.
Josh wanted Albert to sleep with him at our condo. Wally and I insisted that we would let Albert decide where he wanted to sleep. Wally was concerned that Albert might be completely confused and be distracted from his music if Josh pushed. Josh reluctantly agreed. As it turned out Albert choose to sleep on our sofa. He did sleep in the same bed with Josh in Jamestown because there was no other place for him to sleep. I could tell by Josh's soft snoring that Josh behaved. Albert slept soundly.
The three of us delivered Albert to the music school's registration desk with the appropriate medical forms and parental permission sheets. We accompanied him to his dorm where he would room with five other boys in the program. We wished him well but told him we would be back for the final concert and might come a few days early. He was excited that we would attend and didn't seem to care whether his mother came or not. Once back in Allentown Wally and Josh were rehearsing regularly for the Allentown Symphony's summer concert schedule.
Over the next six weeks Wally or Josh spoke to Albert every couple of days. It was obvious from those conversations that he liked the program and couldn't wait for us come up for the final concert. We decided that after Allentown symphony's last summer concert in the park to drive up to Chautauqua for a week so Wally and Josh could observe. We had been able to secure rooms in one of the many housing rentals around the lake.
The rehearsal had started when we arrive so we sat in the back of the outside venue. When the orchestra was dismissed for a break Albert saw us and came running over with his eyes teared up. "Wally, I have to move away."
"What do you mean?"
"Mother told me my grandmother needs her. I have to move to Connecticut."
"Right before your senior year?" We each hugged him. Wally looked puzzled, "The rehearsal's ready to start again. We'll talk after you're finished." We sat quietly and listened for an hour to a remarkably professional sounding orchestra. Albert was sitting in the second horn chair.
After the orchestra was over Albert approached us with a cute African boy. Albert said, "Javon lives in Rochester. He's pretty good."
Javon retorted, "What do you mean pretty good. I'm really good and better than you."
Albert smiled, "Whatever? These are the other members of my horn trio."
"That's cool." I could see that the music director was watching our group. He walked in our direction and spoke. He said, "Didn't we meet earlier this summer?"
"Yes, when we delivered Albert."
"You play in the Allentown Symphony, right?"
"Yes, I play third horn and Josh plays fourth."
"Both of you play, interesting. You're Albert's coach?"
"Yes and we regularly play trios with Albert. I have taught him almost everything I know. I'm hoping he can get into Eastman when he graduates from high school next year."
The director smiled, "Well, he'll get a strong recommendation from me. He has done well and can play first chair next summer if he wants to return." Albert stood quietly as the discussion continued. Javon apparently needed to use the bathroom. Albert went with him. Before the director stepped away he indicated that there was probably going to be an opening in the horn section of the adult Chautauqua orchestra the following summer. Wally didn't think much of it because he and Josh were so involved in Allentown. When Albert didn't immediately return we left to walk around the charming village and get a cup of coffee. Chautauqua is a pastoral setting and started summer programs in the 1880's but the music programs didn't begin until the 1920's.
On our walk Wally casually said, "Guys, you know what I'm thinking?"
I said, "I can guess. Have Albert move in with us so he doesn't have to move to Connecticut."
"You read my mind. That is what I'm thinking. When we get back to Allentown we'll contact his mother and suggest that Albert live with us so he doesn't have to move to a new school in his senior year. When I go to Philadelphia for my classes I will arrange for him to be coached by someone better than me. I want him to apply to the Eastman School of Music in Rochester."
"What if Albert doesn't want to do what you want him to do? You know he's a teenager. You don't know if his mother will agree. He has often suggested that they don't have much money. She had to give up her counseling clients in Allentown."
"We have Adrian's money. I'm sure he would be happy to see our horn prodigy become world famous."
"You are a dreamer," Josh said. "What do you think about Javon? Do you think there is more than friendship there?"
"I don't know. Let's ask Albert when we see him." We ate lunch with Albert the following day - the day before the final concert. Wally related our plan but didn't mention Eastman. Albert was excited to tell his mother about our plan.
As the meal progressed Josh said, "What's up with you and Javon?"
"He's my friend. He's one of my roommates."
Josh said, "More than roommates?"
"Are you asking if we did gay things? The answer is 'yes' but we only played around in the shower. He's bigger than me."
"Albert, Josh has no business asking you such a question."
"That's OK. I'm probably gay and if I live with you guys I'm sure I'll be gay."
Wally looked horrified, "What do you mean?"
"You think I don't know you're a trio?" Good natured laughter followed his remark.
"OK, what do you think about living in a queer house?"
"Well, you haven't been shy around me. I know you like to be naked around the house. I will have to get used to it and may join in."
Josh said, "Are you a virgin?"
"Josh, it's none of your business," I scolded.
Albert smiled, "Yes, but I don't want to be. Will you help me solve that problem?"
Wally said, "Only when you turn eighteen." The conversation returned to how to approach his mother. Albert was comfortable with Wally's plan. The youth concert was a wonderful conclusion to Albert's six weeks at Chautauqua. As he expected his mother didn't make the concert so Albert rode back with us.
Three weeks before Albert and Wally were to start a new school year we decided to take a trip. Wally wanted to go Philadelphia so he could meet with his advisor for the composition program. He also wanted to line up a horn teacher for Albert. He was successful with his first goal but not his second. When he was at the university Albert and I toured Independence Hall which Albert had not visited. I thought we should continue on to Washington, DC and Williamsburg to expand Albert's knowledge of American history. I was unwilling to let music control his whole life.
Josh was unable to join us because he had already taken his little earned vacation for our trip Chautauqua. Without Josh there wasn't the same level of sexual tension when Josh wasn't with us. Washington, DC was hot and humid as I expected. We walked miles looking at monuments and museums. We were able to get into the capitol because the Congress wasn't in session. We went on to Williamsburg where we splurged and stayed at the Williamsburg Inn. Albert was a polite, young gentleman and was always stylishly dressed. Wally, Albert and I made a handsome trio. Since we slept in the same room Wally and I got plenty of opportunities to look at Albert's developing body. If he ever had inhibitions about nudity we didn't discover them. Wally and I agreed no sex with a minor. His eighteenth birthday was only six months away.
When we got back to Allentown Wally had messages from two potential instructors for Albert. As it turned out only one of the instructor's schedules would work with Wally's trips to Philadelphia. After consulting with Albert it was decided to try the person who was a horn instructor at the University of the Arts. She played second horn in the Temple University Orchestra. The woman didn't have the strong credentials that Wally had hoped for but he decided to give the woman a try.
On the February youth concert Wally, in collaboration with the Allentown musical director, decided to program - W.A. Mozart Horn Concerto Nr.3 KV.447 I. Allegro. Wally hoped Albert could perform this challenging horn solo. Wally shared the decision with Albert's coach in Philadelphia. She was initially skeptical but agreed that Albert would immediately start working on the piece. While Albert regularly practiced at Wally's music studio he was constantly running through various sections of the piece at home. As the fall progressed he got better and better and his instructor reported that she was pleased with his progress.
The trio did not stop rehearsing either and focused on pieces which Albert thought were only for fun. Wally knew differently since he and the conductor planned a horn trio encore with pieces that Wally arranged. Wally moved temporarily to first horn position in the Allentown Symphony because the woman who played first had to take a leave of absence to care for an elderly parent. That gave Albert the opportunity to sit in as third horn for rehearsals and concerts.
Immediately after Albert's eighteenth birthday Josh left our king sized bed and moved into the second bedroom. He said his move was to accommodate Albert's sex education. He reported that Albert was like him at that age - horny all the time. We teased him wondering when he was going to introduce Albert to our bed. He said, "Never!" Being true to Josh's word Wally and I only got the opportunity to see Albert's soft, unblemished butt and sweet face absent any facial hair from a distance. We convinced Albert to get his hair cut like boys his age with shaved sides and long top. He agreed and a few days later reported that his friends complimented his hair.
Wally was challenged to find three pieces that he could transpose into horn trios. In consultation with his composition instructor Wally decided to adapt contemporary pieces. The pieces selected were movie themes from Pirates of the Caribbean, Titanic and Somewhere Over the Rainbow from The Wizard of OZ. It took him more than a month to get the Pirates trio the way he wanted it because he wrote an orchestral accompaniment. The other two pieces came more easily because they were only for horns. He tried each one out on the trio with the excuse that the pieces were part of his Master's degree requirements. Neither Josh nor Albert asked anything further. The trio loved playing the pieces together. They're playing allowed Wally to modify and improve the pieces.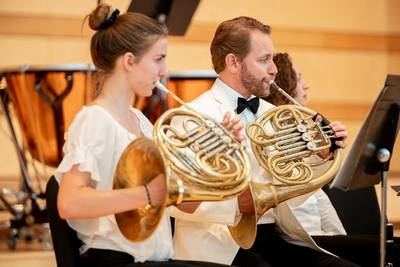 For the Allentown orchestra's first concert after the new year Wally was still sitting in the first horn position, Albert in third and Josh in fourth. The conductor informed Wally that the regular first horn would return after the February concert.
In addition to Albert two other youth soloists were selected during a fall audition. The committee selected a young Asian female pianist and a slightly older male Asian violist. The violist would perform accompanied by piano. The pianist would play with the orchestra. She came to rehearsals as did Albert. Only during the last two rehearsals did Albert and the orchestra practice his entire Mozart piece. Albert was nervous during the first run through but didn't show the same nervousness at the rehearsal immediately before the concert.
The orchestra manager had done a significant amount of advertising. This was the orchestra's first concert where young soloists were featured. The afternoon of the concert Miller Symphony Hall was filled with many young faces accompanied by adults. By the time the concert began the hall was three quarters filled. The conductor came on stage and announced to the audience the special nature of the concert. He directed the audience's attention to the program that opened with an audience favorite Hall of the Mountain Kings by Edvard Grieg followed by Jennifer Chan, the pianist, playing Prokofiev's Third Piano Concerto. The audience applauded generously at the conclusion of her piece. The first half concluded with a short Brahms piece.
After the intermission Jason Watanabe performed a violin solo accompanied by his mother on the piano. The audience was respectful but Jason hadn't recruited friends as effectively as Jennifer had. When Albert followed the conductor onto the stage dressed in his new black suit, white shirt and tie there was silence. He dramatically whipped his blond hair out of his eyes. The conductor mounted his stand and looked toward Albert who stood poised with his French horn. From the first note he played the audience's eyes focused on him. I could feel his tension. He appeared calm. I sat in the middle of the fifth row watching with my stomach in knots. He performed brilliantly and the applause at the conclusion showed the audience's approval. He returned for three bows with the conductor. After the final bow the conductor walked to the microphone and announced a special encore that included Albert and two other French horns – Wally and Josh. He acknowledged that Wally had adapted the music for the trio. After music stands were placed in front of the violin section Albert, Wally and Josh walked on stage to polite applause. Without announcing the name of the pieces the trio started with the theme from The Titanic and then Albert's favorite Pirates of the Caribbean with Wally's orchestral accompaniment. The young people in the audience cheered loudly after each encore. The final encore was Somewhere Over the Rainbow.
After the concert classmates and friends of the soloists came up to congratulate Albert, Jennifer and Jason. I had not noticed Albert's mother standing on the side. I approached her to say "Hello". She smiled and waited patiently for the crowd around Albert to disperse. She shyly walked toward Albert who turned toward her. He was surprised since he didn't know for sure that she was coming. He smiled as she slowly moved toward her son who wrapped his arms lovingly around her. He hadn't seen her since last summer. His actions told me he was totally thrilled that she came. Wally invited her to have dinner with us which she graciously accepted.
The five of us went to Albert's favorite Italian restaurant. During dinner the subject of college came up. Albert told his mother he had applied at the Eastman School of Music in Rochester and was hoping for a scholarship which he knew would be required if he was accepted. His mother sat quietly through most of the meal. We invited her to come to the condo which she declined fawning an early morning drive back to Connecticut. As we were leaving the restaurant she hugged Albert. Her departing words were barely audible, "Albert, I wish you a wonderful, musical life." Her words sounded like a permanent 'Goodbye.' We waved as she drove off. Albert wasn't emotional and smiled.
The concert was the highlight of Albert's senior year. The remainder of the year was busy and brought some good and some unexpected surprises. Wally's Master in Fine Arts was coming to a conclusion. Albert and Wally continued to travel to Philadelphia once a week. Wally returned to his normal chair after the first horn returned sitting beside Josh during rehearsals and concerts. Josh's interest in the French horn seemed to diminish as his work at AirProducts became more demanding. His lust for young Albert seemed to be waning, as well. That didn't mean they had less sex it simply meant they didn't seem mentally as attached to each other as they were earlier.
In late April Josh delivered the unexpected news that he had been promoted and asked to move to the company's new hydrogen liqueur plant on the Louisiana coast. When he discussed the opportunity with us we were encouraging but realized that our family would be losing a valuable member. Equally real was the letter that arrived from Eastman informing Albert that he was admitted to the freshman class. That meant two members of our family would be leaving. Both Josh and Albert assured us they would return for holidays and other special events. Wally was faced with a different decision - what to do with his training in music and, especially, music composition. The commercial centers for writing and arranging music were Nashville and the east and west coasts. We discussed moving to Rochester because there was no way Albert's scholarship would pay for all his expenses. However, with the income from Adrian's investments we really didn't have to move. I was the keeper of our home which included regularly checking on Adrian whose condition had not changed much.
There were hours of discussion about our options. In April Wally received notification of an opening in the horn section at Chautauqua Orchestra. He mailed his audition recordings and resume. He heard within a week that he was selected. That coincided with Albert's letter offering him the first horn position in the Chautauqua Youth Orchestra. Both decided to accept which meant that shortly after Josh left for Louisiana we moved to Chautauqua. Chautauqua simply delayed our decision about what to do.
Mid-summer Albert introduced his new boyfriend to us. The boy's name was Nathan. He played the oboe in the orchestra. They immediately bonded and often slept together in the small apartment we had rented. From the beginning the two boys were not shy about their bodies or their noisy sex. We insisted they close the bedroom door which they seemed to intentionally forget as one was mounting the other. Nathan was sweet, tall and skinny and had a toothy smile that was really engaging. Albert told us that Nathan was going to Eastman and they have requested rooming together. On the way back to Allentown at the conclusion of the Chautauqua summer music program we stopped in Rochester to explore housing opportunities for the boys. They had applied for a dorm room together. Wally and I discussed the possibility of buying a house or a condo as an investment. That would give Albert and his friends a place of their own rather than staying in the dorm. We knew he could buy a meal plan which didn't include housing.
Wally hesitated but did inquire about a teaching position in the music department. The school's administrator was less than cordial until he found our Wally was first chair at Chautauqua. Wally submitted his resume and was invited to interview for an instructor's position in music composition. The pay was miniscule and he knew he would have to give up his chair in the Allentown orchestra if he took the job. That also meant we would be further away from Adrian.
We contemplated moving Adrian to New York but his physician recommended against that. Adrian was stable and his doctor was afraid that the move would be too traumatic for him causing his condition to deteriorate. In bed one night after wonderful sex Wally said, "Mark, I accepted the Eastman offer to instruct in composition. I think we should do what we discussed and buy a three bedroom condo where the boys can stay if they want to. We want a place that's big enough when Josh's visits. I kissed him and agreed it was the right decision. When we discussed our decision with Albert his first question was, "What are we going to do about Adrian?" We told him about our consultation with Adrian's doctor but Albert seemed skeptical.
Unlike stories about gay relationship which end tragically this story does not end that way. The fall brought the beginning of a new chapter of our lives. When I'm nestled in Wally's embrace I think back on my decision to ignore Wally when he walked into my shower at the gym. What if I had yelled at him or pushed him out? How would my life have been different? At the moment it seems that Wally wants me and I want him. Hopefully our, lives will continue in a whirlwind of music and gay men and boys.
Author's Notes: John Lloyd lives in Pompano Beach, Florida. The story is fiction but was influenced by an experienced orchestral French horn player named Jay M. He reviewed the story and confirmed that what was described could happen the way it was depicted. The author hopes you enjoy the story as much as he enjoyed writing it. The author wants to thank Jay M and Don S for their proofreading and editing. The photos are from the internet and photographer credits were not available. The author reserves all rights to the story but sharing with friends is encouraged. If a reader would like to comment please send the comments to rawlingbros@gmail.com.