Camping in the Ozarks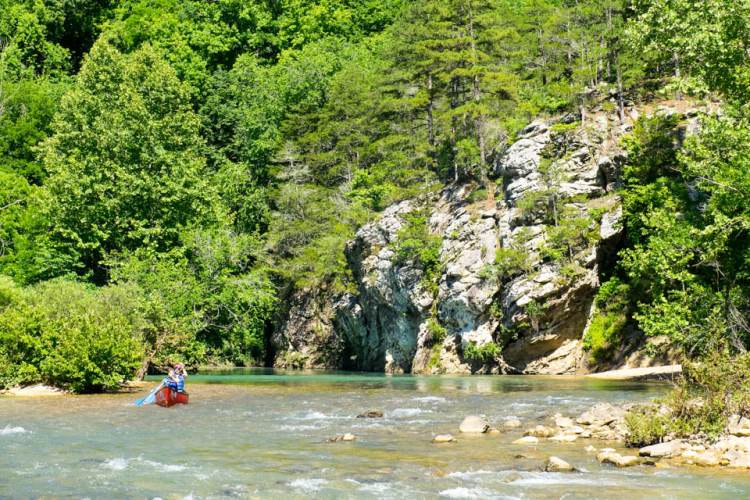 by John S. Lloyd
William Jennings is a regular guy living in Rolla, Missouri. He is the man who would only be noticed if a driver yelled at him to get out of the way. Otherwise, he is remarkably invisible. He graduated from the University of Missouri – Rolla with a degree in geology twenty years ago. He worked in a lab for several years before taking a leave of absence to take care of his aging mother in Poplar Bluff. She died several years ago and left the house she lived in to William. He rented it out and continued to live and work in Rolla. He was a confirmed bachelor. He was an usher at the First Christian Church and volunteered, occasionally, at the local food pantry. He loved to play bridge which he did twice a week. At one of his regular bridge games a new fellow mentioned that he was leaving his job in construction and starting a surveying company. William inquired what was required to become a surveyor. The fellow encouraged him to get together for coffee.
The fellow and William really hit it off and at the age of forty he was ready to start a new career. He liked the idea of working outside. William fancied himself the outdoor type but really had limited experience camping and hiking. His new boss was generous with his time and taught William what he needed to know. He really liked his new job. For family reasons his boss decided suddenly close the business and move to Kansas City. He offered the business to William who didn't feel he had the skills to own a company. He was without a job but he had a new skill. He checked with the other surveyors in Rolla and no one needed anyone right then. They told him they would keep him in mind.
With nothing to do warming spring days William was restless and decided to plan a hiking trip through the Ozarks. When he made the decision in early April it was a little early to go camping. The couple of elementary school teachers who had been renting his house in Poplar Bluff had moved out. He had not rented again because he needed to do painting and repair on the house. Without a job he moved back into his house. William's neighbors, a teenager and his mother, lived next door in a brick bungalow similar to his. He had met them at his mother's funeral. Across the street an older couple kept to themselves except when they went to mass at the local Catholic church.
William did a thorough inspection of his house before he did anything. He concluded that the roof needed to be replaced so he found someone to do that. The house was brick and fairly tight so the only thing that needed to be done on the outside was painting the trim. While William considered himself handy he didn't have the plumbing and electrician skills needed to redo the kitchen and bathroom so he hired a man to do that. He ordered new kitchen and bathroom cabinets from Lowes.
He had forgotten how beautiful spring in the Ozarks can be with the dogwood and cherry trees colorfully blooming. One day William saw his high school age neighbor in the front of his house. He went outside introduced himself and learned that the boy's name was Robbie. He asked Robbie if he would be interested in doing some handyman work. Robbie was interested so William hired him to help gutting the bathroom and kitchen of cabinets and fixtures. Robbie helped William paint the trim and then helped paint all the walls inside the house. Robbie's mother, Mary, came over several times to offer decorating tips which William appreciated.
After William and Robbie finished the demolition in the kitchen and bathroom they pulled out the old rose colored wool carpet in the living room, dining room and two bedrooms. Fortunately, they found the hardwood floors scratched but in good condition. They needed to be sanded and varnished which William and Robbie accomplished by renting a sander from the local rental store. William told Robbie that he planned to stay in his mother's house, at least, through the summer.
During the renovation William had been sleeping on a mattress in the front bedroom with sheets covering the windows during the construction. He used an old shower and toilet in the basement. As soon as the upstairs painting got underway all window covering were off as he waited for Robbie's mother to fashion new curtains..
With no window covering William could clearly be seen moving around the house. Either William didn't notice or wasn't concerned because people usually didn't look at him. He was aware that Robbie left his room shades open which gave William a clear view of Robbie dressing. William didn't think anything about it. When the curtains were ready Robbie and Mary helped William install new curtain rods and hang the curtains. When they were in his bedroom he noticed Robbie smiling but he didn't think anymore about it.
William attended Robbie's graduation from Poplar Bluff High School. He joined Mary and Robbie plus some other friends for a celebration lunch at a local Italian restaurant. William asked Robbie about his career plan. Robbie said, "I've signed up to take courses in the fall at the local community college." William asked Robbie what he was doing for the summer. He said, "Same as always mowing and trimming. Why? Do you have more work for me to do?" William told Robbie he didn't. He told Robbie since he lost his job as a surveyor he had decided to hike the Ozark trails until it got too hot. William asked, "You have any interest in hiking and camping with me?"
"I'll ask mom but I think she'll agree. She likes that you and me are friends."
William smiled, "Since we know each other pretty well." William was inferring that he knew Robbie had been watching him.
In addition to the work inside the house William had constructed a pergola structure outside the basement door with lawn chairs inside. There were two rotating fans in the ceiling powered by a wire running from the house. William invited Robbie over to discuss where they might go camping. William and Robbie sat in shorts and were shirtless as the fans cooled the already muggy Missouri summer air. William said right off, "Robbie, I don't want to embarrass you but I have been watching you in your bedroom. You have a nice body."
"William, I have been watching you as well. You look really good for someone as old as you."
"So we don't have to be shy with each other, right?"
"Shy about what?"
"When we camp sometimes there's not much privacy. Say we want to skinny dip or lay out naked. Do you care?"
A little embarrassed Robbie said, "What if I get a hard on."
"So what if you get a hard on? I do too, even at my advanced age."
Robbie laughed."Let's talk about the camping. I'll be eighteen next week so don't worry."
"I don't understand what your birthday has to do with camping?"
Robbie didn't answer and continued. "I have only a limited amount of experience camping what about you?" Waiting for William's answer Robbie continued, "I camped with Boy Scouts until I was fifteen. I have some of that stuff — sleeping bag, cook kit, and I think I can still wear my hiking boots."
"Let me tell you what I'm thinking. I don't have a lot of money but I saw a small RV camper on a used car lot downtown. I think I'll go see what they want for it."
"Can I come with you?"
The next day Robbie and William went to the Dodge dealer's used car lot. William had done a little research and knew self-contained campervans were required to have:
Freshwater tank
A sink
Grey/black waste water tank
Evacuation hose
Sealable refuse container
Toilet (portable or fixed) that can be used inside the vehicle, even when the bed is fully set up.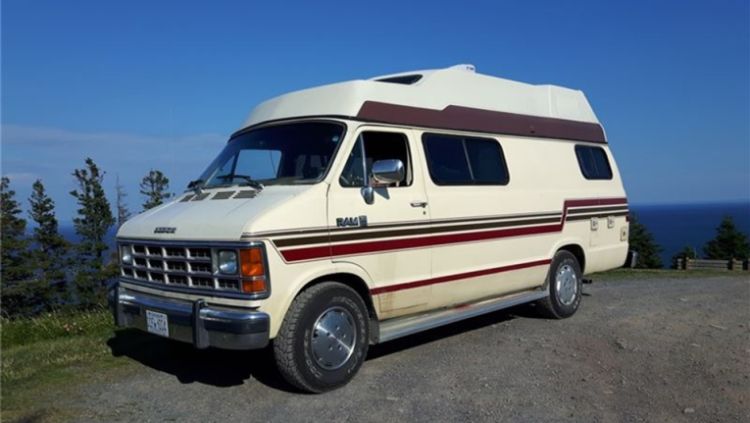 They looked at the 1998 Dodge X-plorer which appeared to be in good shape with only 65,000 miles on the odometer. The salesman enthusiastically encouraged William to buy but William was suspicious. He asked the fellow if the dealership would give a warranty. The salesman hesitated and told them honestly the dealership got the RV on a trade in and didn't know much about RV's. Instead of the list price of $16,500 he offered it to them for $13,000 without warranty. William said he'd have to think about it. The salesman became persistent and said "How about $12,000?" William and Robbie stepped away and conferred. Both agreed that there was probably work to be done but the price was good. They stepped back to the fellow and William said, "We'll take it if you do a complete inspection of the motor and provide financing." The salesman agreed.
Three days later Robbie drove William to pick up the van. In his driveway he and Robbie took out all the cushions which smelled stale. After stripping the sheets off of the pads they left the cushions in the sun. Robbie's mother came and took measurements for the curtains and decided to cut some existing sheets William had to fit for the cushions. Once they got the unit cleaned they plugged in to see if the water pumps worked. Neither worked. Getting new ones was going to be an extra expense. The old chemical toilet they discarded. They had to go to an RV dealer to get water pumps so they would see about buying a new toilet. The closest RV dealer was in Cape Girardeau about seventy-five miles away. They drove the RV to see if they encountered any problems which needed to be fixed at the dealership. As it turned out the RV dealer did have the pumps and encouraged them to leave the van so they could install them. The cost seemed reasonable and they were pleased that a new toilet cost only $125 which could be either attached to their water supply or used stand-a-lone.
They stayed overnight so Robbie and William spent their first night together in a Motel 6. While they were comfortable being naked in front of each they slept in their own bed. Over dinner at the Burger King they discussed their first trip together to the Ozarks National Scenic Waterways less than a hour away from Poplar Bluff. Even though the area is best known for rafting on the Current or Jack Fort Rivers they decided to camp at one of the campsites that afforded a fresh water and electric hookup. Their first trip was planned for the Memorial Day weekend. They were lucky to be able to reserve one of the last spots in the campground they preferred. When they arrived Robbie met some kids from his school and did an all day float with them. William stayed behind enjoying the busy campground and meeting other RVer's. William and Robbie drove home on Monday and declared their first outing a success.
William and Robbie had never discussed their sexual preferences. The discussion came up as they were sitting in William's pergola the following week. Robbie said, "William, I heard there is a gay campground over near Ava. Can we go there?"
"Robbie are you telling me you're gay?"
"I might be. What about you?"
"I want to be honest. I haven't had sex with anyone in over twenty years and the last time was with a woman. Doing it with a woman doesn't interest me. I've never had sex with a man. My right hand has seen plenty of action."
Robbie laughed, "Mine, too. But I'm not a virgin to man-to-man sex. I want to go to a gay campground and see what it's like."
"So you'd have sex with anyone. Aren't you afraid of disease?"
"I only have safe sex."
That led to a long discussion which ended with William agreeing to call the Rustic Canyon Campground to see if they could get reservations. When speaking with the owner William was informed that there was an age limit of twenty-one or older. William explained that Robbie was a very mature eighteen year old. After a pause which William thought consultation going on between the owners the fellow came back and said, "We'll, let your friend come since you guys are from Poplar Bluff. He must behave." William thought Robbie'd behave probably better than most of the other guests. The man went on to explain that the twenty-one year old age limit had to do with the fact that much alcohol was consumed. He made William promise to restrict Robbie's use of alcohol.
When William told Robbie they could go he was excited. They had to wait for two weeks. The delay turned out to be good because Robbie and his mother left for a family event near Fulton, Missouri the next weekend. The following Tuesday William saw their car drive into the driveway but only Robbie got out. He went out to see what had happened.
Robbie reported that his mother had decided to stay for another week but he had had enough of the relatives. He convinced her to let him drive home. William was happy so he and Robbie decided to barbeque. William offered Robbie a beer and had one himself. He was not a regular drinker but enjoyed a cold one occasionally. Robbie took the long neck Budweiser from William without hesitation. "You won't be able to do this in Ava."
"Publically, I know. But let's take plenty in the RV." The evening was really warm and both men stripped to the baggy boxers. As William got up to turn the hamburgers his butt crack was prominent. Robbie stepped behind him and pulled his boxers down to his ankles. William laughed, "Now you." Robbie didn't hesitate since Williams backyard was private with Robbie's mother gone. After cleaning the dishes they watched the ten o'clock news before getting into William's bed. Their first sex was like they did it every night. They started kissing and fondling. They mutually sucked each other before Robbie said, "I want to do you first. Do you have lube?"
"I don't. Will hand lotion do?"
"It will have to because I have waited too long for this moment." He lubed himself and Robbie and pushed his ample dick into William's virgin asshole. He was careful and knowing it was going to be painful for William. William moved helping Robbie slip in deeper. Robbie said, "Shit" and spewed inside William. William kept moving. Robbie was squirming. He fell on top of William and the both began to laugh. That was the first of many sexual experiences they had.
The next day they went to the CVS and bought lube and an enema bulb because the only negative effect of their first sex was a brown spot on the sheets which required washing. It was a small matter considering the pure enjoyment both men had.
They planned meals, shopped and prepared for the trip to Cactus Canyon. They arrived on June 28 which happened to be the start of a bear weekend. Neither Robbie nor William could believe the number of big, hairy gay guys were in this remote part of redneck southern Missouri. Robbie was a star attraction and was hit on constantly. He was always polite and when he saw a drunk coming quickly retreated to the safety of the camper.
William was comfortable wearing little even though Robbie had work out shorts on so he didn't encourage the bears. Driving home they both agreed the weekend was an experience but they would probably avoid bear weekends. They reserved a cowboy weekend after the July 4th holiday. Every weekend they went to one state park or another either hiking, rafting or just chilling. A couple of brothers they met one weekend, who lived on a hobby farm outside of Poplar Bluff, invited them to come out and swim in their pool and have a barbeque. The invitation implied they should leave swimming suits at home. Robbie loved showing off and had every reason to be proud of his body.
The brothers told Robbie and William about an event called the Midwest Gay Nudist Gathering not far from Kansas City on the Kansas side of the border. They explained that one hundred or more gay nude guys get together for a week enjoying each other. Robbie asked what William was thinking, "Is it a week long orgy?"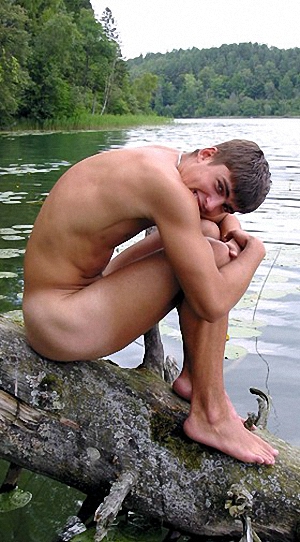 Burt said, "It can be if you want that. We don't. We just enjoy the opportunity to be naked for a week where no one cares. We don't have a camper so we set up camp with many others. When they got home William sent an email to reserve a place. All the hookup sites were reserved so he decided to take a portable generator to have light at night. The location of the event was a camp with cabins and a pool. Food was provided and bathrooms were readily available. Robbie parked the RV close to Burt and Bob's camp so they could be introduced to their friends. They learned that Burt and Bob attended annually. The event had been going on for over 25 years.
Before they arrived Burt told them there were theme nights so they probably wanted to have costumes. He mentioned the four themes: The Devils in the Details; Baby Face; Bottoms Up and Leather May Care. They laughed at the titles but Robbie wanted costumes for each theme night. Burt said since they were newbies they didn't have to go overboard like some of the other participants. Robbie clearly wanted to show off. William created a red devil's mask and a devils' forked tail fashioned out of half of an old hula hoop rigged to a belt. Robbie also wore black cuffs and anklets and a provocative black jock strap. He was really cute. Bottoms Up was easy. They wore matching black jock straps with sequins that they bought from an online gay store. Whatever Robbie was wearing he was always a hit. William was happy to be known as his partner. For the leather theme night they enjoyed the myriad of leather outfits wore by the campers. Robbie was the cutest baby on the Baby Face night in his diaper and pink bonnet. On the drive home they joyfully recounted their first nude week.
When they got home Robbie returned to his own bed. There was increasing tension between Robbie and his mother who decided to move closer to her family in Fulton. She insisted Robbie move with her. If she suspected that Robbie and William were a couple she didn't say immediately. Robbie was adamant that he wasn't moving. He used the excuse of being registered to start college. She said he could easily get into community college in Fulton. When he wouldn't budge she finally confronted the obvious, "So you're moving in with William. He's gay, you know."
Robbie listened and responded to his mother, "If you're selling the house what else can I do?"
Mary didn't ask about his sexuality and Robbie didn't tell her he was gay. She wanted to list their house for sale but not before Robbie and William helped her have a house auction selling everything except things she or Robbie wanted. When the house was empty it was listed. She packed up her car and warmly hugged Robbie and equally warmly hugged William. She whispered to William "Take good care of him. He's a winner."
Robbie's mother being gone changed their relationship. They were a couple even though they didn't say so around town. For other than Burt and Bob everyone thought Robbie was staying with William because his mother moved. Poplar Bluff was a small town so they played it straight. What happened at home was no one's business.
As fall approached and Robbie's house hadn't sold so his mom decided to rent. The renter turned out to be the new drama teacher at the high school who was in his early twenties. The guy was on the chubby side and had a nice smile. His name was Mark and he had just finished his masters in fine arts at Missouri State University in Springfield. Shortly after he moved his meager furnishing into the house William and Robbie invited him over for dinner. He was pleasant with a high pitched voice. They welcomed him and he seemed interested that Robbie was rooming with William as he attended the community college. If he suspected more he didn't say.
Their charade was discovered one morning when William drew back the curtains having just showered. Mark was watching from Robbie's old room. William waved and stepped away. An email invitation arrived from Mark inviting the two of them to join him at Colton's Steak House for dinner the following Saturday night. They were seated at a corner table in the back as they waited for Mark to arrive. The place was busy and noisy. Mark excused himself for being late and ordered a bourbon and coke. William ordered a beer and Robbie ordered a Coke. There was small talk as they waited to give the waiter their order. After returning from the salad bar Mark calmly asked, "You guys are a couple, aren't you?"
Robbie answered "Yes, are you alright with that?"
"I have known other guy couples but not one with your age difference. I guess it's OK."
Robbie asked, "Are you out?"
"I'm not sure what I am. I was raised Pentecostal and am afraid of going to hell."
They sat quietly eating their salads. Mark returned to the salad bar for a second helping. When he returned their dinners were being served. Mark encouraged William and Robbie to eat and he would catch up. Nothing more was said about anything except the food until all three were finished.
Mark said, "I can't be gay and be a teacher."
Robbie frankly spoke up, "Mark, I don't care if you're gay or not. And as long as you are OK with William and me being your neighbor we'll do fine. But I must give you some advice. Have you met the McMichael twins?"
"Yes, both tried out for a play we are doing called The Crucible by Arthur Miller. It's about the Salem witchcraft trials. Aaron tried off for the part of John Proctor and Evan for Reverend Parris. They both did very well. If it was my decision alone I would select them. We have a committee meeting next week to decide."
Robbie got very serious, "Mark, those two are trouble. They love to flirt and they may be willing to go further. Don't let them lead you into trouble and they will try. As I said they are trouble. If you do anything even put a friendly hand on their shoulder they may claim sexual harassment or something worse. Their father is chairman of the school board. Around them be annoyingly professional. If they can't entrap you they will eventually lose interest. When I was a junior and they were freshmen they tried to draw me in. They are bold and love to make trouble."
After listening Mark replied, "Thank you very much. I'll let you know if they try anything."
That was the end of the conversation. We thanked Mark for a delicious dinner. We split the cost with him even though he objected. Sometime later Robbie reported to William that he ran into Mark at the grocery store. Mark reported that the boys had been given the parts in the play and had individually come onto him. Mark assured Robbie that nothing happened. At the end of the school year the twins left immediately for Europe for the summer.
After his first year teaching in Poplar Bluff Mark decided he had had enough small town living and took a job at the new high school in Jefferson City. He felt he could be more out with Columbia close by. That meant Robbie's house was vacant again. Again selling proved allusive so once again there were renters. This time two old maid sisters moved off of the family farm and into the house. Their shades were always drawn. Robbie reported that the women each worn thick glasses when he went to offer his services moving and trimming. They happily paid for Robbie's service. With Robbie's knowledge he and William were quite cavalier when they were in their bedroom. They never heard a word from the old women.
Early the following spring the Robbie helped William build a sixteen foot section of an eight foot high fence to shield their screened pergola. They wanted to assure their privacy. Robbie finished the summer school session and continued his mowing and trimming. William was able to get hired part-time as a surveyor. There wasn't enough work for him to work full-time so it was no problem taking off for their weekend camping visits. Their only extended vacation was to the Midwest Gay Nudist event in late July.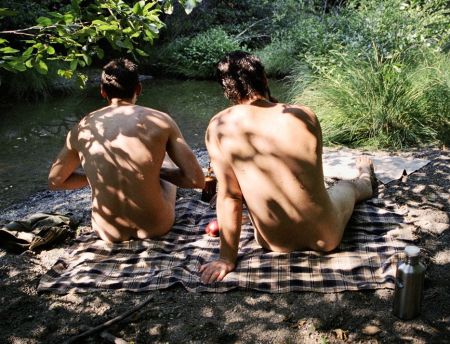 Tragedy struck the second week in September. One evening when William was playing bridge at a friend's house and Robbie was out playing baseball with his baseball team the air was loud with sirens. As the fire sirens continued the bridge players stopped and went out to the front yard. William could see the flames were coming from his neighborhood. He quickly gathered his things and drove home only to be stopped a block away by the police. He left his car and asked the police which house was on fire. He was told it was their rental.
The next few days were a burr of details for Robbie, Mary and William. According to the fire chief, apparently, one of the sisters left a skillet of fried chicken on the gas stove and forgot about it. When the grease flared the wall behind the stove caught fire and quickly spread inside the house which was all closed up. He said that the fire must have been smoldering for a long time because the house was so tightly closed up. Neither of the sisters seemed to have been aware because their bodies were found sitting in their easy chairs victims of smoke inhalation. Some windows finally broke the house exploded. The house was declared a total loss. Fortunately, only the paint trim on the windows of William's house were affected. The section of fence they had erected for privacy managed to prevent their pergola from catching on fire. Robbie's mother had paid the household insurance so she was quickly reimbursed for the damage. She and Robbie decided to hire someone to demolish what was left of the house and put the lot on the market knowing it was going to be there for quite a while until the aura of death went away. Robbie and William now had complete privacy.
Before Christmas Robbie got his diploma as a registered practical nurse but he didn't plan to use it. His mother had shared the proceeds of the house insurance with him so he had about $20,000 in his checking account. William was financially secure since he had been able to regularly work for the surveyor during the fall. He was offered a full time position starting in the spring. William told the company he would let him know after the holidays. He and Robbie decided to take the campervan and travel to Arizona, California and into Mexico for the winter months away from the ice and cold of Missouri. After their wonderful three months on the road they were happy to welcome spring in Missouri. They were ready for another season of camping in the Ozarks.
Author's note: The story is completely fictional and the author reserves all rights to it. If you have comments about the story please email them to rawlingbros@gmail.com.